Topvideo.online is malicious and you should close it immediately if you see it. It only exists to distribute spam advertising. First, Topvideo.online uses deceptive tactics to trick people into allowing its notifications. Then, it turns those notifications into advertisements. The ads that Topvideo.online shows aren't only annoying – they're also dangerous, full of fake giveaways, data-stealing pages, and infected files.
Ads By Topvideo Online quicklinks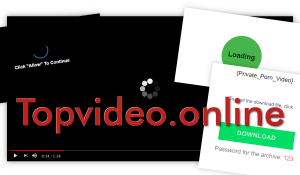 Details on Topvideo.online:
Classification
Adware,

browser hijacker.

How Topvideo.online tricks people
Telling visitors to allow notifications to close the page or to progress,

showing full-page ads that mimic the look of the site that the ads appeared on.

Problems and dangers
Topvideo.online promotes scam sites that can cause financial harm to people,

Topvideo.online allows malware to be advertised.

How to stop ads by Topvideo.online
Change browser settings to block notifications,

use anti-malware apps to block malicious websites,

scan your computer with an antivirus program (Spyhunter for PC, Combo Cleaner for Mac, others).
Problems with the ads by Topvideo.online
Topvideo.online has a few different pages, but they all have one theme: perpetually loading videos and other loading animations. Topvideo.online shows a fake loading animation and then asks to click "Allow" to proceed. It also tells your browser to show the notification dialog.
The "Allow" button is part of the notification dialog. Clicking it tells your browser that it's okay to accept messages from Topvideo.online and show them as pop-ups.
Notifications are supposed to let a website update you on things like new emails, new blog posts, etc. However, they're often seen and used as an advertising platform.
Topvideo.online's method is simple and easily tricks a lot of people. Anyone who is distracted enough is vulnerable to this sort of deception. It's just important to recognize what happened and to know how to undo the damage.
And it is very important to stop the ads by Topvideo.online because those ads can be really bad. They're not just distracting, which is bad enough. Topvideo.online also shows some very suspicious sites:
I'm sure there are more suspicious things that I haven't seen in my short time with Topvideo.online, but needless to say, it exposed people to some very bad websites. Sites that seek to scam people out of their money, steal their information, or to download malware onto the victim's device. Nothing good can come from the ads spread by Topvideo.online.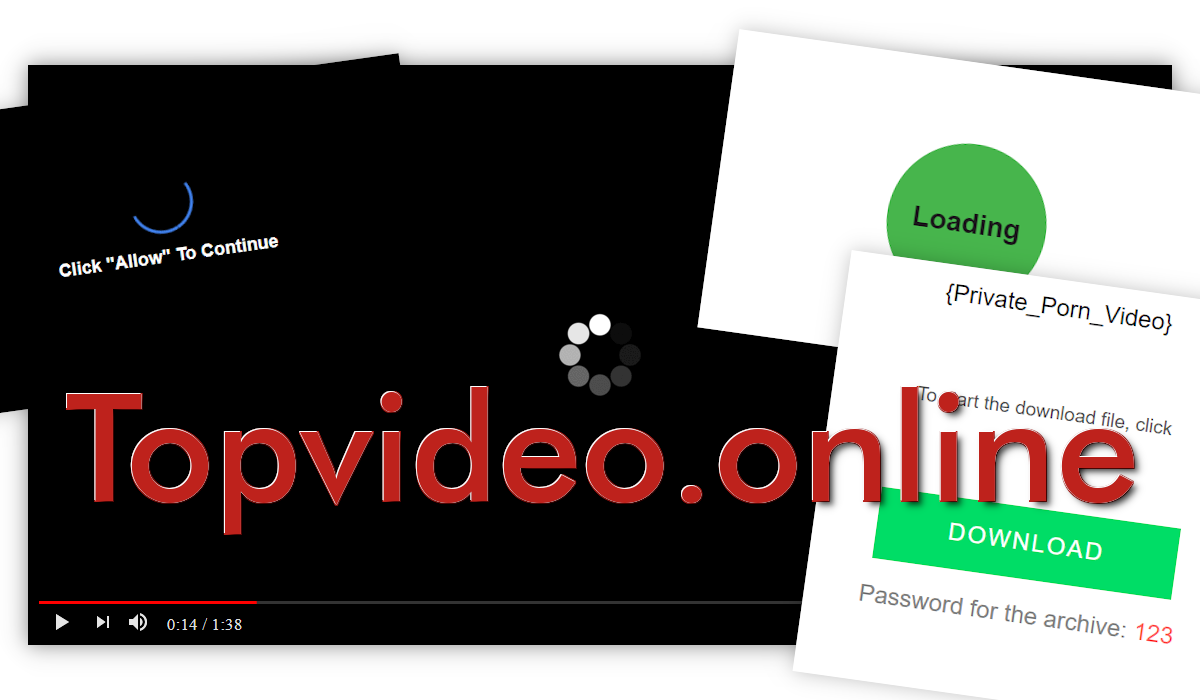 How to stop ads by Topvideo.online
Block notifications
To stop ads by Topvideo.online, you should block notifications from this and any other suspicious site. You can do that in your browser settings:
Chrome – type "chrome://settings/content/notifications" in the address box.
Safari – in the Safari menu, choose Preferences, Websites, Notifications.
New Edge – type "edge://settings/content/notifications" in the address box.
Firefox – open Settings, Preferences, Privacy & Security, scroll down to Permissions, and click on Settings next to Notifications.
You should now see a page in your browser with notification settings, including a list of websites that can show pop-ups on your screen. Any site that you don't want to see pop-ups from you can block on this page. Just find the address and click a little menu button to its right, then choose Block (or Deny).
This does not block the site itself, but it does stop the pop-up ads. Topvideo.online may appear multiple times in this list, with random symbols at the beginning of each address. These are Topvideo.online's subdomains. Just block all the instances of Topvideo.online that you see.
Stopping malware
The problem is, there are many sites just like Topvideo.online – sites that prey on distracted people and trick them into accepting advertising spam. How can you avoid them?
One way is to have an anti-malware program block malicious sites before your browser even shows them. Anti-malware programs have huge lists of known malicious sites, and they can detect potentially malicious code. They can be immensely helpful in protecting you not just from Topvideo.online and other adware, but also from sites that try to download malware or steal information.
To make sure that there's no sneaky adware hiding on your computer or malicious extensions in your browser, it's good to scan your device periodically with an antivirus program, like Spyhunter for Windows, Combo Cleaner for macOS, and others.
Automatic Malware removal tools