Latestsocial.com is a malicious website that spams push notifications and participates in creating some very aggressive and dishonest advertising online. This page is dangerous to any browser which supports push notifications. If you were to accidentally subscribe to notifications from Latestsocial.com's adware page, you would be constantly bombarded with unwanted pop-up ads.
Ads By Latestsocial Com quicklinks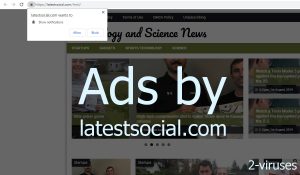 Not just pop-up ads; Latestsocial.com often redirects from certain ads online and it can be very difficult to notice. Imagine you click on an ad and are taken to a page that requires you to click on the "Allow" button to load. It might even expand to full screen and hide the user interface. An alert that includes an "Allow" button is being displayed, so you click it, impatient to get on with it, having accidentally allowed Latestsocial.com to send you constant pop-ups. Meanwhile, a page is loaded, but it has nothing to do with the thumbnail of the ad you clicked on.
Explanations for Latestsocial.com ads
Allowing notifications from Latestsocial.com or any site that wishes to send them to you will inevitably turn your browser into an ad-pushing machine, so it's important to be very careful. Avoid any site like Clickworker.me, Free-coupons.network, Moocauby.com, and others that try to trick you to subscribe to notifications with false claims like you needing to prove that you're not a robot or that you must do it for the website to load. It's always better to just close the tab.
Immediate redirects to spam websites and adware pages can most commonly be found on "free" streaming sites. These sites offer pirated video streaming and are usually free to use, which is why they require advertising to survive, even if the ads are somewhat malicious. If you visit such websites often, you risk exposing yourself to infections, scams, other dangers.
Adware programs also spread malicious ads, though, in that case, the source is on your computer instead of an online website. A virus on your computer has a lot more power, being able to hijack multiple browsers and install plugins. Outdated browser, antivirus, and other software can be responsible for an adware virus; a trojan or a bundler can install it, too. Unfortunately, there is nothing strange about having malware infecting your computer without your knowledge, but if you are infected with adware, that's a real safety risk.
How Latestsocial.com is dangerous
Notification spam isn't just annoying. The content of the promoted pages is dangerous, too. There is a whole list of dangerous content that Latestsocial.com promotes that could potentially have bad consequences if you don't ignore it:
Sites like install.notify-service.com are always being advertised by Latestsocial.com, as well as a multitude of browser hijackers. Both of these are adware and, just like Latestsocial.com, will result in an increased number of ads being shown to you on your computer. And since adware constantly spreads malware and dangerous webpages, that's something that most people would rather avoid.
Sometimes Latestsocial.com redirects to a website where fake testimonies and made-up experts are advertising miracle cures that cost a suspiciously low price. A lot of research is necessary to avoid fraud products and to make sure that you're not being lied to and don't inject something harmful. Fraudulent health supplements and unregulated medicine can be dangerous to your health, so there are good reasons for medical wares to be heavily regulated — not something that Latestsocial.com does.
Additionally, Latestsocial.com can be found promoting financial scams (like lucrative and easy work at home) that promise you a lot of money for a small upfront payment.
Fake security alerts that trick people to buy bogus protection software or contact fake tech support specialists who not only sell you expensive protection plans by lying to you that your computer is infected, they also can hijack your computer with some social engineering.
I've also encountered phishing pages that try to steal your private information and login credentials, which can result in your online accounts being hijacked by criminals.
Fake lotteries and prize rewards are also harmful because they trick some people into paying for shipping and other fees by convincing them that they are to receive a valuable prize.
Finally, Latestsocial.com directs to tracking pages which help advertisers be aware of the browsing habits of their audience.
Latestsocial.com works like a cog of a bigger advertising network: a network that is willing to use malware tactics to get more viewers, freely promotes products that ought to be heavily regulated, and partners with viruses.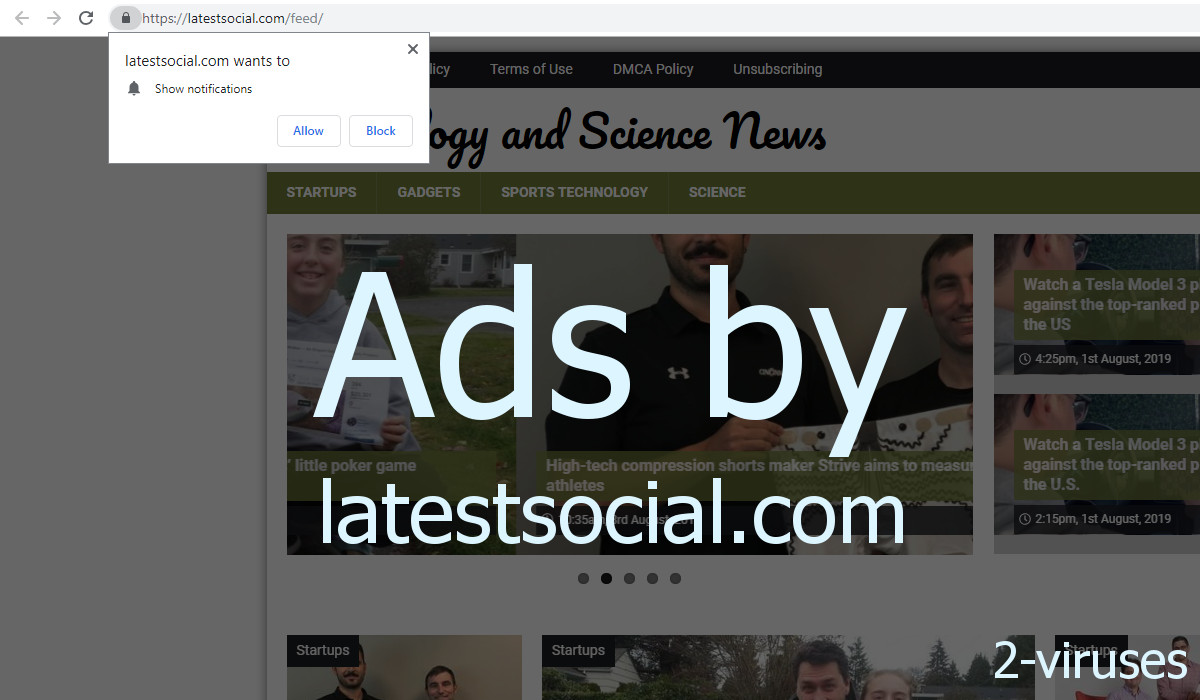 How to stop Latestsocial.com ads and redirects
The good thing is that the ads from Latestsocial.com can simply be blocked by editing your browser settings. The list of the sites that send you notifications is stored there and you can change the status of each specific website, or block notifications altogether.
But what if you're still having Latestsocial.com opened in your browser all the time? If visits to ad-filled websites can't explain it, it's possible that an adware virus has infected your computer and hijacked your browser. Uninstall suspicious programs and plugins, scan your computer with Spyhunter, or another professional antivirus tool. Make sure that the settings allow it to detect PUPs and other mild malware.
If you think that you've fallen for a phishing attack thanks to Latestsocial.com, change your passwords as soon as you can.
Automatic Malware removal tools
How to remove Ads by Latestsocial.com using Windows Control Panel
Many hijackers and adware like
Ads by Latestsocial.com
install some of their components as regular Windows programs as well as additional software. This part of malware can be uninstalled from the Control Panel. To access it, do the following.
Start→Control Panel (older Windows) or press Windows Key→Search and enter Control Panel and then press Enter (Windows 8, Windows 10).
Choose Uninstall Program (if you don't see it, click in the upper right next to "View by" and select Category).
Go through the list of programs and select entries related to Ads by Latestsocial.com . You can click on "Name" or "Installed On" to reorder your programs and make Ads by Latestsocial.com easier to find.
Click the Uninstall button. If you're asked if you really want to remove the program, click Yes.
In many cases anti-malware programs are better at detecting related parasites, thus I recommend installing Spyhunter to identify other programs that might be a part of this infection.