GamerSuperstar virus is a malicious browser extension, allegedly offering free games in exchange for an agreement to install specific software and receive advertising. The plugin will show a fixed number of advertisements from its sponsors while you browse the Internet, and some of these adverts might include deceptive messages like your Adobe Flash Player is outdated.
In other cases, you might be exposed to deceitful offers, implying that you have a chance of winning coupons from services like Amazon or Google. Since GamerSuperstart infection shows objectionable online advertisements and could be installed without users' permission, it is adequate to classify this browser add-on as an adware parasite (How Does Adware Hurt My Computer?).
GamerSuperstar adware parasite will show a lot of objectionable third-party ads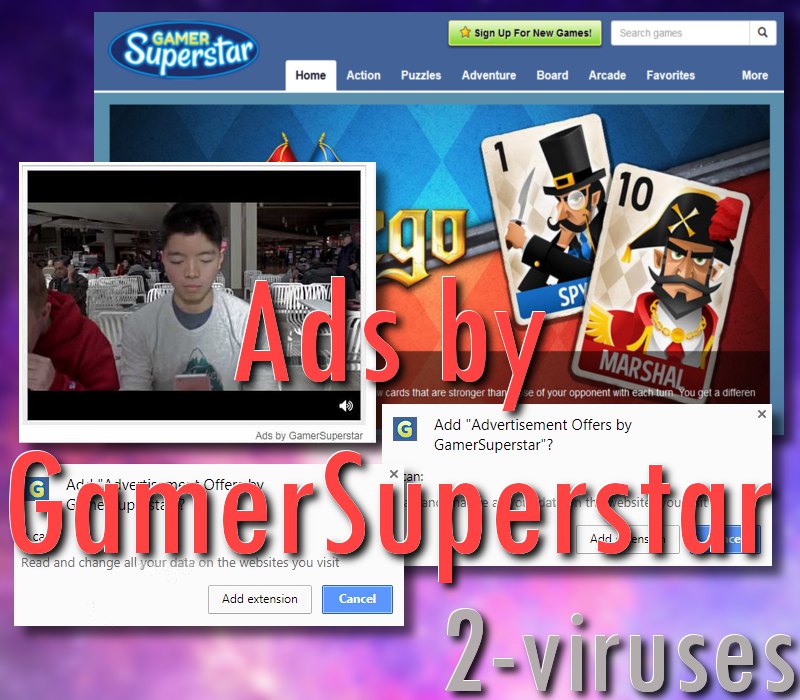 Since GamerSuperstart ads are a problem that many users have reported, we assume that the browser extension is installed without users' consent (How Advanced Malware Morphs to Remain Stealthy and Persistent). This might have happened because a person installed a freeware tool which also offered some optional software, including the GamerSuperstart plugin. If you remember installing this add-on yourself, please pay attention to the amount of online advertisements you are being exposed to on a daily basis. Having your browsing compromised by unknown third-party advertisers is not worth the games that the app is providing.
According to our analysis, GamerSuperstar.com website is mostly visited by people from United States, but some web traffic comes from other countries like Canada, Mexico, Colombia and Dominican Republic. In most cases, people will be noticing this website while visiting other gaming-related services. If you happen to be shown a pop-up, recommending you to install GamerSuperstart browser extension, please close the pop-up without clicking on its content. You would not like to become a victim of a drive-by installation.
We have stressed out the dangers of malvertising in multiple articles (A rising security threat: Malvertising). While some of the Ads by GamerSuperstart might be simply annoying, a big part of them could be transmitting viruses, tracking cookies, crypto-miners, Trojans, ransomware viruses or other type of harmful content. We hope you will be extremely careful with online advertisements.
GamerSuperstart adware could display third-party advertisements in the legitimate websites you visit. To the maximum extent permitted by law, in no event will the owners of GamerSuperstart, its principals, employees, consultants, officers, directors, members, agents, subsidiaries or affiliated companies be liable for any damages or losses of any kind and based on any theory of law. In addition to this, all users of GamerSuperstar adware agree with such conditions:
"You agree that GamerSuperstar and its Related Companies are not responsible for, and GamerSuperstar and its Related Companies expressly disclaim any liability for, any damage, loss, or injury you may incur as a result of actions taken by other parties who access or use the Software, Emails, Push Notifications, Site or Site Materials, including, without limitation, damages resulting from hacking, tampering, cheating, or disseminating malware from the Software or Site".
GamerSuperstar adware can invade your device thru bundling
In the past, GamerSuperstar add-on was promoted in Chrome Web Store as "Advertisement Offers by GamerSuperstar". As it appears, the extension is no longer featured in this store. However, we noticed another route that the extension might take for the purpose of infecting people. Users might encounter a message, containing this message "Add Advertisement Offers by GamerSuperstart"? Please do not agree to get this tool as security researchers do not find it very secure. Since it will show trigger a lot of third-party content, your browsing will be put in danger.
If you find this Advertisement Offer by GamerSuperstart browser extension among the active plugins, please remove it immediately. If you want to be protected from similar malware attacks, please have your operating system protected by powerful anti-malware tools. We recommend exploring the features of Spyhunter. This program will offer quick scans, easy removal options. Additionally, the tool is constantly updated to detect the newest malware threats.
Automatic Malware removal tools