5finder.com virus appears to be a more sophisticated browser hijacker than such variants like Chromesearch.net. 5finder search engine appears to have a secure connection and offers a verified SSL certificate. However, the website does not supply ownership information which is odd. On the other hand, connection is encrypted before being transmitted over the Internet which makes it difficult for unauthorized people to view data traveling between computers. Nevertheless, this 5finder.com browser hijacker stores cookies on users' computers.
5finder.com browser hijacker encrypts transmitted data but shows inappropriate ads
Despite having the positive features of the certificate and encryption, we also find out that the domain is associated with a bunch of third-party companies. For instance, we discovered that the 5finder.com virus is working together with a variety of ad-networks that will fill your computer with annoying promotional content. We have detected material from AdCash, RevenueHits, Juicy Ads, Voluum, exoClick and a few others.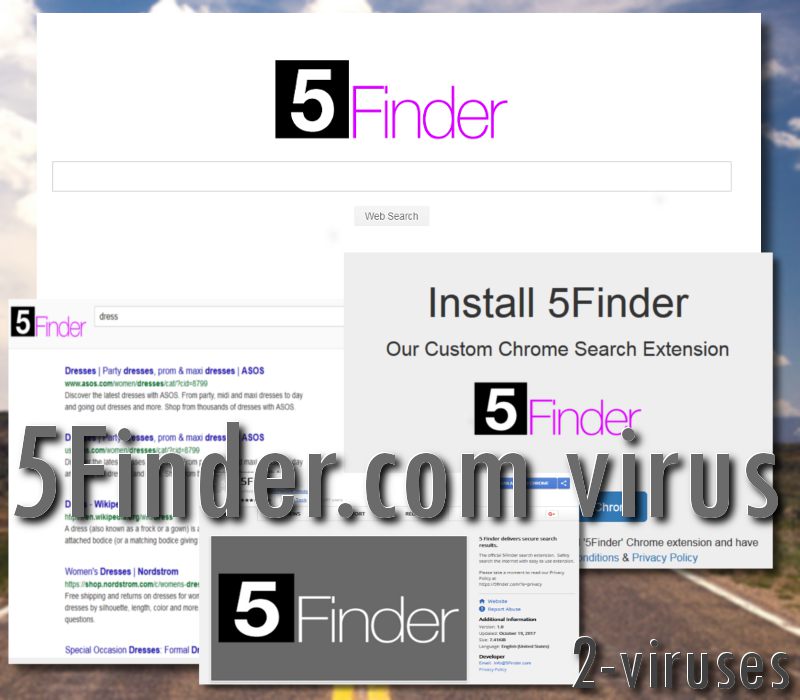 Since the search engine is associated with ad-networks, serving adult-oriented content, it is expected that the promotional material will feature some inappropriate imagery. This means that if a computer is infected with 5finder.com virus, minors that use that computer will be exposed to Mature content. This exposure is almost guaranteed because a browser hijacker will stand in the positions of home page, new tab page and default search provider.
5finder.com suspicious search engine appears to have earned high positions on the board f mostly-visited domains. Globally, it is indicated as the 88,053 website. The search engine is regularly visited by people from United States of America, Indonesia, Canada and Philippines. If you are from these regions, please make sure that the search engine is installed with your consent. Many of the browser hijackers gain access to people's computer through deceptive techniques like bundling (Decodes, downloads and disguises: malware distribution)
In addition to this, we also noticed 5finder extension in the official Chrome Web Store. This means that people can install this tool voluntarily. However, we hope you will think through this decision properly. It is important that your cyber security would not be compromised by toolbars like Wave-abstract.com virus. Therefore, stick to more reliable platforms for online exploring.
Besides the adult-oriented ads, the 5finder.com virus can show promotions for products like rogue browser extensions. We noticed that a plugin called "VeriWinkle" was being offered to "enable safe browsing". Do not trust this type of online ads as they will only cause trouble to you by silently installing malicious software.
How do malware parasites like 4finder.com virus transmit over the Internet?
There are a couple of popular tricks that developers can use to transmit programs that people do not voluntarily download. For instance, it could be that bundling strategy is going to be applied and you will be offered to install additional programs during a Setup Wizard for a freeware tool. It is important to refuse these propositions so that your computer would not be put in jeopardy. Potentially unwanted programs can overload your computer and make it function slower. To avoid this, select advanced/custom modes and never get unknown programs.
Of course, some even sneaker programs could end up in your computer through drive-by techniques. You could unknowingly install malware simply by clicking on an online ad or a link. To prevent this from happening, we hope you will consider avoiding promotional content.
For security purposes, you should always have an anti-malware tool installed into your computer device. Such programs protect you from malware, tracking cookies and clean outdated registry entries. With Spyhunter, you will be able to run regular scans and check the security status in your PC. Furthermore, it will offer quick removal options for the removal of detected threats. Therefore, such tools are a must-have.
TopHow To remove 5finder.com virus from Google Chrome:
Click on the 3 horizontal lines icon on a browser toolbar and Select More Tools→Extensions

Select all malicious extensions and delete them.

Click on the 3 horizontal lines icon on a browser toolbar and Select Settings

Select Manage Search engines

Remove unnecessary search engines from the list

Go back to settings. On Startup choose Open blank page (you can remove undesired pages from the set pages link too).
If your homepage was changed, click on Chrome menu on the top right corner, select Settings. Select Open a specific page or set of pages and click on Set pages.

Delete malicious search websites at a new Startup pages window by clicking "X" next to them.

(Optional) Reset your browser's settings
If you are still experiencing any issues related to 5finder.com virus, reset the settings of your browser to its default settings.
Click on a Chrome's menu button (three horizontal lines) and select Settings.
Scroll to the end of the page and click on theReset browser settings button.

Click on the Reset button on the confirmation box.

If you cannot reset your browser settings and the problem persists, scan your system with an anti-malware program.
Automatic Malware removal tools