Wave-abstract.com hijacker is what you don't want as your homepage. However, it can happen automatically sine malicious add-on is setting this website as a homepage on infected web browsers in order to build an audience and make profit.
This website is rather a typical example of web browser that can attack your computer and that is actually a good news because we do know how to deal with infections like this. We have successfully assisted our readers to remove infections that are almost identical to this one – catstart.com virus and triangle-move.com hijacker, so removing wave-abstract.com infection should not be more complicated than that.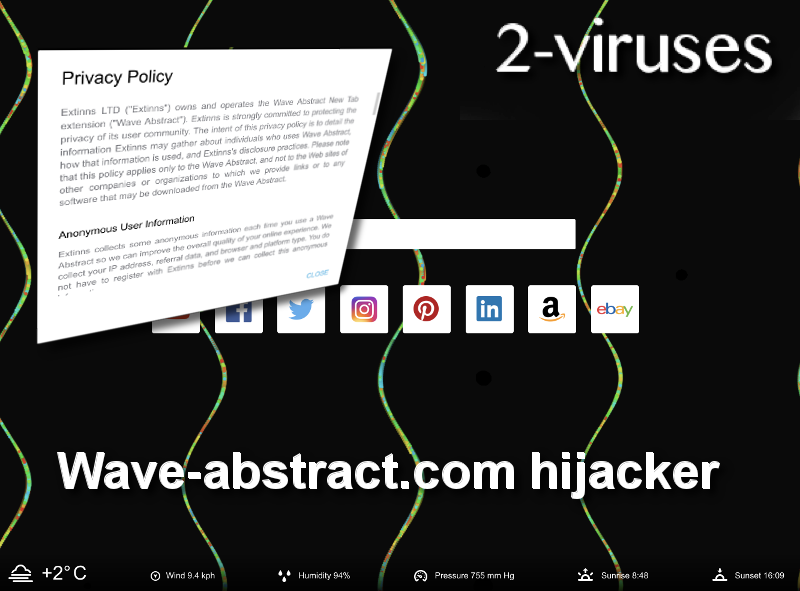 If you want to skip all the features of this virus and learning how it infected your computer is not something you are interested in, you should scroll down to the last paragraph of the article where we will provide you with the best methods as well as tools that can be used to get rid of Wave-abstract.com hijacker.
Homepage hijacked by wave-abstract.com
Hijacked homepage is probably the most annoying feature of this malware. What does it exactly mean? It means that this browser hijacker is making changes on your web browser automatically, i.e. settings like homepage, default search engine and new tab page will be set to www.wave-abstract.com.
The website itself tries to create an image of reliable search engine that could replace the engine you used before. It features a search box and bunch of links to well known websites, such as YouTube or Pinterest.
If you use this search, all results will be displayed on Google search engine. So what's the point to use this website instead of Google and what's the point for web-abstract virus to place this website as your homepage? Well, when you are submitting a search query to www.web-abstract.com, it tracks your search and before redirecting you to Google, another url appears on your url bar. It happens really fast so you probably won't be able to notice it. This technique is used to redirect users that falls into specific category (by geographic location, age, interests, etc.) to other websites, that are affiliated with this virus. They can also display various advertisements on a new tab and make money this way.
In addition to that, all searches submitted to this website are tracked. So if you fill in some of your personal information in there, it can be easily leaked to third parties and thats very dangerous.
Developed by Extinns LTD
This malicious add-on was created by a Extinns LTD – company which is described as developer of unique Chrome extensions that help you to customise the appearance of web browser. All add-ons, including Wave-abstract.com, are designed specifically for Google Chrome, so if you are using other web browser, it will not be dangerous to you. All browser hijackers created by Extinns can be seen in the image below: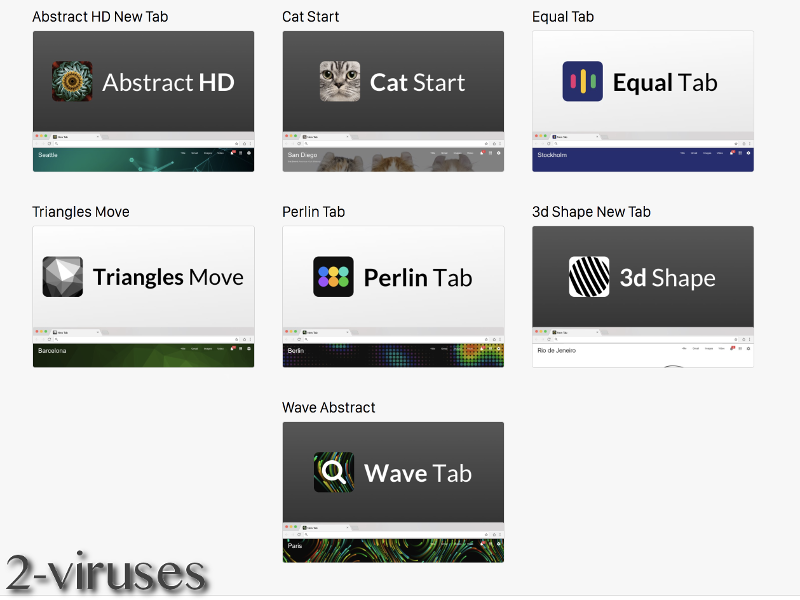 So why these add-ons are considered to be malicious, if they only try to customise appearance of your web browser? Well, there are several reasons. First of all – distributions methods that are employed to distributed them. Usually add-ons like  Wave-abstract.com come bundled with other freeware and gets installed alongside without even warning you about that. That is not fair and automatically puts this software into the category of malware.
Also, tracking users and displaying additional advertisements or changing settings on web browsers are considered to be traits of browser hijackers. Now, if you are willing to get rid of this infection, it's not enough to simply disable it on browser extensions list. You have to remove malicious files of this infection that are stored on your computer and that can be easily done by using anti-malware application like Spyhunter. Either one of those programs should be able to detect and remove the virus in no time. It will also protect your computer from similar infections in the future, therefore it is worth to keep it installed. After that, you will have to reset settings on your Google Chrome web browser. You can do that by following instructions below this article.
TopHow To remove Wave-abstract.com hijacker from Google Chrome:
Click on the 3 horizontal lines icon on a browser toolbar and Select More Tools→Extensions

Select all malicious extensions and delete them.

Click on the 3 horizontal lines icon on a browser toolbar and Select Settings

Select Manage Search engines

Remove unnecessary search engines from the list

Go back to settings. On Startup choose Open blank page (you can remove undesired pages from the set pages link too).
If your homepage was changed, click on Chrome menu on the top right corner, select Settings. Select Open a specific page or set of pages and click on Set pages.

Delete malicious search websites at a new Startup pages window by clicking "X" next to them.

(Optional) Reset your browser's settings
If you are still experiencing any issues related to Wave-abstract.com hijacker, reset the settings of your browser to its default settings.
Click on a Chrome's menu button (three horizontal lines) and select Settings.
Scroll to the end of the page and click on theReset browser settings button.

Click on the Reset button on the confirmation box.

If you cannot reset your browser settings and the problem persists, scan your system with an anti-malware program.
Automatic Malware removal tools
Manual removal