"Windows Firewall Warning Alert" is a tech support scam. It is a message that appears online and pretends to come from certified Microsoft technicians. The phone numbers featured in this message belong to scammers and if you call them, you will be connected with cybercriminals why will try to get your personal information or convince you to pay hundreds of dollars for unneeded technical support services. This fake alert is similar to the recent "Bad Rabbit Attack" scam.
Both scams are generated with the hopes of stealing users' money or their banking account details. The scam alerts imitate system warnings, but they are web pages that spread as advertisements (Here's why the epidemic of malicious ads grew so much worse last year).
%e2%80%9cwindows Firewall Warning Alert%e2%80%9d Tech Scam quicklinks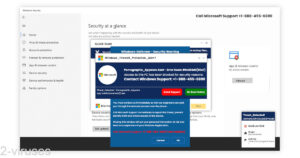 How the "Windows Firewall Alert" scam works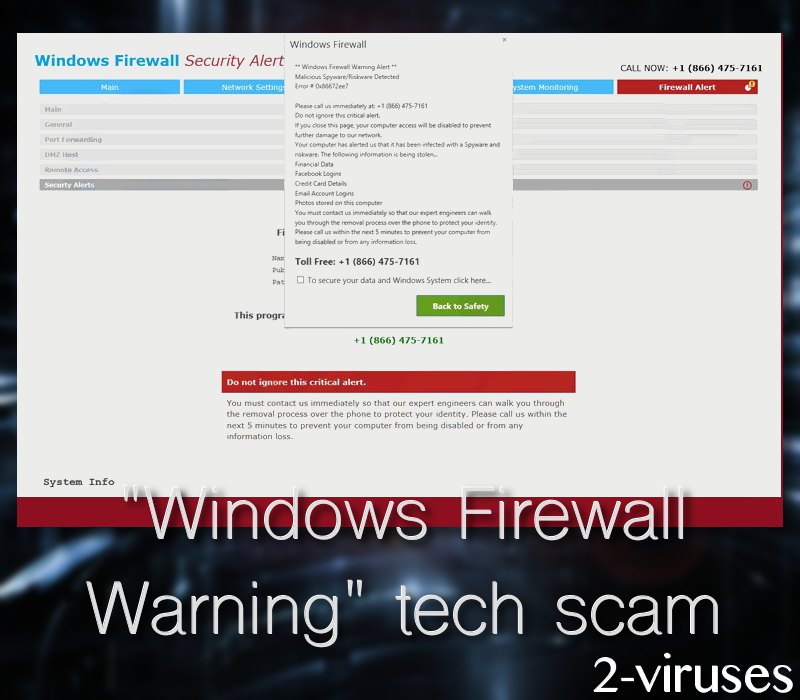 "Windows Firewall Warning Alert" imitates real warnings
The "Windows Firewall Warning Alert" message is always a web page. It is like a website on the internet, but it is designed to look like a Windows system alert.
The "Windows Firewall Warning Alert" scam says that trojans, spyware, riskware, etc. was detected in your system. The illustration below specifies Pornographic Spyware Alert, which does not really exist, but it sure sounds scary. Some versions of the scam even show made-up error codes, like Error: 0x8007042C and Error #268D3.
In addition, the "Windows Firewall Warning Alert" scam threatens that your Facebook logins, credit card details, email account logins, and photos have been compromised.
The scam text says that, if you don't call the given phone number, your computer will be blocked "to prevent further damage".
The "Windows Firewall Warning Alert" scam might lock your browser and prevent you from closing the pop-up. One option to escape this window is to close the browser process completely. All you have to do is open Windows Task Manager and find the process of the locked browsing program. More in our post on fixing locked browser issues.
The phone numbers lead to scammers
The "Windows Firewall Warning Alert" scam is not targeted. Malicious pages are advertised online and the scammers have no knowledge of who stumbles upon these sites. They just wait and hope for some poor fellow to call them.
The phone numbers used by the "Windows Firewall Warning Alert" scam are constantly changing, new ones are used all the time. Some examples of tech support phone numbers include +1 (866) 475-7161, 877-848-6239, +1-888-455-6690.
One thing is certain – none of the phone numbers belong to Microsoft support.
Indeed, real Windows security alerts never show any phone numbers. It does not happen. Phone numbers on a Windows security alert are the main sign that the alert is fake.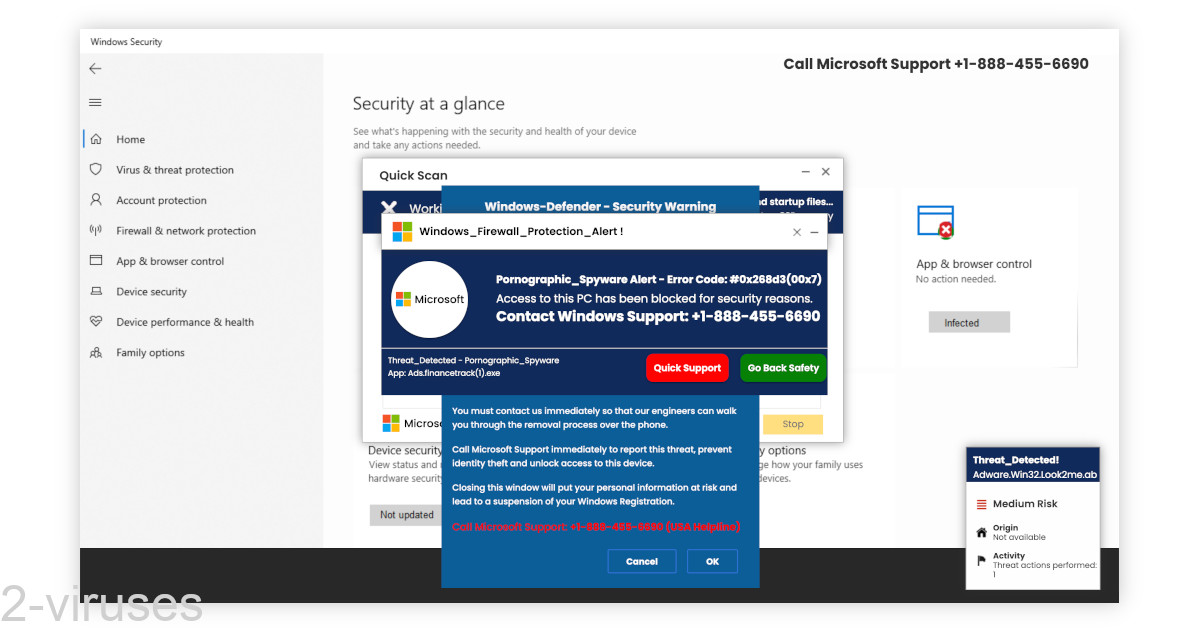 Scammers try to steal your money
The "Windows Firewall Warning Alert" tech support scam can cause malware infection, help scammers steal your money. It can be very harmful, which is why tech support scams are illegal. In fact, some people have been arrested for creating Microsoft support scams (Four people are arrested in the UK in connection with the Microsoft support scam).
The scammers behind "Windows Firewall Warning Alert" ask to access your computer remotely (Fastsupport virus). They then show fake error messages and insist that your computer is infected. They say they'll fix it, but only if you pay hundreds of dollars. That's it – that's the scam.
There might be more. The scammers might also infect your PC with spyware.
Be sure that Microsoft has nothing to do with the "Windows Firewall Warning Alert" message and if you give remote access to your PC to the fake technicians related to this alert, you are letting cybercriminals access your PC.
How to stop rogue messages like "Windows Firewall Warning Alert"
Close the scam alert (how to fix locked browser issues) and you will be fine. Look at fake security alerts as mean pranks. They are not dangerous in and of themselves, besides the unnecessary stress they can cause.
What if you went along with the scam?
If you let the scammers install stuff on your PC, then uninstall it immediately (instructions below). If possible, disconnect your computer from the internet.
Run a scan with an anti-malware tool to check for spyware. We recommend trying Spyhunter and Malwarebytes, but any reputable security program is good.
Once your PC is clean, reset your passwords. If scammers stole them, they won't be able to use them. Make sure to use multi-factor authentication where possible.
If you gave your credit card or other payment info to the scammers, call your bank immediately and tell them what happened. Your bank will advise you on what to do next.
How to remove "Windows Firewall Warning Alert" Tech Scam using Windows Control Panel
Many hijackers and adware like
"Windows Firewall Warning Alert" tech scam
install some of their components as regular Windows programs as well as additional software. This part of malware can be uninstalled from the Control Panel. To access it, do the following.
Start→Control Panel (older Windows) or press Windows Key→Search and enter Control Panel and then press Enter (Windows 8, Windows 10).
Choose Uninstall Program (if you don't see it, click in the upper right next to "View by" and select Category).
Go through the list of programs and select entries related to "Windows Firewall Warning Alert" Tech Scam . You can click on "Name" or "Installed On" to reorder your programs and make "Windows Firewall Warning Alert" tech scam easier to find.
Click the Uninstall button. If you're asked if you really want to remove the program, click Yes.
In many cases anti-malware programs are better at detecting related parasites, thus I recommend installing Spyhunter to identify other programs that might be a part of this infection.
Automatic Malware removal tools