"Windows Firewall Warning Alert" technical support scam is one of the messages, pretending to be from certified Microsoft technicians. The phone numbers, found in this message, are associated with scammers and if you call them, you will be contacted with cyber criminals, trying to get your personal information or convince you to pay hundreds of dollars for an unneeded technical support service. This fake alert is similar to a fairly recent "Bad Rabbit Attack" scam.
They both are generated with the hopes of stealing users' money or their banking account details. In 2017, exploitation of malvertising techniques grew significantly and more malicious ads targeted online surfers (Here's why the epidemic of malicious ads grew so much worse last year).
"Windows Firewall Warning Alert" technical scam can infect you with malware or steal your money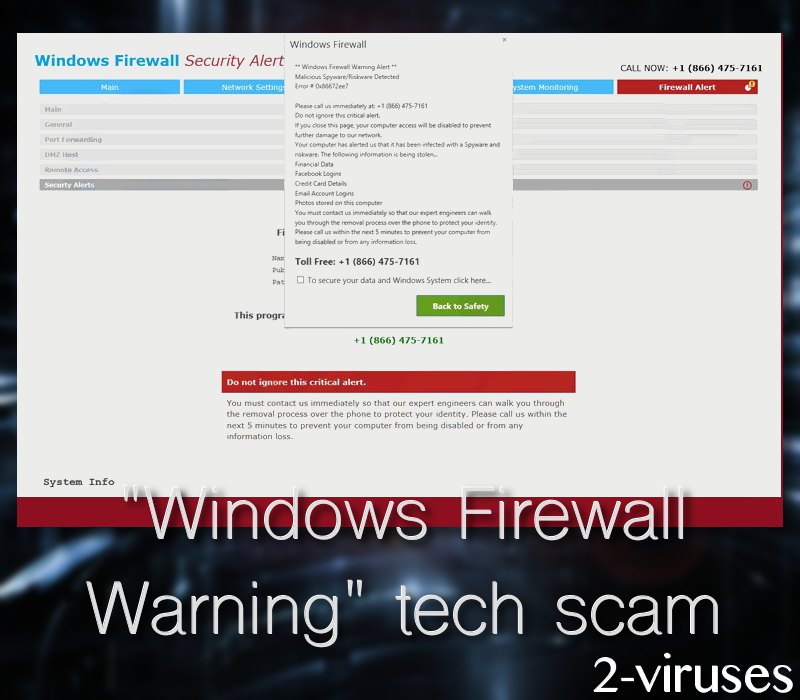 The phone numbers in "Windows Firewall Warning Alert" scam might be constantly changing. At one point, people were recommended to call a toll free number +1 (866) 475-7161. However, we have also seen reports, urging users to call 877-848-6239.
In the future, it is possible that new digit numbers might be seen in this message. Nevertheless, none of them belong to certified technicians. In fact, some people have been arrested for creating Microsoft support scams (Four people are arrested in the UK in connection with the Microsoft support scam).
The "Windows Firewall Warning Alert" scam states that there has been malicious spyware or riskware detected in your operating system. Alleged specialists encourage people not to ignore this critical alert because computer is going to be disabled to avoid further damage. A similar scam called "Error: 0x8007042C" has been noticed as well: it indicates that Firewall has been breached.
It is stated that the infection has compromised users' financial data, Facebook logins, credit card details, email account logins and photos on the device. This is a classic scam and we hope that people won't contact hoaxers behind it.
Many scams like "Windows Firewall Warning Alert" fake notification are not only trying to steal your money, but also attempt to infect you with malicious viruses straight from the pop-up. Security researchers have indicated that technical support scams are capable of transmitting viruses thru the drive-by download technique (What Is A Drive-By Download Attack?). Be sure that Microsoft corporation has nothing to do with this message and if fake technicians ask for remote access to your device, you would be giving power to cyber criminals.
"Windows Firewall Warning Alert" scam might also lock your browser and prevent you from closing the pop-up. One option to escape this window is to close the browser process completely. All you have to do is open Windows Task Manager and find the process of the locked browsing program.
It could be Google Chrome, Mozilla Firefox, Internet Explorer or basically any other tool. After closing the process, you can re-open your browser. However, it could be that the rogue message is soon going to be shown again.
This leads to another important discussion: your computer might be already infected with malicious software. It could be that you have recently downloaded a freeware tool from suspicious sources. You should open Control Panel and delete all programs that you do not recognize. If the problem this persists, you might have to use a stronger removal technique.
How to stop rogue messages like "Windows Firewall Warning Alert" scam from being displayed on your screen?
Since the manual removal might not work, we suggest an alternative solution. Simply run a scan with an anti-malware tool in order to reach the best results possible. On our behalf, we recommend trying Spyhunter and these anti-malware programs won't disappoint. They will appropriately protect your device from viruses. Removal of malicious files or programs has never been that easy! Simply run a scan and let them do all the heavy lifting!
Of course, you should also be aware that downloading random freeware is never going to improve your operating system. In fact, by downloading very little known programs you might exposing yourself to a ton of problems. For instance, a third-party program might be designed to display tons of third-party advertisements, track your browsing activities, insert keyloggers or initiate other suspicious activities.
How to remove "Windows Firewall Warning Alert" tech scam using Windows Control Panel
Many hijackers and adware like
"Windows Firewall Warning Alert" tech scam
install some of their components as regular Windows programs as well as additional software. This part of malware can be uninstalled from the Control Panel. To access it, do the following.
Start→Control Panel (older Windows) or press Windows Key→Search and enter Control Panel and then press Enter (Windows 8, Windows 10).
Choose Uninstall Program (if you don't see it, click in the upper right next to "View by" and select Category).
Go through the list of programs and select entries related to "Windows Firewall Warning Alert" tech scam . You can click on "Name" or "Installed On" to reorder your programs and make "Windows Firewall Warning Alert" tech scam easier to find.
Click the Uninstall button. If you're asked if you really want to remove the program, click Yes.
In many cases anti-malware programs are better at detecting related parasites, thus I recommend installing Spyhunter to identify other programs that might be a part of this infection.
Automatic Malware removal tools