Warnings that say that you have to call a phone number to fix "Error 0x80072ee7" are fake. They're tech support scams – nothing but malicious attempts to steal your money and infect your computer with malware.
There is a real error called "0x80072ee7" – Windows might display it in relation to app updates.
However, webpages that claim to have detected "Error 0x80072ee7" on your computer are tech support scams. Their goal is to trick you into believing that your computer is infected and that your info is being stolen, then to sell you fake tech support services. The "Error 0x80072ee7" messages pretend to come from Microsoft to appear more believable.
Ignore any "Error 0x80072ee7" warning that you see on the internet. Your computer is likely fine and your data is not being stolen.
About "Error 0x80072ee7" in short:
Classification
Scam.
How the scam works
It tries to scare you into contacting a scammer who pretends to be a tech support specialist,

the scammer pretends to remove malware and asks to be paid for their services.

Dangers posed by the "Error 0x80072ee7" alert
It causes stress and wastes your time,

it allows scammers to access your computer,

it might cost you money.

How to avoid harm
Ignore suspicious virus alerts,

check your PC for adware (Spyhunter, Malwarebytes, others),

block malicious ads.
How "Error 0x80072ee7" tech support scam works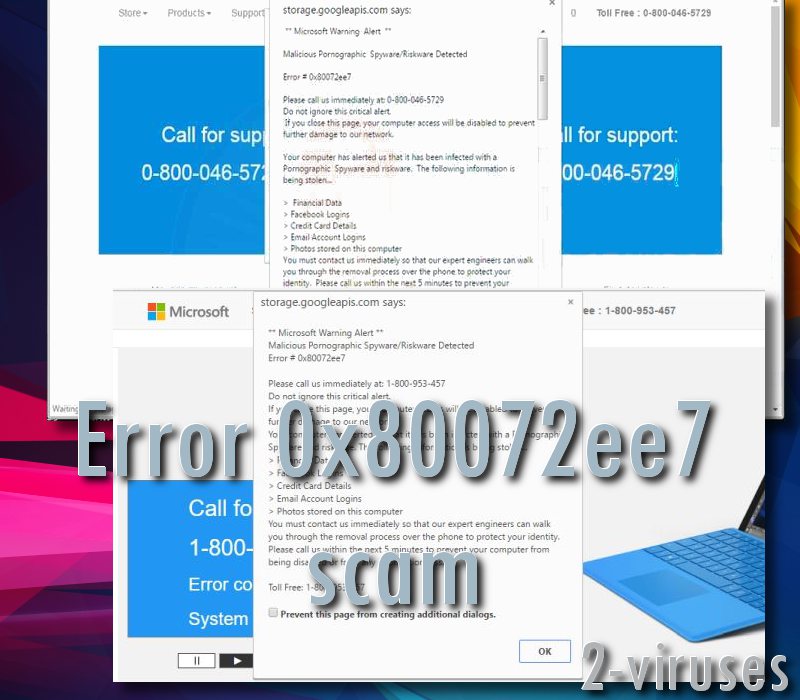 The "Error 0x80072ee7" tech scam is a full page warning decorated with Windows and Microsoft logos. It's supposed to convince you that the warning is really coming from Microsoft.
It says that "Microsoft Pornographic Spyware/Riskware" was detected on your device. It also claims that this spyware is collecting your personal information: financial data, Facebook logins, credit card details, email account logins, photos, and other content from your computer.
The "Error 0x80072ee7" warning also threatens that if you ignore it, your computer will be "disabled". It even gives you a countdown timer.
All of this is meant to scare you into calling the phone number given by the fake alert. Here's what the people who answer the phone usually do:
They say that they've found malware on your computer.
They tell you to install a (legitimate) remote access program (for instance, by going to Helpme.net) to let them access your computer directly.
Once they've got control over your computer, they run various scripts to show fake error messages (very easy to do) and show you error logs (which are normal and do not indicate a malware infection).
If you're sufficiently convinced, the scammers pretend to remove the malware and ask you to pay for the "services".
While the scammers have access to your computer, they might intentionally cause various problems. They might set a password to prevent you from getting on your PC, install real spyware, and look for files that might be valuable.
What causes the scam
The "Error 0x80072ee7" warning is a webpage. It can appear on an infected website or a site that belongs to cyber criminals. In addition, the page might download itself on your PC as an Html file.
You might encounter "Error 0x80072ee7" and other tech support scams while browsing the web. The more aggressive the ads on the site, the more likely they are to be malicious.
If the fake "Error 0x80072ee7" alert reappears regularly, it could be that your computer is infected with an adware virus. it could be as mild as a notification hijacker or as serious as an ad injector.
Whatever you do, do not contact the authors of the "Error 0x80072ee7" technical support scam. The people who answer the phone won't help you. Instead, manually open the Support.microsoft.com page and seek help there.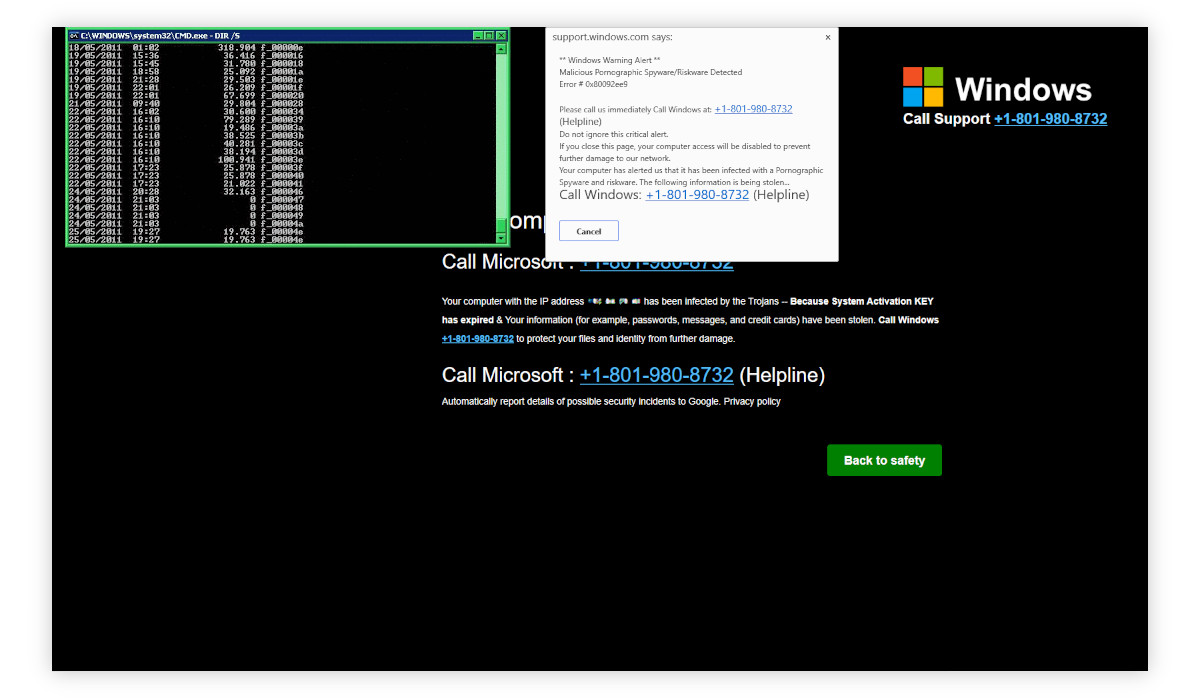 How to stay safe when faced with the "Error 0x80072ee7" scam
The "Error 0x80072ee7" scam page is not directly dangerous. It wastes your time and causes unnecessary stress, but it won't infect your computer.
It only becomes dangerous if you call the given phone number and follow the instructions of the scammers on the other side.
Therefore, the best option would be to close the warning (how to close persistent pop-ups) and, optionally, scan your computer for malware with a reputable anti-malware app (Spyhunter, Malwarebytes, or whatever program you use).
If the deceptive message appeared once, it is possible that it is going to appear again. Besides checking for malware with an anti-malware scanner, consider getting an ad blocker to use on those sites that are too aggressive with their pop-ups and redirects.
For the future, please ignore fake virus alerts like Four (4) virus and Windows Support Alert. Even if they seem convincing, do not fall for them – not on your PC and not on your phone or tablet. Scammers constantly come up with new ways to take advantage of innocent web users, so stay alert.
How to remove "Error 0x80072ee7" Tech Scam using Windows Control Panel
Many hijackers and adware like
"Error 0x80072ee7" tech scam
install some of their components as regular Windows programs as well as additional software. This part of malware can be uninstalled from the Control Panel. To access it, do the following.
Start→Control Panel (older Windows) or press Windows Key→Search and enter Control Panel and then press Enter (Windows 8, Windows 10).
Choose Uninstall Program (if you don't see it, click in the upper right next to "View by" and select Category).
Go through the list of programs and select entries related to "Error 0x80072ee7" Tech Scam . You can click on "Name" or "Installed On" to reorder your programs and make "Error 0x80072ee7" tech scam  easier to find.
Click the Uninstall button. If you're asked if you really want to remove the program, click Yes.
In many cases anti-malware programs are better at detecting related parasites, thus I recommend installing Spyhunter to identify other programs that might be a part of this infection.
Automatic Malware removal tools