Hastopic.com is an annoying advertising website that takes over Android devices. It is a symptom of a malware infection, likely only one of a few problems caused by a malicious application.
To avoid Hastopic.com redirects and other malware, be careful of websites that show aggressive pop-up ads. Also, be skeptical of apps and only install those that you trust.
To remove the Hastopic.com hijacker, find and remove malicious apps and check your browser settings.
Hastopic Com Ads And Redirects quicklinks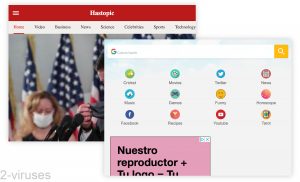 About Hastopic.com:
Threat type
Adware,

trojan.

Symptoms of a Hastopic.com infection
Hastopic.com takes over the home page and opens by itself,

new apps are being downloaded and installed by themselves.

How malicious apps spread
They are promoted by deceptive ads,

they get installed by other malicious apps.

How to remove Hastopic.com redirects
Find and remove malicious apps manually and with anti-malware apps (Malwarebytes, others),

make a backup of your data (but not your apps) and reset your device.
About Hastopic.com spam
Advertising app
Hastopic.com is a browser-hijacking website that takes over Android phones and other devices. It has a search box and widgets for various apps, links to videos, articles, sports results, music, etc. And, of course, Hastopic.com shows a lot of advertisements.
People online complain about Hastopic.com appearing unwanted on their screens and taking over their devices:
Hastopic.com is redirecting them to unwanted websites,
apps and files being downloaded automatically,
ads and affiliate links opening on their own.
In other words, Hastopic.com  is an aggressive advertising website that tries to show you as many ads as possible. It makes money this way.
Related to other malicious applications
The Hastopic.com hijacker may have taken over your device because of a malicious application. This malicious app may be downloading and installing other malicious apps in the background. There's no shortage of malware on the Play Store and elsewhere.
There are quite a few problems that these apps could cause, here are a few examples:
advertising fraud apps click on ads in the background (slowing down the device and wasting bandwidth and battery power),
spam apps send out malicious messages from the infected device,
spyware apps collect private (passwords, payment methods, etc.) and send it to cybercriminals,
expensive fleeceware apps that do nothing but cost a high subscription fee.
You need to remove suspicious apps and manage your browser settings to get rid of Hastopic.com.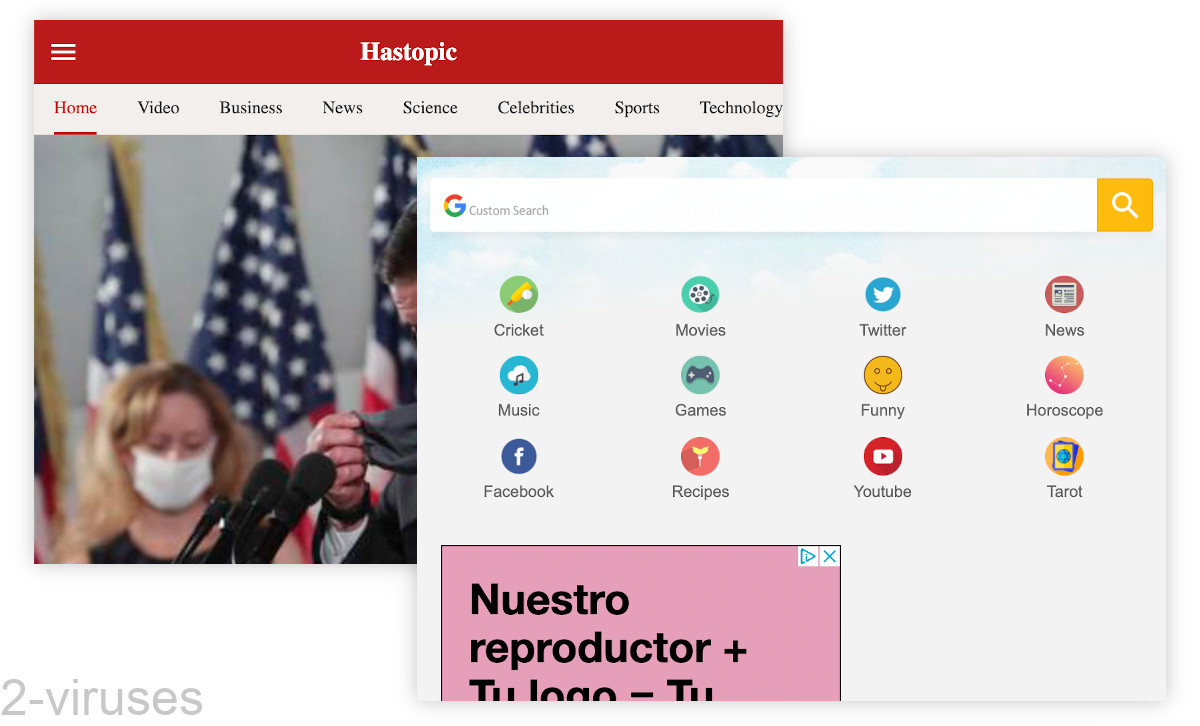 How to remove Hastopic.com and other malware
Avoid malware on Android
Hastopic.com doesn't just come from nowhere; malicious actors are spreading it via deceptive ads and bad apps.
For instance, fake update prompts are often used to trick people into installing apps that they might not want. These ads might say something like "Update ready", or they might be designed to look like updates for another app, such as WhatsApp.
Such ads appear on unsafe websites, especially on "free" (pirate) movie streaming sites (Soap2day), Mp3 converters, and similar websites.
To avoid hijackers like Hastopic.com, you should be very careful online:
avoid sites that show aggressive and deceptive ads,
ignore update pop-ups, especially those that try to scare you,
don't install apps made by unknown developers.
Even an app that functions well could be infected with Hastopic.com or other malware.
Remove malicious apps
In order to remove Hastopic.com, you need to find and delete all the problem apps. Then, check your browser settings.
It can be difficult to find malware on your device. The apps that need to be removed might use names to make themselves appear important or necessary, like "System Tools". They might also appear as various harmless items, such as a theme or a small game.
Remove or disable apps yourself (Support.google.com) until the Hastopic.com problem goes away.
Use apps like Malwarebytes to scan your device and remove malware for you. Security apps might be able to catch problems like hidden files that could be hard to solve manually.
Reset your browser settings (Support.google.com).
If you can't seem to find and remove the malware manually or with a security application, then you can also do a factory reset. Begin by making a complete backup of your photos, chats, and other data that you want to keep. Then reset your device and do not restore it from a backup. Instead, manually reinstall your apps from the Play store one-by-one and watch if Hastopic.com comes back.