How to remove Windows Stability Maximizer?
What is Windows Stability Maximizer?
Windows Stability Maximizer, just like its recent predecessor Windows Processes Accelerator, can be easily called dangerous application that should never be kept on your computer. Being released by hackers only to swindle the money, this program starts pretending to be reputable anti-spyware as soon as it manages to get inside your system. Be sure that Windows Stability Maximizer won't fail to inform you about numerous viruses detected and additionally will offer to purchase its licensed version for their removal. The basic thing you must remember is that this program is not capable to detect or remove any kind of malware. Just like other rogues hailing from this family, Windows Stability Maximizer is a pure rogue anti-spyware that should be removed without any delay. We recommend you choosing reputable anti-spyware for making sure that there is no infected files on your computer.
In most of the cases, users get infected with Windows Stability Maximizer through security holes that appear as soon as he forgets to update security software on his computer. After being downloaded with a help of trojans, this rogue is additionally set to start as soon as PC is rebooted. As a result, compromised computer starts telling its victim about dangerous files detected on the system and then offers to purchase its fake license. To be precise, Windows Stability Maximizer 'informs' about trojans, keyloggers and other 'viruses' that in reality have nothing to do with real computer's situation.
Each bogus alert displayed by Windows Stability Maximizer claims:
Warning
Firewall has blocked a program from accessing the Internet
C:\program files\internet explorer\iexplore.exe
is suspected to have infected your PC. This type of virus intercepts entered data and transmits them to a remote server.
Warning! Identity theft attempt Detected
Hidden connection IP: 58.82.12.124
Target: Your passwords for sites
Error
Trojan activity detected. System data security is at risk.
It is recommended to activate protection and run a full system scan.
We highly recommend you ignoring such alerts and scanners displayed by Windows Stability Maximizer because you will simply give your money for scammers. Before you make a wrong decision, please run a full system scan with reputable anti-spyware to see which files are infected. In order to remove Windows Stability Maximizer for good, we recommend you using Spyware doctor version 2012, Malwarebytes Anti-Malware or Spyhunter that will show you all infected files on your machine. If you have problems installing anti-malware program on your machine, you can try fake -register this malware with key recovered by malware researcher Siri : 0W000-000B0-00T00-E0020.
Windows Stability Maximizer
is Extremely dangerous
Windows Stability Maximizer is a corrupt Anti-Spyware program
Windows Stability Maximizer may spread via Trojans
Windows Stability Maximizer may display fake security messages
Windows Stability Maximizer may install additional spyware to your computer
Windows Stability Maximizer may repair its files, spread or update by itself
Windows Stability Maximizer violates your privacy and compromises your security
Windows Stability Maximizer screenshots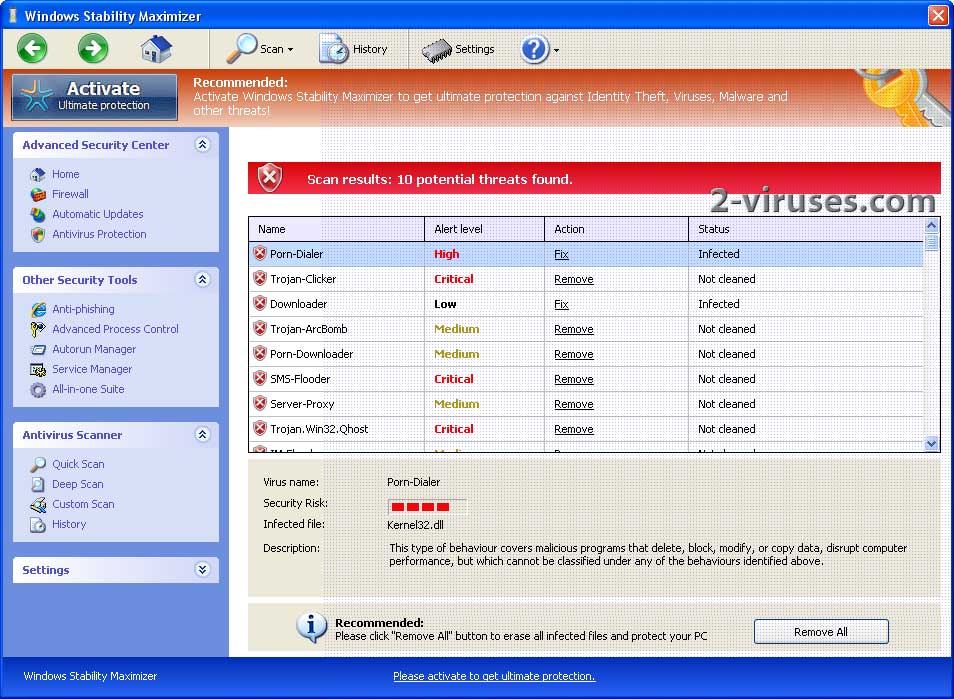 Manual Windows Stability Maximizer removal
Important Note:
Although it is possible to manually remove Windows Stability Maximizer, such activity can permanently damage your system if any mistakes are made in the process, as advanced spyware parasites are able to automatically repair themselves if not completely removed. Thus, manual spyware removal is recommended for experienced users only, such as IT specialists or highly qualified system administrators. For other users, we recommend using
Spyhunter
or other
malware and spyware removal applications
found on 2-viruses.com.
Stop these Windows Stability Maximizer processes:
Remove these Windows Stability Maximizer Registry Entries:
Remove these Windows Stability Maximizer files:
It is impossible to list all file names and locations of modern parasites. You can identify remaining parasites, other Windows Stability Maximizer infected files and get help in Windows Stability Maximizer removal by using free Spyhunter scanner. It comes with free real-time protection module that helps preventing Windows Stability Maximizer and similar threats.
Windows Stability Maximizer is classified as Rogue Anti-Spyware. After infecting a user's system, it proceeds to scare its victim into buying the "product" by displaying fake security messages, stating that your computer is infected with spyware and only Windows Stability Maximizer can help you to remove it after you download the trial version. As soon as the victim downloads Windows Stability Maximizer trial version, it pretends to scan your computer and shows a grossly exaggerated amount of non-existent errors. Then, Windows Stability Maximizer offers to buy the full version to fix these false errors. If the user agrees, Windows Stability Maximizer does not only fix the errors, but it also takes the user's money and may even install additional spyware into the victim's computer.
Some Rogue Anti-Spyware, such as Windows Stability Maximizer, may offer users to buy it after the victim clicks on a banner or a pop-up while surfing the internet. Usually, a Trojan is installed to a victim's computer after clicking on the advertisement. It then proceeds to download or even install Windows Stability Maximizer, which is another way for Rogue Anti-Spyware to spread itself.
Most of rogue Anti-Spyware, such as Windows Stability Maximizer, is nearly impossible to remove manually.
How to tell if your PC has been infected by a Rogue Anti-Spyware such as Windows Stability Maximizer?
Numerous undesirable and annoying pop-ups:
A typical Rogue Anti-Spyware parasite keeps track of your internet browsing habits, sending your browsing history data to remote servers, owned by third party companies that use this information to advertise their products via numerous pop-ups, toolbars, hijacked homepages and spam letters. All these undesirable advertising methods are used on the victims of Rogue Anti-Spyware.
Changed or new icons:
Sometimes, Rogue Anti-Spyware installs unwanted software to a victim's PC without user's knowledge and consent. This may lead to slower PC performance and stability, as well as more unwanted programs you can't remove.