Advanced System Protector uses rogue tactics for promotion - How to remove?
Advanced System Protector is old antivirus application that was legitimate for very long. It is made by Systweak at the moment. However, we discovered that it is distributed using heavy rogue tactics at the moment, together with other malware. Although the software does not show false positives (and is quite poor in detection anyway) its promotion desires for better.
First, Advanced System Protector is installed silently on the launch of Regclean Pro – other software by the same makers. You are not asked for confirmation of any sort. Silent antivirus or anti-malware program install is rogue tactics number 1.
Secondly, Advanced System Protector detects other software that comes together with Regclean Pro from the same installation bundle. So technically, its advertisers infect PC with browser hijacker first, and then install software to remove parts of it later on. This is rogue tactics number 2.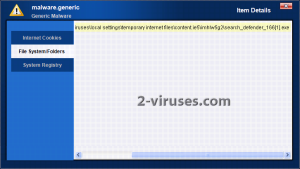 Thirdly, the bundle regclean pro is distributed with is trojan on itself – it does not perform what it advertises and is a form of malware to install various offers on your PC.
Thus I strongly suggest NOT using Advanced System Protector at the moment and uninstalling it from your PC. Such tactics should not be encouraged. I recommend scanning with legitimate anti-malware programs as well. You will need to detect all the hijackers and trojans that distribute or are distributed together with Regclean Pro and Advanced System Protector. Go for Spyhunter, Malwarebytes Anti-Malware, Hitman Pro.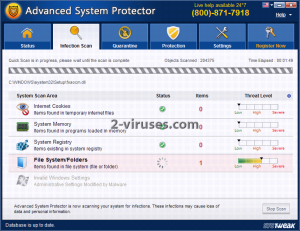 Full video of our tests is available here :
Automatic Advanced System Protector uses rogue tactics for promotion removal tools
Advanced System Protector uses rogue tactics for promotion screenshots