Zlob.Porn.Ad - How To Remove?
You may have already read about Paladin Antivirus, rogue anti-spyware which usually imitates scanning of the system actions and reports about hundreds of various infections detected. One of these infections is Zlob.Porn.Ad, misleadingly showed for the user trying to make him scared about his PC. The main aim of Paladin Antivirus is to swindle the money by making victim purchase so called "licensed" version. However, just like Zlob.Porn.Ad, Paladin Antivirus is a scam which needs to be removed from the PC system in the short term.
When Paladin Antivirus installs itself without being recognized, among all the misleading reports it displays there is one announcing "Warning! Adware detected!". Being more specific, this alert reports about Zlob.Porn.Ad as the adware which promotes websites with illegal content. The reason of showing all these messages is to convince you about the critical situation unexpectedly found on your PC. When people are made to believe that Zlob.Porn.Ad parasite is on their machines, they are directly led into installing Paladin Antivirus as the only remover of it. Of course, money is asked at first for this rogue anti-spyware.
To get you into a huge trouble it takes only to push the button named "Remove adware". This option automatically leads to the payment page where users are expected to enter their credit card details and other financial information. It should be clear that Zlob.Porn.Ad is the non existent infection and if you have already been announced about it, then scan your PC for Paladin Antivirus. Don't purchase this badware and delete it as soon as detected. Use a reputable anti-spyware and remove Paladin Antivirus without wasting your time.
Automatic Zlob.Porn.Ad removal tools
We might be affiliated with some of these programs. Full information is available in disclosure
Manual removal
Important Note: Although it is possible to manually remove Porn, such activity can permanently damage your system if any mistakes are made in the process, as advanced spyware parasites are able to automatically repair themselves if not completely removed. Thus, manual spyware removal is recommended for experienced users only, such as IT specialists or highly qualified system administrators. For other users, we recommend using Reimage or other tools found on 2-viruses.com.
Processes:
Files:
Dll:
Registers:
Zlob.Porn.Ad screenshots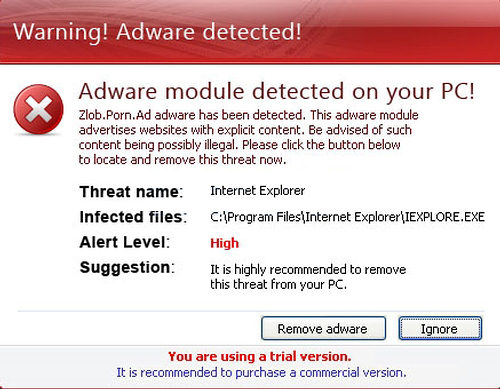 About the author