Windows Simple Protector is a malicious program which needs to be removed as soon as possible. Though it poses to be anti-malware created for only good reasons, we can definitely say that it's a rogue anti-spyware after some time spent analyzing it. This program soon will become unwanted program on your computer because it will completely bombard you with its alerts and scanners. The reason of displaying it is quite simple: Windows Simple Protector tries to make you think that computer is infected and then offers paid way for fixing everything. Please, don't believe Windows Simple Protector because it's just another variant of Windows Background Protector.
Created in the same way and using identical executables, Windows Simple Protector just like its other versions spreads through blackhat social engineering and fraudulent Search Engine Optimization ways that are always involving Trojans. After this intrusion if finished, unregistered version of Windows Simple Protector begins reaching its malicious aim which will be doing its best to make the user register it. That means displaying trickily designed popup ads, scanners and alerts that all announce about viruses. These fake alerts, appearing once you reboot your computer, state that tens of dangerous infections have been detected. Trying to make you scared, you will be convinced that there are numerous Trojans, worms and other spyware that need to be neutralized:
System Security Warning
Attempt to modify register key entries is detected. Register entries analysis is recommended.
System component corrupted!
System reboot error has occurred due to lsass.exe system process failure.
This may be caused by severe malware infections.
Automatic restore of lsass.exe backup copy completed.
The correct system performance can not be resumed without eliminating the cause of lsass.exe corruption.
Warning!
Name: firefox.exe
Name: c:\program files\firefox\firefox.exe
Application that seems to be a key-logger is detected. System information security is at risk. It is recommended to enable the security mode and run total System scanning.
Threat prevention solution found
Security system analysis has revealed critical file system vulnerability caused by severe malware attacks.
Risk of system files infection:
The detected vulnerability may result in unauthorized access to private information and hard drive data with a seriuos possibility of irreversible data loss and unstable PC performance. To remove the malware please run a full system scan. Press 'OK' to install the software necessary to initiate system files check. To complete the installation process please reboot your computer.
Additionally, Windows Simple Protector can be easily predetermined that it will suggest a way how you can remove all these cyber threats detected. Windows Simple Protector will present itself the only software capable of doing this and will redirect you to its purchase webpage.
Please, never buy Windows Simple Protector because you will only give your money for scammers who will continue making these threats. Remove Windows Simple Protector instead of purchasing because it's just another scam software that claims to find something dangerous. Note that Windows Simple Protector reports only invented viruses or legitimate your system files. That's why it's important to ignore alerts got from this malware and install a decent anti-spyware (such as spyhunter) for Windows Simple Protector removal.
Automatic Windows Simple Protector removal tools
We might be affiliated with some of these programs. Full information is available in disclosure
Manual removal
Important Note: Although it is possible to manually remove Windows Simple Protector , such activity can permanently damage your system if any mistakes are made in the process, as advanced spyware parasites are able to automatically repair themselves if not completely removed. Thus, manual spyware removal is recommended for experienced users only, such as IT specialists or highly qualified system administrators. For other users, we recommend using Reimage or other tools found on 2-viruses.com.
Processes:
Files:
Registers:
Windows Simple Protector screenshots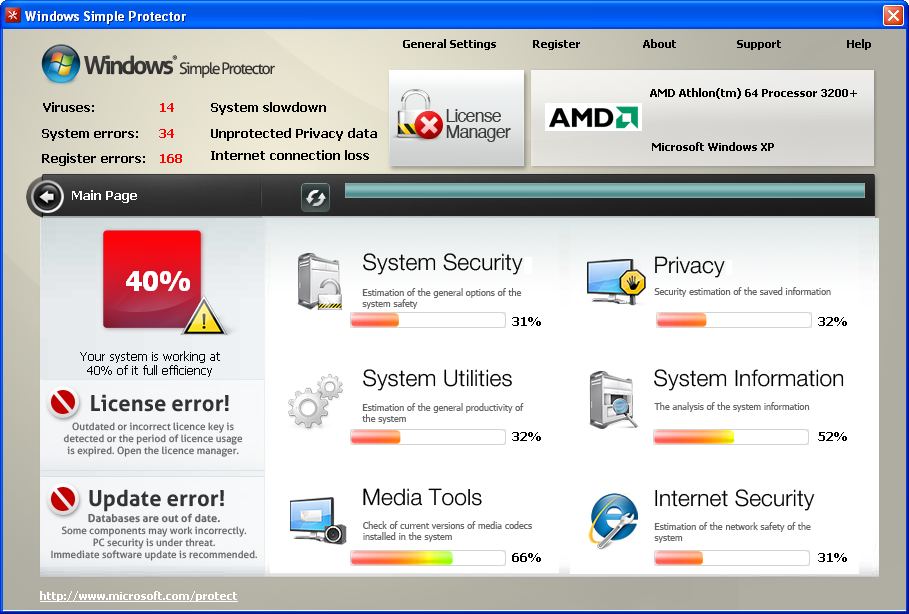 About the author