Windows Recovery is a skillfully designed malware presented as PC analysis and optimization program. In reality, it was released to gain the income for scammers by tricking people into paying for so called 'registered version'. After making users concerned about the state of their computer, they are bombarded with pop-ups offering to purchase it and even redirected to purchase page. Obviously, just after noticing its warnings, you should find a way how to remove Windows Recovery. It may be a complicated task, but reputable anti-spyware (spyhunter and Malwarebytes Anti-Malware are recommended) will help to eliminate it.
WindowsRecovery is known to be a successor of the infamous viruses called Windows Safemode, SystemDiagnostic or Windows Tool that all have created lots of trouble to computer users worldwide. All these programs act identically to each other what means their infiltration methods and other activity. Firstly, unregistered version of Windows Recovery infiltrates computer's system with a help of trojans that exploit security vulnerabilities of targeted machine. This intrusion is also followed by some unexpected modifications that make Windows Recovery prepared for its fraudulent activity just after machine is set to work. It starts displaying such warnings:
Requested registry access is not allowed. Registry defragmentation required
Read time of hard drive clusters less than 500 ms
32% of HDD space is unreadable
Bad sectors on hard drive or damaged file allocation table
GPU RAM temperature is critically high. Urgent RAM memory optimization is required to prevent system crash
Drive C initializing error
Ram Temperature is 83 C. Optimization is required for normal operation.
Hard drive doesn't respond to system commands
Data Safety Problem. System integrity is at risk.
Registry Error – Critical Error
Keep in mind that you won't be asked if you want Windows Recovery to come inside your PC. You will simply notice annoying system tray notifications and other alerts telling you about hard drive problems found. Besides, you will also be offered to defrag your machine what will also announce issues with hard drive. Of course, you will be told that all these numerous problems can be eliminated with a help of Windows Recovery but first of all you must pay some money for it:
Fix Disk
Windows Recovery Diagnostics will scan the system to identify performance problems.
Start or Cancel
Critical Error!
Damaged hard drive clusters detected. Private data is at risk.
Critical Error
Hard Drive not found. Missing hard drive.
Critical Error
RAM memory usage is critically high. RAM memory failure.
Critical Error
Windows can't find hard disk space. Hard drive error
Critical Error!
Windows was unable to save all the data for the file \System32\496A8300. The data has been lost. This error may be caused by a failure of your computer hardware.

Critical Error
A critical error has occurred while indexing data stored on hard drive. System restart required.
System Restore
The system has been restored after a critical error. Data integrity and hard drive integrity verification required.

Activation Reminder
Windows Recovery Activation
Advanced module activation required to fix detected errors and performance issues. Please purchase Advanced Module license to activate this software and enable all features.
Windows Recovery Diagnostics
Windows detected a hard disk error.
A problem with the hard drive sectors has been detected. It is recommended to download the following sertified <sic> software to fix the detected hard drive problems. Do you want to download recommended software?
As always, we can easily warn you that all above-mentioned alerts and scanners are fake. They are expected by scammers to not only annoy you but also push you into a purely commercial goal – to get you paying for Windows Recovery full version. In the meanwhile, such version is useless just like the trial of Windows Recovery and your hard drive may be clear of issues. The only trouble you have is Windows Recovery which must be eliminated ASAP. If your PC is infected with this scam, please remove Windows Recovery with a help of reputable malware. Pay attention to your privacy and get rid of all its files!
Automatic Windows Recovery removal tools
We might be affiliated with some of these programs. Full information is available in disclosure
Manual removal
Important Note: Although it is possible to manually remove Windows Recovery, such activity can permanently damage your system if any mistakes are made in the process, as advanced spyware parasites are able to automatically repair themselves if not completely removed. Thus, manual spyware removal is recommended for experienced users only, such as IT specialists or highly qualified system administrators. For other users, we recommend using Reimage or other tools found on 2-viruses.com.
Processes:
Files:
Dll:
Registers:
Windows Recovery screenshots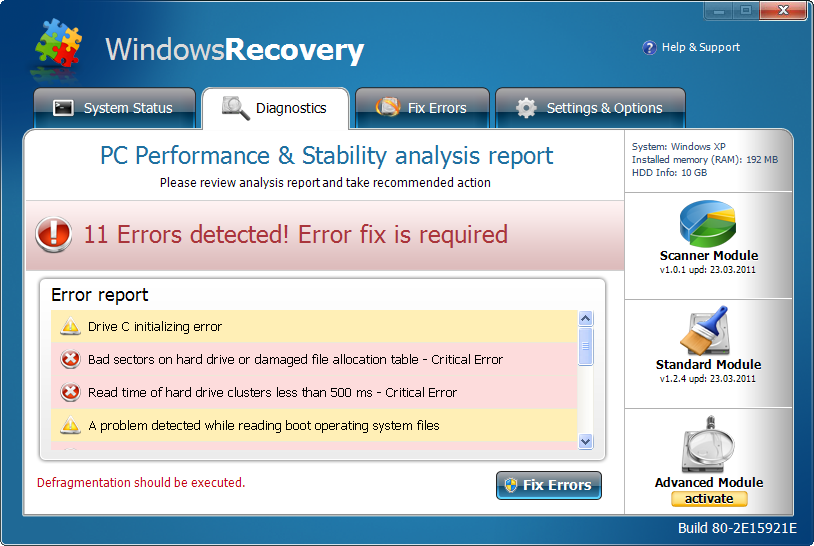 About the author