Windows Performance Manager - How To Remove?
Windows Performance Manager is another variant of rogue anti-spyware programs that share the same looks and malicious tactics applied, like Windows Processes Organizer, Windows Troubles Analyzer, Windows Privacy Agent and others. This malware tries to get inside the system undetected, so it infiltrates computer through the use of Trojans that are capable to come through security flaws. After getting inside, Windows Performance Manager starts potentially damaging infected PC's OS in many ways, like disables security programs from launching or disconnects you from the internet. The only way to save your PC from such malicious activity is to uninstall Windows Performance Manager. It may be quite complicated without any anti-spyware running, so choose the reputable one and also don't forget updating. In order to avoid Windows Performance Manager and other scams interrupting your normal activity on PC, you need 'licensed' version because only this variant of anti-spyware program gives a real time protection.
When Windows Performance Manager gets inside through security exploits found, it is set to start as soon as you reboot your computer because of some registry entries interrupted. Malware starts to display misleading warnings about numerous viruses detected. This activity is followed by deceitful popup ads and also fake scanners that all report the same things:
System Security Warning
Attempt to modify register key entries is detected. Register entries analysis is recommended.
System component corrupted!
System reboot error has occurred due to lsass.exe system process failure.
This may be caused by severe malware infections.
Automatic restore of lsass.exe backup copy completed.
The correct system performance can not be resumed without eliminating the cause of lsass.exe corruption.
Warning!
Name: firefox.exe
Name: c:\program files\firefox\firefox.exe
Application that seems to be a key-logger is detected. System information security is at risk. It is recommended to enable the security mode and run total System scanning.
If Windows Performance Manager is only ignored, additionally you will see more alerts:
Threat prevention solution found
Security system analysis has revealed critical file system vulnerability caused by severe malware attacks.
Risk of system files infection:
The detected vulnerability may result in unauthorized access to private information and hard drive data with a seriuos possibility of irreversible data loss and unstable PC performance. To remove the malware please run a full system scan. Press 'OK' to install the software necessary to initiate system files check. To complete the installation process please reboot your computer.
Microsoft Security Essentials Alert
Potential Threat Details
Microsoft Security Essentials detected potential threats that might compromise your private or damage your computer. Your access to these items may be suspended until you take an action. Click 'show details' to learn more.
The basic intension behind all these symptoms is to make it look like your PC got some severe security problems that need to be taken care of immediately. Windows Performance Manager will keep on trying to pop up and finally will offer to purchase its license in order to fix everything reported. However, your system is at risk because of Windows Performance Manager only and all 'viruses reported are nothing else but invented files that shouldn't be removed. Besides, solution suggested by malware and its own licensed copy is classic and shouldn't be followed in any circumstances. Please, keep in mind that instead of purchasing you should remove Windows Performance Manager. If you won't do this, you will be interrupted by malware detection alert each time you start using your computer. This is nothing but a big trap, so please do not fall into paying for 'licensed' or whatever it is called version. To ensure removal of this virus, you should rely on a reputable anti-spyware (spyhunter is recommended) and also boot into Safe Mode before scanning.
Automatic Windows Performance Manager removal tools
We might be affiliated with some of these programs. Full information is available in disclosure
Manual removal
Important Note: Although it is possible to manually remove Windows Performance Manager, such activity can permanently damage your system if any mistakes are made in the process, as advanced spyware parasites are able to automatically repair themselves if not completely removed. Thus, manual spyware removal is recommended for experienced users only, such as IT specialists or highly qualified system administrators. For other users, we recommend using Reimage or other tools found on 2-viruses.com.
Processes:
Files:
Registers:
Windows Performance Manager screenshots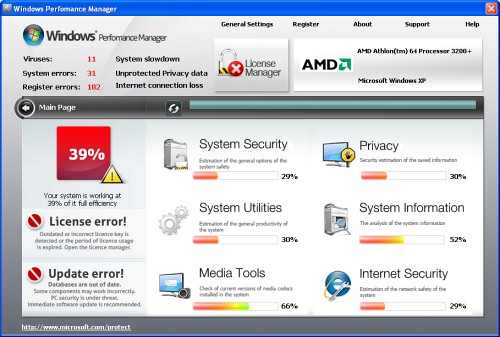 About the author