Computer hackers are going wild and continue creating fake antispyware programs. This time the program appears using a name of Windows Optimal Solution and its main goal is to get money from computer users. The program is distributed to many computer systems using a fake Microsoft Security Essentials alert. This method is already becoming traditional way for the rogue programs to get into computer. Here's how its message looks like:
Microsoft Security Essentials Alert
Potential Threat Details
Microsoft Security Essentials detected potential threats that might compromise your private or damage your computer. Your access to these items may be suspended until you take an action. Click 'show details' to learn more.
Windows Optimal Solution is a predecessor of previously mentioned Windows Care Tool, Windows Wise Protection, Windows Health Center or Windows Software Guard. The story of all these programs is the same. Once you receive the above mentioned alert you also get an offer to scan your computer for infections:
Threat prevention solution found
Security system analysis has revealed critical file system vulnerability caused by severe malware attacks.
Risk of system files infection:
The detected vulnerability may result in unauthorized access to private information and hard drive data with a serious possibility of irreversible data loss and unstable PC performance. To remove the malware please run a full system scan. Press 'OK' to install the software necessary to initiate system files check. To complete the installation process please reboot your computer.
Windows Optimal Solution infiltrates as soon as you accept the offer. After that the program will be run after each system reboot. Basically, it becomes the dominating program on the system. Windows Optimal Solution is responsible for a bunch of security notifications and pop up ads that appear while the program is running. These messages include:
System Security Warning
Attempt to modify register key entries is detected. Register entries analysis is recommended.
System component corrupted!
System reboot error has occurred due to lsass.exe system process failure.
This may be caused by severe malware infections.
Automatic restore of lsass.exe backup copy completed.
The correct system performance can not be resumed without eliminating the cause of lsass.exe corruption.
Warning!
Name: firefox.exe
Name: c:\program files\firefox\firefox.exe
Application that seems to be a key-logger is detected. System information security is at risk. It is recommended to enable the security mode and run total System scanning.
The main tactics Windows Optimal Solution uses to reach its goal is simulating system scan. As soon as computer is rebooted, Windows Optimal Solution runs its fake scanner. Once the scan finishes, you will be surprised by its results. The program will state that your computer is badly infected but all those threats can be removed with a full version of Windows Optimal Solution. And without any doubts you will be asked to pay for that.
Unfortunately, everything works completely different way. Windows Optimal Solution is not a security tool and it doesn't complete any its functions. This attempt to sell its software is just a way to swindle away some money of computer users.
It is strongly advised to get rid of Windows Optimal Solution right after its detection. Automatic spyware removers such as spyhunter or Malwarebytes Anti-Malware is the best and the most reliable way to remove this kind of infections. Besides, they will definitely protect your system from spyware infiltration in future.
Automatic Windows Optimal Solution removal tools
We might be affiliated with some of these programs. Full information is available in disclosure
Manual removal
Important Note: Although it is possible to manually remove Windows Optimal Solution, such activity can permanently damage your system if any mistakes are made in the process, as advanced spyware parasites are able to automatically repair themselves if not completely removed. Thus, manual spyware removal is recommended for experienced users only, such as IT specialists or highly qualified system administrators. For other users, we recommend using Reimage or other tools found on 2-viruses.com.
Processes:
Files:
Registers:
Windows Optimal Solution screenshots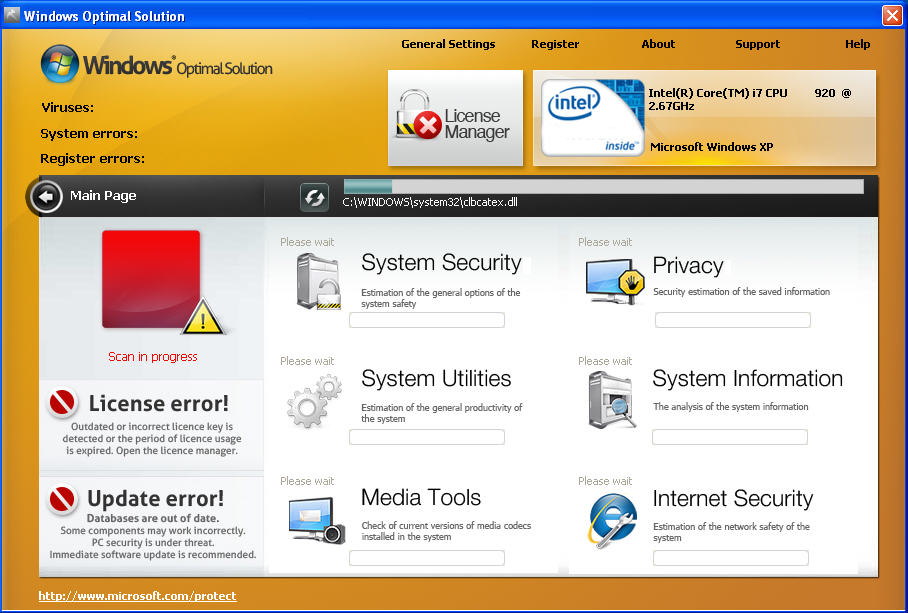 About the author