Windows Guardian Angel is an updated version of another malicious program Windows Software Keeper that was released in the middle of March. Just like its predecessor, Windows Guardian Angel uses the same GUI, ways of infiltration and additional features. All this is done for the only reason – make user think that his PC is infected and that he must purchase licensed Windows Guardian Angel's version. Though it may look legitimate, you should have no doubt about this malware and ignore its alerts and scanners that tend to return invented information. Instead of purchasing the license and throwing your money away, remove Windows Guardian Angel without any delay. For that, we don't recommend manual removal but anti-malware programs that will help you to eliminate your virus right away.
It must be clear that Windows Guardian Angel is deployed by cyber criminals to steal some money – that's why it starts offering to purchase its licensed version which is useless just like the trial its version. Typically, this rogue enters the system with a help of trojans that additionally set the program to launch every time PC is rebooted. As a result, as soon as you start browsing the web, you will be 'informed' that there are numerous viruses detected on your machine. You may find it difficult to use your PC normally because of the continuous scanners, alerts and notifications of Windows Guardian Angel. That's why you should remove your malware as soon as you find it on your PC.
In order to make you convinced that your PC is infected, this regue typically reports:
 Torrent Alert
Recomended: Please use secure encrypted protocol for torrent links.
Torrent link detected!
Receiving this notification means that you have violated the copyright laws. Using Torrent for downloading movies and licensed software shall be prosecuted and you may be sued for cybercrime and breach of law under the SOPA legislation.
Please register your copy of the AV to activate anonymous data transfer protocol through the torrent link.
Warning! Identity theft attempt Detected
Hidden connection IP: xxxxxxxxx
Target: Your passwords for sites
Warning
Firewall has blocked a program from accessing the Internet.
Windows Media Player Resources
C:\Windows\system32\dllcache\wmploc.dll
C:\Windows\system32\dllcache\wmploc.dll is suspected to have infected your PC. This type of virus intercepts entered data and transmits them to a remote server.
Error
Keylogger activity detected. System information security is at risk.
It is recommended to activate protection and run a full system scan.
Error
Software without a digital signature detected.
Your system files are at risk. We strongly advise you to activate your protection.
Never fall for Windows Guardian Angel because it's just another malware that comes without any permission asked. We highly recommend ignoring all the alerts and scanners displayed by this rogue because it will eventually return only fabricated scanners and alerts. In addition, you must remove Windows Guardian Angel before it downloads more malware on your computer and makes other havoc there. Use only reputable anti-spyware for that, such as Spyhunter or 2012 version of spyware doctor and remove Windows Guardian Angel for good.
Automatic Windows Guardian Angel removal tools
We might be affiliated with some of these programs. Full information is available in disclosure
Manual removal
Important Note: Although it is possible to manually remove Windows Guardian Angel, such activity can permanently damage your system if any mistakes are made in the process, as advanced spyware parasites are able to automatically repair themselves if not completely removed. Thus, manual spyware removal is recommended for experienced users only, such as IT specialists or highly qualified system administrators. For other users, we recommend using Reimage or other tools found on 2-viruses.com.
Processes:
Files:
Dll:
Registers:
Windows Guardian Angel screenshots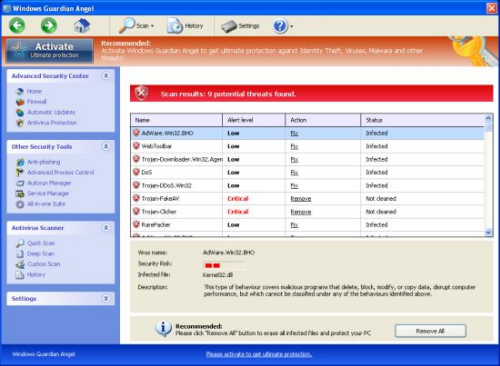 About the author