Windows Error Correction is a typical example of rogue anti-spyware that presents itself as legitimate security program while it's not. Even more, together with Windows Debug System, Windows Efficiency Manager or Windows Performance Manager it hails from a huge family of rogue anti-spywares' that all have the same design and uses identical ways to mislead computer users. If it happens for you to find Windows Error Correction installed on your computer, be sure that it was installed with a help of Trojan. It may be that your legitimate spyware removal tools haven't been upgraded and Trojans used some security vulnerabilities. This dangerous rogue application should be removed as soon as possible because it may let more viruses inside and additionally leave your computer completely useless.
After being secretly installed without any user's permission asked, Windows Error Correction virus trial version will also be set to start as soon as PC is rebooted. That's because of some modifications made by the same Trojans that spread this scamware unnoticeably. Windows Error Correction will then start to interrupt its victims with fake alerts that announce numerous viruses detected. They will also be followed by scanners also reporting dangerous viruses found and then recommending purchasing and installing 'licensed' version. However, Windows Error Correction is useless and reports only the ones files that have nothing to do with real computer's situation.  Here are some of warningsusers receive:
System Security Warning
Attempt to modify register key entries is detected. Register entries analysis is recommended.
System component corrupted!
System reboot error has occurred due to lsass.exe system process failure.
This may be caused by severe malware infections.
Automatic restore of lsass.exe backup copy completed.
The correct system performance can not be resumed without eliminating the cause of lsass.exe corruption.
Warning!
Name: firefox.exe
Name: c:\program files\firefox\firefox.exe
Application that seems to be a key-logger is detected. System information security is at risk. It is recommended to enable the security mode and run total System scanning.
As you can see, by dropping its trojan horses on to the targeted Operating System, Windows Error Correction manages to reconfigure infected computer. Malware is capable to overwhelm the system and almost paralyze it, so make sure you remove Windows Error Correction as soon as you notice it. In other way this program will run at each startup displaying its phony security scanners that report malware detected. Please, ignore any alert generated by this scamware and don't believe that registering its commercial version will help you to defend your PC. Please, get rid of Windows Error Correction as soon as possible and get a decent anti-spyware, spyhunter or Malwarebytes Anti-Malware to remove all rogue viruses.
Automatic Windows Error Correction removal tools
We might be affiliated with some of these programs. Full information is available in disclosure
Manual removal
Important Note: Although it is possible to manually remove Windows Error Correction, such activity can permanently damage your system if any mistakes are made in the process, as advanced spyware parasites are able to automatically repair themselves if not completely removed. Thus, manual spyware removal is recommended for experienced users only, such as IT specialists or highly qualified system administrators. For other users, we recommend using Reimage or other tools found on 2-viruses.com.
Processes:
Files:
Registers:
Windows Error Correction screenshots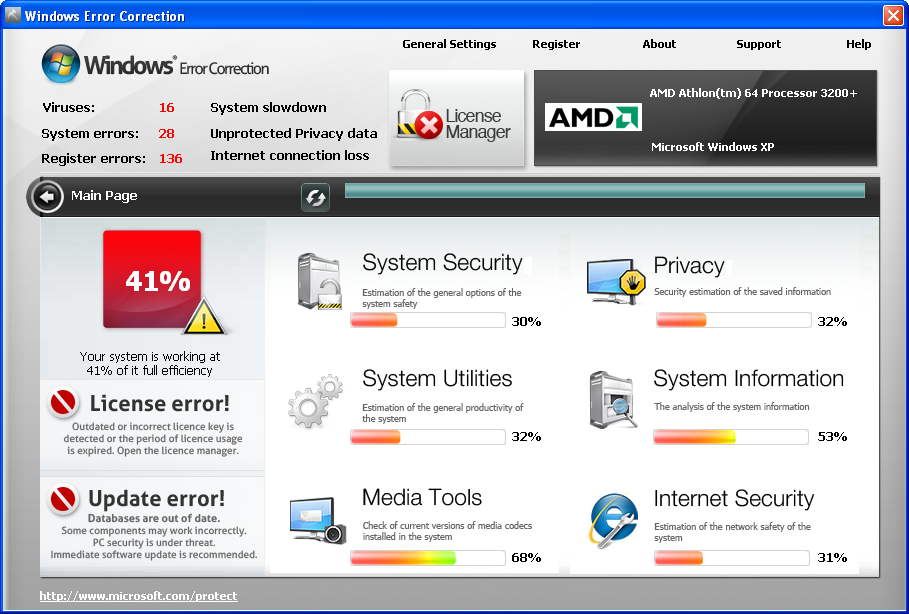 About the author