WashAndGo by Abelssoft is a system optimizer – a program that promises to make your computer faster and more stable by deleting unnecessary files. WashAndGo offers to delete browser cache, cookies, and history. It also offers to scan your registry and delete unnecessary entries from there.
WashAndGo has some problems, though: like many optimizers, it deletes harmless files and overstates its own importance. It unnecessarily runs in the background makes itself a little difficult to remove. WashAndGo is not dangerous, but you should think twice before you use it.
Washandgo Potentially Unwanted Program quicklinks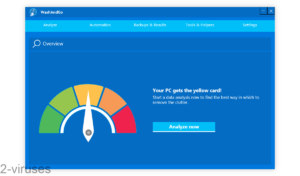 About WashAndGo:
Classification
PC optimizer,

potentially unwanted program.

Problems with WashAndGo
Some of its behavior is potentially deceptive,

its features are unnecessary and

Alternatives to PC optimizers
Free tools provided by Microsoft, Apple, and browser developers.
How to remove WashAndGo
Uninstall it manually,

check for malware with antivirus programs (Spyhunter for PC, Combo Cleaner for Mac, others).
Problems with WashAndGo
WashAndGo is an optimizer for Windows PCs and Macs. It is supposed to make your computer run faster by deleting various unnecessary files:
Browser data, such as cookies, cache, and browsing history.
Registry entries on Windows PCs.
It's simple and minimalistic. But some of WashAndGo's behavior is a little problematic.
Recently, AppEsteem (a watchdog for deceptive and risky behavior in websites and applications) identified WashAndGo as a deceptor. Only a couple on antivirus scanners flag WashAndGo (Virustotal.com), so WashAndGo is not actually dangerous or harmful. But it behaves in ways that seem a little dishonest. People should be careful of it.
There's a lot of small things that are strange. Like WashAndGo giving my PC a yellow card before even doing a scan. It running at startup without asking the user if they're okay with it. And offering to clean the Registry – something that Microsoft does not support.
Currently, only very few scanners flag WashAndGo. Likely, one of two things will happen in the future: either Abelssoft will improve the product, or more antivirus vendors will start flagging it. Three months ago, we wrote about SSD Fresh Optimizer, an application by the same company. Since then, the malware detections of that version of the program more than doubled on Virustotal.com from 9 to 28.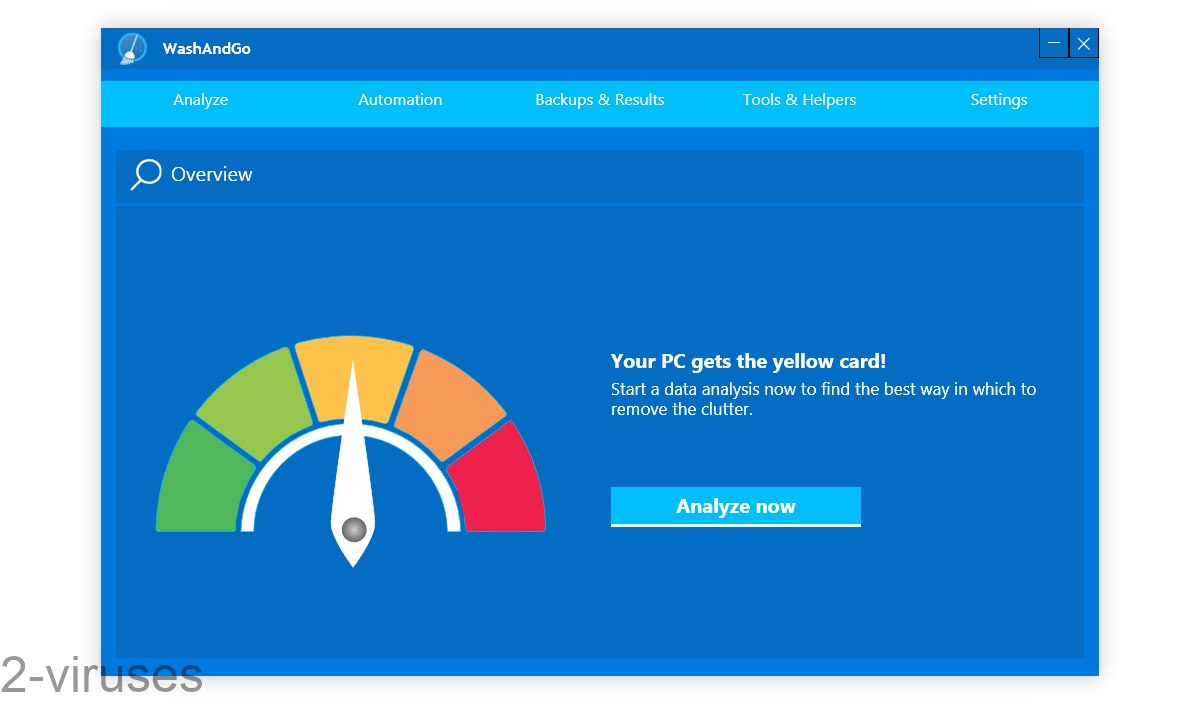 Alternatives to optimizer apps
As always, if you want to make your computer run better, just follow the advice of the developer of your operating system.
Operating systems offer free tools to manage your storage and delete unnecessary files. And it might seem daunting for you to this yourself. It might seem like optimizers will save you time by automating the optimization process. But that's often not true. Optimizers scan far too frequently (you don't need to optimize your computer daily or even weekly). Optimizers also run in the background unnecessarily and might actually slow down your system instead of making it run faster.
For example, WashAndGo wants to delete files like cache and cookies – files that are meant to make your web browsing experience smoother and faster. And it'll keep deleting them because your browsers will keep creating them in order to function.
Web browsers let you delete your data (Clear cache & cookies). They also let you change your settings – to never store cookies and cache.
How to remove WashAndGo
Despite its problems, WashAndGo is not malware. If you like using it and find it helpful, then feel safe doing it. Just remember that its features are in no way necessary to keep your computer running well.
For now, you can uninstall WashAndGo manually. Windows users can remove it from your Settings app, the Apps & features section. Or they can use the Control Panel. MacOS users can remove it from their Applications folder.
To check that it's been removed, Windows users can look in their ProgramData folder. This folder is hidden by default, so you might need to change some settings to display hidden folders.
Scan your device with an anti-malware scanner (Spyhunter for Windows, Combo Cleaner for macOS, others) to make sure that all malware is gone and to check for other potentially unwanted programs.
Automatic Malware removal tools
How to remove WashAndGo Potentially Unwanted Program using Windows Control Panel
Many hijackers and adware like
WashAndGo Potentially Unwanted Program
install some of their components as regular Windows programs as well as additional software. This part of malware can be uninstalled from the Control Panel. To access it, do the following.
Start→Control Panel (older Windows) or press Windows Key→Search and enter Control Panel and then press Enter (Windows 8, Windows 10).
Choose Uninstall Program (if you don't see it, click in the upper right next to "View by" and select Category).
Go through the list of programs and select entries related to WashAndGo Potentially Unwanted Program . You can click on "Name" or "Installed On" to reorder your programs and make WashAndGo Potentially Unwanted Program easier to find.
Click the Uninstall button. If you're asked if you really want to remove the program, click Yes.
In many cases anti-malware programs are better at detecting related parasites, thus I recommend installing Spyhunter to identify other programs that might be a part of this infection.
How to remove WashAndGo Potentially Unwanted Program from macOS
Delete
WashAndGo Potentially Unwanted Program
from your applications.
Open Finder.
In the menu bar, click Go.
Select Applications from the dropdown.
Find the WashAndGo Potentially Unwanted Program app.
Select it and right-click it (or hold the Ctrl and click the left mouse button).
In the dropdown, click Move to Bin/Trash. You might be asked to provide your login password.