The verifycaptcha.com hosts pop-ups for pretend human verification. This virus sends annoying notifications and interrupts web browsing to try and get you to visit unsafe websites. It's absolutely malicious and if you find yourself being harassed by it, you need to take care of that ASAP before you're tricked into installing all kinds of junkware and malware.
Verifycaptcha Com Captcha Virus quicklinks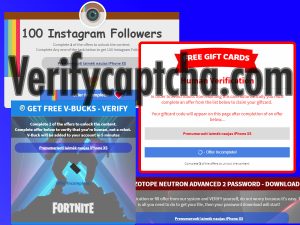 While there isn't a need to panic about the verifycaptcha.com pop-ups — if you didn't reveal your passwords and other private stuff, it's probably still safe — it should still be stopped from showing you the pop-ups because they're more than just annoying:
The Verifycaptcha.com site targets both desktop and mobile browsers and attempts to infect devices with suspicious programs and apps.
It redirects to various browser plugins that are known to be dangerous.
Tries to sign visitors up for scam subscriptions that are difficult to get out of.
Attempts to capture people's private information by getting them to fill out forms.
Clearly, scammers have found a way to make a profit and it must be working because the Verifycaptcha.com scam has been functioning for months.
Verifycaptcha.com pop-ups start with attractive offers
Verifycaptcha.com works with a group of scam websites. These sites tried to come up with some attractive offers of stuff that they thought people might want to get for free:
Free gift cards for Amazon, Xbox, PayPal, etc. for up to $50.
Free social media followers.
Activators for commercial software.
Contents of someone else's social media account, including their private chats.
Free in-game currency for some popular videogames.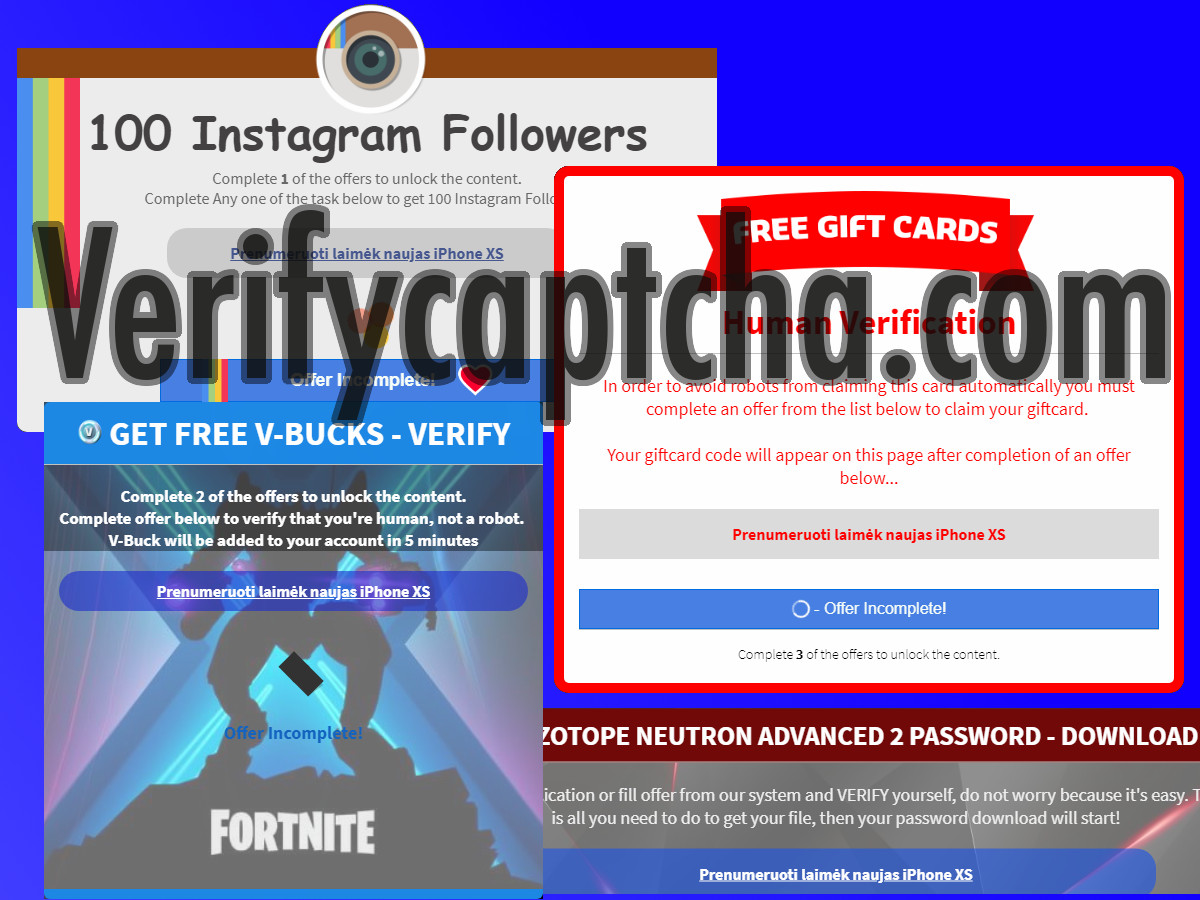 So, people who want some free money to spend on Steam, V-bucks to buy more stuff in Fortnite, followers for their Instagram account, or to spy on someone's WhatsApp chats are targeted by verifycaptcha.com. You are redirected to a fake captcha that then tries to get your private information and scam you in other ways.
These products that lead you to verifycaptcha.com don't exist, of course. In fact, fake giveaways are a staple of online scams and phishing attacks. They promise you something amazing and then dangle it just out of reach — getting you to pay a token amount with your credit card, download a program, log in to your social media through their fake page which captures your username and password…
Verifycaptcha.com promotes and spreads various potentially unwanted programs, browser hijackers, notification spammers (some of which, like Checkpost.space and Robotcaptcha.info, also pretend to verify human visitors), so if you ever take this site too seriously, you might end up infecting your device quite badly.
How to stop verifycaptcha.com virus
Besides scanning your device and removing any junk that you might have downloaded thanks to verifycaptcha.com — you can use Spyhunter (PC) or Combo-Cleaner (Mac), but browser plugins will need to be removed manually –, you can also try blocking certain websites and changing your browsing habits.
Manual instructions
If verifycaptcha.com is sending you notifications, you need to block them manually:
Chrome: type "chrome://settings/content/notifications" in the address box,
find verifycaptcha.com,
block it from sending you notifications.
Safari: in the Safari menu, choose Preferences, Websites, Notifications,
block updates from verifycaptcha.com.
Edge: open Settings, Advanced settings, Notifications, Manage,
find verifycaptcha.com and the switch next to it — turn the switch off.
Firefox: type "about:preferences#content" in the address bar,
find the Notifications section,
block updates from verifycaptcha.com.
In fact, if you don't use notifications, you can block them completely which will stop a bunch of notification spammers from being able to harass you.
Remember that nothing is free. Commercial software activators and cracks are often stuffed with malware — like ransomware that locks all of your files and asks for hundreds of dollars to unlock them. Malware developers try to earn money, too. Verifycaptcha.com is a business, though not a legal one.
So, never give away anyone's credit card information to unknown or untrustworthy sites. Don't type your social media passwords anywhere other than the official login page — you can tell that by the URL.
Ignore links posted in social media or ones sent to you by a stranger in an overenthusiastic private message. Emails can be used, too. Scams are spread by promoting links (especially shortened links) and promising that something valuable waits on the other side. Often, the account spreading the links will impersonate someone well-known and trusted to make it look like the fake giveaway is legitimate.
Even reputable and trusted sites end up publishing bad ads occasionally, so just try to be vigilant all the time. If you're not sure if a site can be trusted, just look it up — there are already many complaints on online forums about verifycaptcha.com's annoying notifications. When the site is a scam, other people have usually already encountered it. Learn from their mistakes — it can save you the trouble of getting malware on your device, being scammed out of your money, and being spammed with unwanted ads.
Automatic Malware removal tools