The 'Update your browser' alert is a totally misleading message which is displayed in order to make users download and install malicious data into their PCs. It can be linked to malware creators because these 'updates' that are offered to download are infected and additionally will let rogue anti-spyware programs, trojans or other malware get inside.
The message titled 'Update your browser' is showed when a user enters www.google.com or any other website address and it generates an image that his browser is out of date. The message says:
Update your browser

This page does not support your version of browser. Please update your software.
You will also be showed 'Browser update' button but don't click on it! This will result in downloading and installing other, potentially dangerous programs. Most of website owners adjust their websites to be compatible with all common browsers and do not require browser updates out of the blue. This is especially true for google search and other simple websites.
To remove "Update your browser" message do the following:
Use your smart phone or other, perfectly clean computer, to download and update a reputable anti-spyware (spyhunter, Malwarebytes Anti-Malware, Hitman Pro) and anti-rootkit programs (GMER, TDSS Killer).
Then connect your smart phone or use a flash drive to transfer the program to your infected PC and launch it. Use GMER as the last resort and check for any driver from Application Data or TEMP folders – this is where "Update your browser" redirect resides usually.
Automatic "Update your browser" redirect removal tools
We might be affiliated with some of these programs. Full information is available in disclosure
"Update your browser" redirect screenshots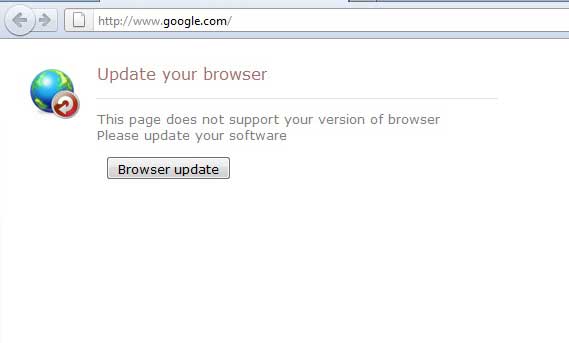 About the author