United States Cyber Security Virus is another ransomware designed to attack PCs in USA. The parasite is distributed through trojans downloaded from exploit pages, corrupt shareware and other ways. You might believe that your PC is clean, but if you land on infected website the computer might be infected without any warning or message. That is till you see some Rogue antivirus or ransomware like United States Cyber Security one. Then user is blocked from the computer completely and parasite requests payment for various "law violations".
United States Cyber Security Virus will start on each reboot, just after user logs in into his/her user account. It will display a scary looking screen with "camera" window and long text message about various violations. The bottom line this ransomware tries to convince you that if you pay a 100 USD fine during next 24 hours you won't be sued for these law infringements, and you will have to pay with Moneypak – a prepaid system that is hard to track for law institutions. This is a sure sign that ransomware is not legitimate, as there should be other payment options.
United States Cyber Security ransomware message looks like this:

Your PC is blocked due to at least one of the reasons specified below.
You have been violating Copyright and Related Rights Law (Video, Music, Software) and illegally using or distributing copyrighted content, thus infringing Article I, Section 8, Clause 8, also known as the Copyright of the Criminal Code of United States of America.

Article I, Section 8, Clause 8 of the Criminal Code provides for a fine of two to five hundred minimal wages or a deprivation of liberty for two to eight years.

….
To unblock the computer, you must pay the fine through MoneyPak of $100
You should not pay for such ransomware. The best way to deal with it is remove United States Cyber Security Virus completely from your PC and reducing the possibility of reinfection.
To get rid of this malware do the following.
1. Reboot into safe mode (or safe mode with networking).
2. Run MSConfig
3. Disable all startup entries (you can easily identify malicious entries as they will reference a file from your user folder).
4. Reboot normally and scan with https://www.2-viruses.com/downloads/spyhunter-i.exe.
5. Update your antivirus.
Here a video of related parasite removal :
If somethings goes wrong removing United States Cyber Security Virus
If safe mode is not accessible ( you see white screen in both safe mode or safe mode with networking), this is a bit different, Gimemo version of the trojan. If all safe modes are disabled, try using these instructions for Malex trojan. In worst case use alternate OS scanners.
Automatic United States Cyber Security Virus removal tools
We might be affiliated with some of these programs. Full information is available in disclosure
Manual removal
Important Note: Although it is possible to manually remove United States Cyber Security Virus, such activity can permanently damage your system if any mistakes are made in the process, as advanced spyware parasites are able to automatically repair themselves if not completely removed. Thus, manual spyware removal is recommended for experienced users only, such as IT specialists or highly qualified system administrators. For other users, we recommend using Reimage or other tools found on 2-viruses.com.
Processes:
Dll:
United States Cyber Security Virus screenshots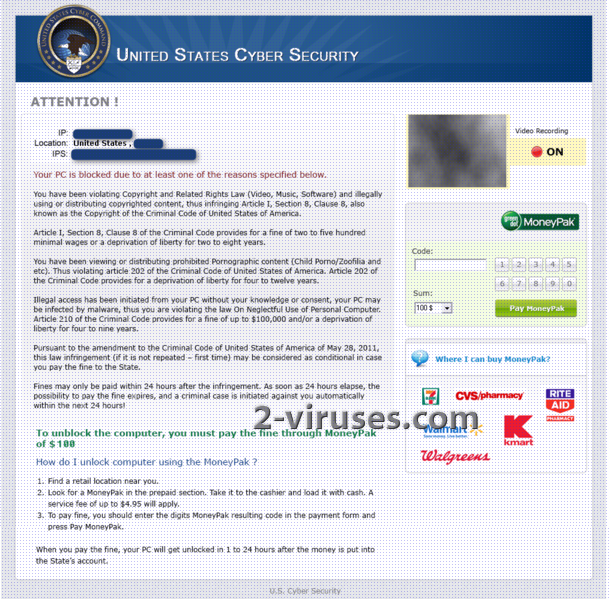 About the author