Super Optimizer (alias Super Optimizer Pro) is a program that claims it can enhance your computer's performance by removing all unnecessary entries. It is promoted as a useful tool and it has its official website, so you can download it from there. However, the program often comes via other software, without even asking for a user's approval. Super Optimizer is labeled as a potentially unwanted program and it is recommended to remove it as soon as you detect it.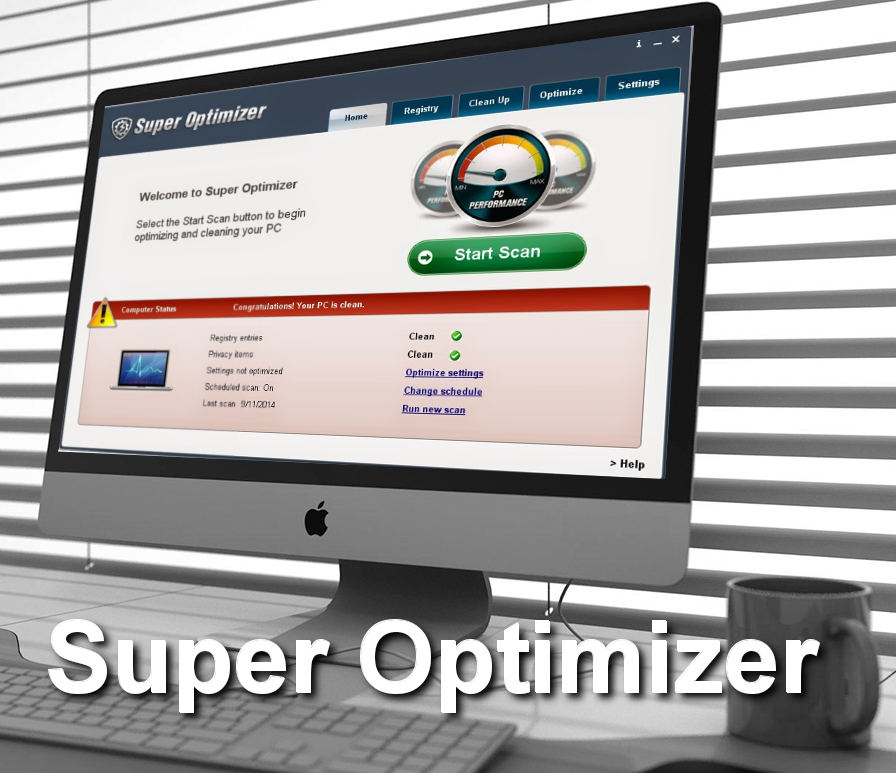 This post is dedicated to the cause of helping you detect Super Optimizer, remove it and then increase the security level of your system. Please continue reading or simply skip forward to the chapter that you are interested in.
Features of Super Optimizer
No matter how Super Optimizer has ended up in your system, once inside, it is configured to scan your computer automatically when you log in to Windows. You should know that this scan is fake, and once it is completed the program lists many critical registry and state that you should purchase a full version of Super Optimizer in order to fix those problems. It's a common technique used by various rogue applications.
Of course, all those issues are fake. Usually, it lists some outdated registry entries or nonexistent files. They are being shown only to scare you into purchasing this useless utility and get money from you. Most of the time applications like this don't even have a working mechanism that could detect actual problems – they are trying to earn money the easy way, without creating an actual tool and asking money anyway.
There have been users who were convinced that Super Optimizer is a great tool and they have purchased this program. Unfortunately, completing the scan didn't change much in their computer's performance. You should also bear in mind that the program may try removing some important registry entries and this may compromise your system.
You should never pay money for this fake program and disclose any of your personal details to its owners. Instead, you should remove Super Optimizer as soon as possible. There are a lot of similar applications – Safe PC Cleaner, Mexperforma Optimizer or Optimizer Pro Speed Guard. They all follow the same rules while trying to swindle the money from naive computer users.
How it infected your computer
Super Optimizer is promoted through numerous download websites and it may come bundled to free media players, PDF creators, download managers and other applications that can be downloaded free of charge. Usually, you can see its attempt to infiltrate at one of the installation steps of your freeware. For this reason, you are highly recommended to always go for a Custom installation mode and make sure you follow every installation step. If you see Super Optimizer as an optional download, do not agree to add it. The same should be said about all unknown applications that come as bundles.
If you have already detected Super Optimizer on your computer, immediately remove it. Uninstall it from the programs' list that you will find in Control Panel. If you cannot detect it or it cannot be uninstalled, run a full system scan with an anti-malware program and let it fix the issue automatically. Don't forget to upgrade your automatic removal tool to its latest version, to ensure it will remove Super Optimizer and any other potentially unwanted program that might be interfering with your computer's performance.
How to protect your computer from unwanted software like Super Optimizer
Super Optimizer or Super Optimizer Pro is promoted as a useful tool, thus before installing it or purchasing premium version, you should google it. Try to find some reviews from users that have actually tried it and decide whether it's worth a try or not.
Next – you should always keep your computer protected with reliable anti-malware application. Even if you download malicious application or files to your computer intentionally, it will warn you and stop the installation. In case you don't have such application yet, head to our reviews section and select the tool that would provide your system with security.
If it is too late for prevention and your computer is already infected, we suggest to scan it with Spyhunter. There might be a lot of files associated to Super Optimizer on various folders of your computer, thus it's important to detect and remove them. If you scan your system with one of those application, Super Optimizer will be wanished automatically.
Automatic Malware removal tools