Spartacus ransomware virus is a new malware threat, targeting computers and encrypting digital files. Victims will notice a window with the instructions: extortionist insist that victims would write an e-mail message to [email protected] or [email protected] addresses. The exact ransom is not mentioned in the ransom note, and people will be informed of the fee after they contact hackers. Researchers indicate that the virus can encrypt any type of file, and make it unavailable for usage. After encryption takes place, the digital data will feature .[[email protected]].Spartacus (This is Spartacus: new ransomware on the block).
Spartacus crypto-malware drops READ ME.txt file and requires people to send the public key to the creators of this virus
In order to get victims' attention, Spartacus virus will leave READ ME.txt files in multiple locations in computers. The message will include ID keys which victims are supposed to send to hackers. Additionally, ransomware embeds a hardcoded and private RSA key. Furthermore, the virus creates a unique mutex of "Test" in order not to run the ransomware twice. It also uses SetForegroundWindow function for the purpose of keeping the ransomware screen or message from running the foreground or top.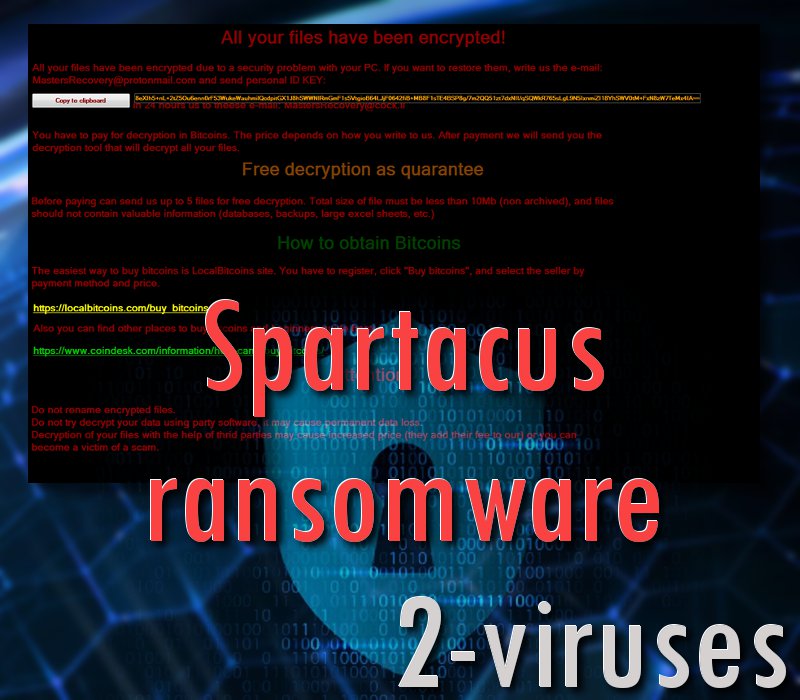 Spartacus crypto-malware does not forget the Shadow Volume copies: it initiates a command, removing all of them. This means that users won't be able to restore Shadow Volume Copies and might have to seriously consider contacting the hackers and paying the ransom (One-Third of Ransomware Victims End Up Paying the Ransom). Files will be encoded with AES algorithm. Researchers explained that SF.ex file is the payload of Spartacus virus. Currently, most of the best anti-virus tools are already designed to detect this file as malicious.
Even though researchers are already analysing and sending warning signs of the Spartacus ransomware, there are no reports that people have become infected with this virus. However, there is no reason why computers will not be compromised by this threat in the future. Therefore, we urge you to read the next parts of this article in order to be able to protect yourself from infections.
Ways to prevent Spartacus virus from ruining your files
Even though you cannot guarantee that a ransomware infection won't infiltrate into your system, there are ways that you can make the virus easier to deal with. First of all, you should store your digital files in backup storages. There are many services that will offer the protection for your files. However, you can also choose the option of storing your files in USB flash drives. Remember not to keep your USB devices connected to your computer: some ransomware viruses can encrypt files in connected devices as well.
What methods are used to distribute Spartacus crypto-malware?
One of the most common ways for ransomware distribution is deceptive email messages, containing malicious attachments. If you receive a message which appears to be suspicious, please check that the sender's email address is legitimate. For instance, if a tax service is contacting you, please make sure that the message originates from respectable sources.
Now, you should pay attention to the ways this ransomware infection should be removed from your computer device. Spartacus crypto-virus can be eliminated manually: in this case you should follow the instructions in this article. However, you should also consider scanning your PC with Spyhunter. Both of these anti-malware tools will help you detect and remove all malicious files, including the harmful Spartacus infection. In the case of manual removal, the first things you have to do these actions:
The manual removal includes these steps:
Rebooting your computer in Safe Mode (Enable Safe Mode with Command Prompt)
Once Command Prompt launches, type in cd restore and press enter.
Enter rstrui.exe and press enter again.
Click "Next" in the Window which appeared.
Select one of the Restore Points which would suggest a date before Magniber ransomware infected your device.
Click "yes" to start a system restore.
Automatic Malware removal tools