SmartWebSearch version for Mac.
Windows computers are not the only target of SmartWebSearch. Currently, there is a Mac version of SmartWebSearch that acts in the same manner. The analysis reveals that it works as a PUP (Potentially Unwanted Program) or adware-type application belonging to the AdLoad family. Apart from browser hijacking functions, it has the purpose of displaying excessive pop-up ads and sponsored links that bring revenue to its distributors. SmartWebSearch tracks the user's browsing habits and represents privacy risks for Mac customers.
SmartWebSearch hijacker for Mac works in a manner similar to other adware programs, for instance, MainSignalSearch, ExploreSearchResults, MajorChannelSearch. All of them promise to essentially improve the relevance of search results, whereas, in reality, the services they offer are absolutely primitive. Instead of helping you find adequate data online, these search hijackers considerably diminish your browsing.
How does SmartWebSearch attack your Mac?
There is a great similarity in the methods used for the promotion of SmartWebSearch in Windows and Mac computers. Bundling with free software is one of the most common ways to inject the hijacker into browsers. However, the infection may also be spread through fake Adobe Flash Player alerts: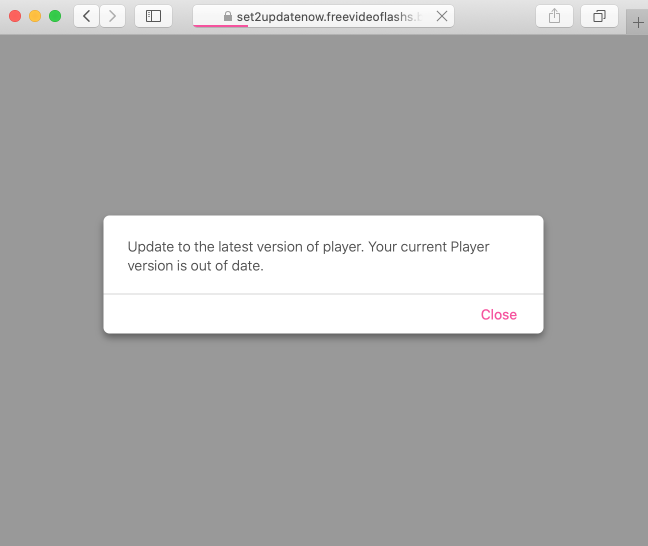 Adware distributors often refer to the practice of displaying misleading pop-ups suggesting to install suspicious software. These alerts may be masked as some genuine Apple notifications, so the text may sound convincing to some people. When they agree with the proposal, a lot of potentially unwanted programs are installed and immediately start performing their malicious activities.
Finally, the attack of SmartWebSearch is also the result of poor protection of your Mac on the part of the current security software. We have to mention the fact that often the reputable anti-virus applications fail to perform the protective functions. For instance, the anti-malware database may be out-of-date, thus the intrusion attack by SmartWebSearch may not be timely prevented. Currently, Avast identifies SmartWebSearch as MacOS:Adload-M [Trj], whereas BitDefender names it as Gen:Variant.Adware.MAC.Adload.4. Kaspersky detects the hijacker as Not-a-virus:HEUR:AdWare.OSX.Cimpli.k. By the way, you may examine the full list of such detections on VirusTotal. You may as well establish the fact that there is a great number of anti-malware programs that do not detect SmartWebSearch at all.
Ways to prevent SmartWebSearch attack on Mac.
Point number one – always use trusted and reliable resources for freeware downloads. Stay away from using any torrent clients or third-party downloaders. Always select the official landing pages as the only reliable sources for all up-to-date software versions. Be sure to always check whether the installer has got any parameters like "Advanced" or "Custom". You need to carefully inspect whether there are any additional programs that may be recommended by default. When you identify such extra software, uncheck the boxes responsible for their default installation (deselect them).
For safety reasons, be extremely careful when surfing the web. Stay away from clicking on all sorts of intrusive ads that may be often displayed on suspicious websites. If you occasionally click on them, the ads may redirect you to unreliable pages that may perform stealthy downloads and subsequent installations.
How to remove SmartWebSearch from Mac?
There are three simple steps you may implement to remove any visual components related to the SmartWebSearch hijacker:
inspect your Mac "Applications" section, move unfamiliar items to the Trash;
check your browser extensions (add-ons). Delete the items related to SmartWebSearch;
access System Preferences, then select "Profiles" and remove third-party profiles associated with SmartWebSearch: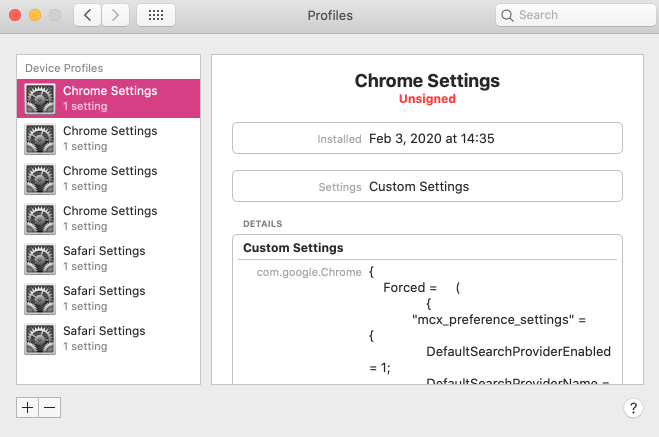 Scanning your Mac with the professional anti-virus software is a step you cannot neglect. Even though the manual steps reviewed above should help you fix the majority of browser-related issues, there may be certain remnants related to SmartWebSearch still in place. Some adware samples may run in the background without the chance of visual identification. They can be revealed only by powerful security programs, for instance, Combo Cleaner for Mac.
Automatic Malware removal tools