GarGizer System Repair virus is not really a malware infection. Some security researchers indicate it as a potentially unwanted program (PUP) which is not considered malicious, but deceptive and automatically-installed (without users' consent). On the other hand, some stress out that the program has features of a Trojan or an adware program. To us, this seems like a standard rogue system optimizer which should be avoided at all costs. Similar programs are Advance-System-Care and System Keeper Pro.
GarGizer System Repair PUP offers a free version but the functionality of this version is going to be close to a minimum. It will only allow users to run scans (10 Online Scams You Need to Be Aware of—and How to Avoid Them). Surprisingly, they will always determine that there is something wrong in users' operating systems. In fact, the issues are going to be explained as high-risk or highly-relevant, and urge you to purchase the premium version of the deceptive program.
GarGizer System Repair is a potentially unwanted program and should not be purchased for $29.95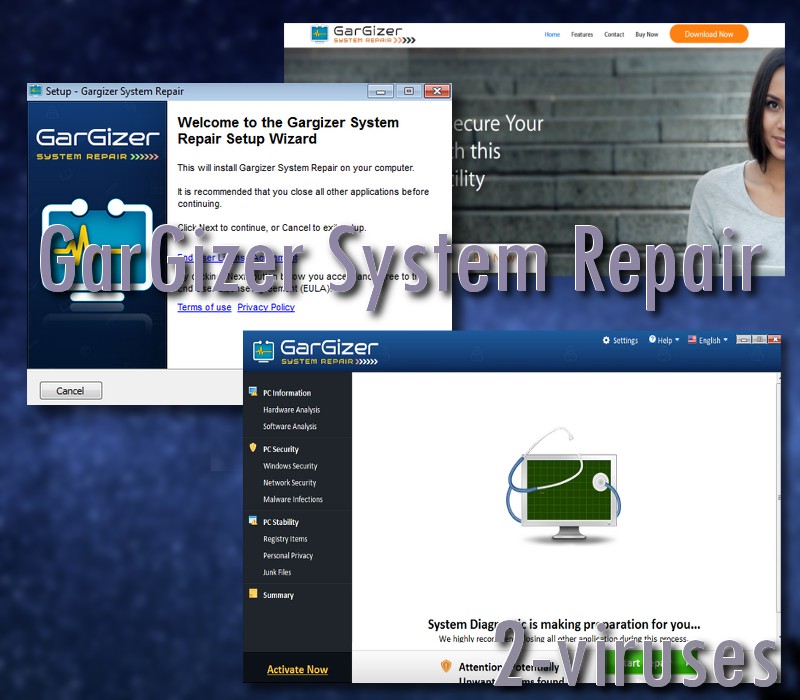 We have noticed some evidence to label GarGizer System Repair as malware. Reliable anti-virus programs call it: FileRepMetagen [Malware], Application.AdClean (A) and Trojan.Win32.Generic!BT. However, some are more gentle and indicate it as Program.Unwanted.2399 (VirusTotal analysis). Either way, you should be convinced that downloading the GarGizer System Repair PUP will only cause you problems with your operating system.
GarGizer System Repair is a rogue system optimizer. In fact, most of the optimizers that are currently in the market are considered as a huge waste of money. They do not properly clean operating systems and their free versions are crafted in a way to trick people into purchasing the full-priced product. We are convinced that your system performance and PC stability won't be improved by this tool (System optimizers turning to tech support scams). Therefore, we hope you will simply install an anti-malware tool instead of a poor-quality system manager (optimizer).
The creators of GarGizer System Repair infection are developers from an Indian-based company. However, security researchers have the right to express their concerns over their product being a sample of malware. In fact, we analysed the gargizersetup.ee file and made some important conclusions. First of all, the risk assessment evaluated the program as an evasive Trojan. According to the further information, the program has capacities to act as a spyware. More specifically, it is able to access potentially sensitive information from local browsers. Also, malicious artifacts were noticed in the contacted hosts.
Since this tool appears to have a handful of security issues, it is best to avoid this GarGizer System Repair rogue optimizer. If you will install this program, you will soon notice its uselessness and the constantly-generated scans. Of course, all of them will urge you to purchase the full version and you should not do this.
How should malicious software like GarGizer System Repair infection be averted?
If you are worried about your operating system, we suggest you to have an anti-malware tool installed. Spyhunter will protect your PC and you will be able to forget security issues you might have had before. Instead of wasting money on a rogue system optimizer like GarGizer System Repair malware, you should spend them on a reliable protector. You will not be disappointed.
We should also briefly discuss the techniques that are used for malware distribution. It could be that a suspicious tool will recommended during an installation of another freeware tool. For instance, if you are installing a video player, system manager, pdf converter or basically any other program, you might have to pay attention to the conditions of the installation. If you don't, you could unknowingly allow third-party software applications to be activated in your computer. A result of such recklessness might be that GarGizer System Repair was installed automatically and scans began running without your consent.
How to remove GarGizer System Repair using Windows Control Panel
Many hijackers and adware like
GarGizer System Repair
install some of their components as regular Windows programs as well as additional software. This part of malware can be uninstalled from the Control Panel. To access it, do the following.
Start→Control Panel (older Windows) or press Windows Key→Search and enter Control Panel and then press Enter (Windows 8, Windows 10).
Choose Uninstall Program (if you don't see it, click in the upper right next to "View by" and select Category).
Go through the list of programs and select entries related to GarGizer System Repair . You can click on "Name" or "Installed On" to reorder your programs and make GarGizer System Repair easier to find.
Click the Uninstall button. If you're asked if you really want to remove the program, click Yes.
In many cases anti-malware programs are better at detecting related parasites, thus I recommend installing Spyhunter to identify other programs that might be a part of this infection.
Automatic Malware removal tools