Searchnu.com/406 is a website promoted by some free of charge toolbars and freeware, for example iLivid download manager. Once you install such an application to your computer, it initiates changes of your Internet browser settings making your home page, default search engine and new tab page searchnu.com/406. As many computer users do not know how these changes happen, they think it is a virus that causes them. Moreover, the changes cannot be eliminated via Internet browser settings.
Even though your computer antivirus works properly and is up to date, in many cases it will not block searchnu.com/406 redirections or display any alert of infection detected. This is due to several reasons. First of all you must have added the application causing redirection yourself. One of the most often used tricks for browser hijackers to be distributed is bundling it with other freeware. Once you install a program you want and select an automatic installation option, together with the software unwanted applications might be added. This is a legal method because you can remove the check box marked by default and by leaving it on you agree upon having additional applications added. Another reason why your computer antivirus does not detect any infection is that only a few programs have a feature of locating and removing adware/browser hijackers. Searchnu.com/406 is not a virus therefore many antimalware tools do not see it as a threat.
Searchnu.com/406 just like another similar search tool – searchnu.com, is not redirect search results to search.ask.com. Please note, the results displayed are not the same as those you would get using a popular search engine, such as Google, Yahoo! or other. Browser hijacker owners earn money from advertisements displayed and very often they do not avoid mixing advertised links among search results without marking them any different. You never know if you clicked on a link relevant to your search or the one promoted. What is even worse, they do not take any responsibility for the content displayed and some links might be malicious or open infected websites. Having searchnu.com/406 as your default search engine increases a risk of getting your computer infected with viruses and Trojans.
Even though it is possible to remove files causing redirection manually, we recommend doing so only if you know enough about computers not to damage the system. The safest and quickest removal method is by using special antimalware tools, for example Spyhunter. It might be that after scanning your computer with it and removing the files you will have to reset your search provider. Below are instructions how to do it:
On IE:
Click arrow on the right of search box;
On IE8-9 choose Manage Search providers or on IE7 click change search defaults;
Remove Searchnu.com/406 from the list.
On Firefox :
In url field type "about:config" (you don't need to use quotes)
Type "Keyword.url" in the search box. Right click it and reset it.
Type "browser.search.defaultengine" in the search box. Right click it and reset it.
On Google Chrome:
Click gear icon on browser toolbar;
Select Settings;
Select Basics ->Manage Search engines;
Remove Searchnu.com/406 from the list.
Automatic Searchnu.com/406 Hijacker removal tools
We might be affiliated with some of these programs. Full information is available in disclosure
Manual removal
Important Note: Although it is possible to manually remove Searchnu.com/406 Hijacker, such activity can permanently damage your system if any mistakes are made in the process, as advanced spyware parasites are able to automatically repair themselves if not completely removed. Thus, manual spyware removal is recommended for experienced users only, such as IT specialists or highly qualified system administrators. For other users, we recommend using Reimage or other tools found on 2-viruses.com.
Processes:
Files:
Searchnu.com/406 Hijacker screenshots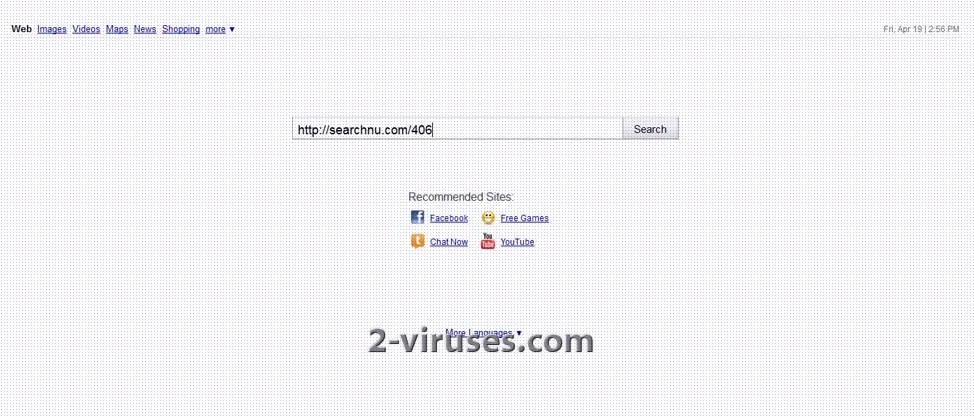 About the author