Scorpion Saver malware parasite has features, similar to any type of rogue shopping assistant: Shopperify malware and SaveForYou are some of the comparable examples. This tool fluctuates between being adware/spyware (1) software. This means that to some extent, information about your browsing, bookmarks, preferred ads will be recorded. Gathered material will be exploited for the purpose of unsolicited promotional content.
Scorpion Saver adware returns
Firstly, Scorpion Saver adware parasite is a product by Adpeak: a recognized ad-network that can deliver objectionable advertisements on computer devices, infected with malware (2). Multiple researchers, including Microsoft (3), have labeled this infection as a high risk threat, capable of presenting hardcore promotions, pursuing goals of malvertising. In the summer of 2017, specifically in August, this potentially unwanted software has been detected to actively compromise computer systems. Adspeak company has produced multiple other adware threats: GetSavin and Supra Savings Ads infections.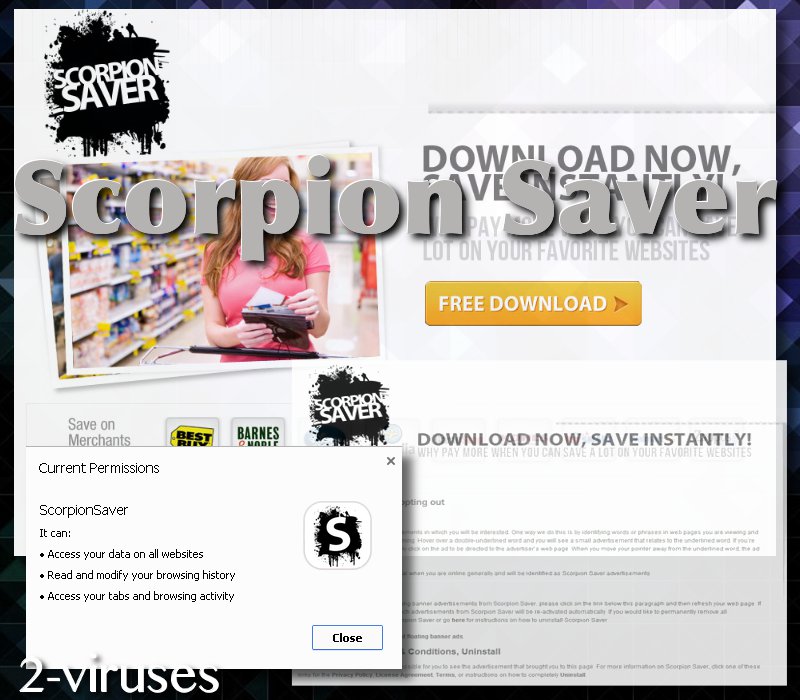 At the moment of writing this update about Scorpion Saver computer infection, we notice that its official website is no longer available. This could mean that this malicious software is now only arriving in packages of freeware, allowing bundling (4) technique to occur. Applications that exploit this strategy are aggressive as they will presumably be implanted without users' knowledge or consent.
Infected devices will have their Registry modified so unwanted software would be included among the auto-executed tools. There are tons of third-party software that could bring Scorpion Saver adware into your system (5). From the moment it starts secretively running in the background, you will be exposed to promotional content from all sorts of vendors, and without a doubt, scammers.
At some point, this infection was promoted in Chrome Web Store, but as it appears, in accordance with repetitive security concerns and negative feedback, the Scorpion Saver virus received the right punishment for acting inappropriately. If you agree to be instal an unknown browser extension such as this, your experience online will be bothered by constant attempts to infect you with malware and obtain your personally-identifiable information (6).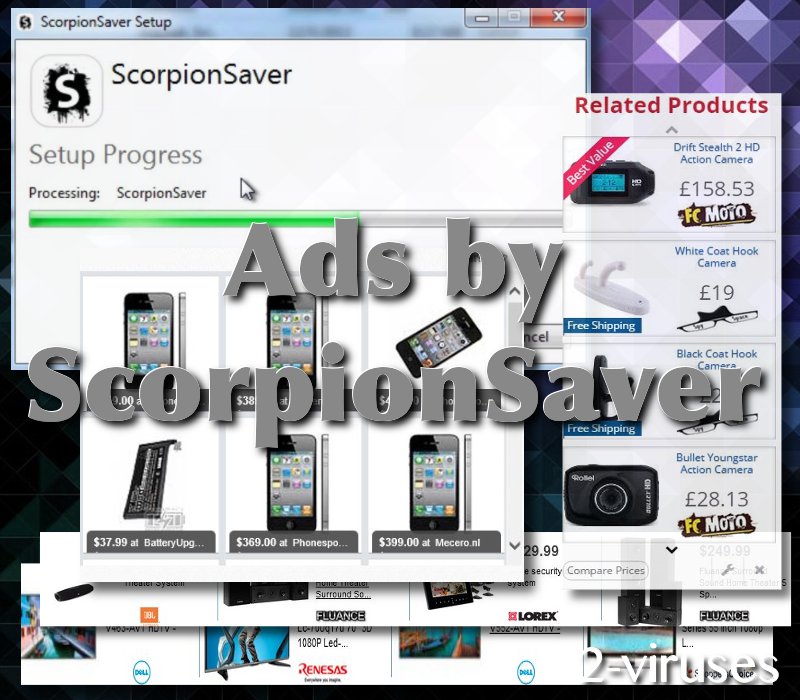 Scorpion Saver is an adware that can be installed to random computers bundled to various freeware. The program offers various deals for shoppers online. It displays messages with different coupons that suggest purchasing some products cheaper. They are usually displayed on shopping websites, like Amazon, Ebay and so on, to make sure that users would get interested and click on these popups.
Actually Scorpion Saver seeks to promote a bunch of websites, so it includes their links in these popup messages. Each click on a popup cause redirections to these unknown websites and boost their traffic. It is not a fair methods to advertise anything like this and for this reason Scorpion Saver is considered to be a potentially unwanted program.
Adware programs also tend to collect some of your personal information, for example your browser history, search queries and so on. This data may be later used for creating targeted advertisements, sending spam emails and for other similar marketing related purposes. For this reason it recommended to remove Scorpion Saver once you detect it on your system.
Scan your computer  with a reputable antispyware program, for example, Reimage, SpyHunter, hitman or any other legitimate tool and they will eliminate this annoying application. Don't forget to upgrade it to its newest version to ensure the best detection and removal of unwanted programs.
If you wish to never be bothered by any of the malware samples, we hope you will stop the following activities: visiting illegal or semi-legal websites, engaging in online lotteries, responding to surveys, downloading software from unknown sources and etc.
References:
What is adware and spyware? Pctools.com.
Adware.Adpeak. Symantec.com.
Adware:Win32/Adpeak. Microsoft.com. 
12 Downloads That Sneak Unwanted Software Into Your PC. Tomsguide

.com. 

Browser Bully? Malicious Google Chrome Extension Pushes User Buttons. Securityintelligence

.com. 
Automatic Scorpion Saver removal tools
We might be affiliated with some of these programs. Full information is available in disclosure
Manual removal
Important Note: Although it is possible to manually remove Scorpion Saver, such activity can permanently damage your system if any mistakes are made in the process, as advanced spyware parasites are able to automatically repair themselves if not completely removed. Thus, manual spyware removal is recommended for experienced users only, such as IT specialists or highly qualified system administrators. For other users, we recommend using Reimage or other tools found on 2-viruses.com.
Processes:
External decryptor:
About the author