PUBG ransomware virus is a curious case for security researchers. It is assumed that the infection could be considered as not a very funny prank, at least for the victims of this virus. Like any other crypto-malware, PUBG follows the standard procedure of encrypting users' digital data, but asks for something different than ransom. In this case, creators of this virus are instructing people to play the PlayerUnknown's Battlegrounds if they wish to decrypt their files (A new kind of ransomware forces you to play PUBG to unlock your files).
A similar strategy was selected by creators of RensemWare virus. In the case of this infection, hackers urged victims to play a video gamed Undefined Fantastic Object. However, creators were not pleased with the fact that victims would only play the game. They had to play well and reach a score of 0.2 billion or over in the LUNATIC level.
PUBG crypto-virus appends .pubg extension to encrypted data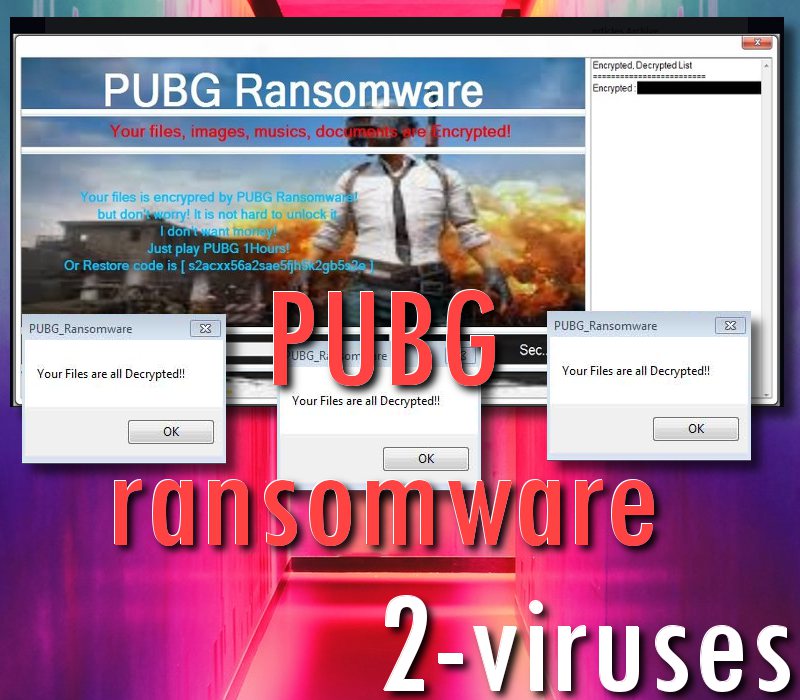 The PUBG virus does not dig too deep in victims' computers and encrypts files and folders located on desktops. After file-encrypting is completed, victims will see a screen, stating that the authors of this virus do not want money. The only thing they desire is for people to play the promoted game. However, the restore code is also added in the message, meaning that you can decrypt files even without having the gaming experience (New Ransomware Locks Your Files Until You Play PUBG).
If victims do decide to play the game, it is said that they have to do it for one hour. PUBG virus monitors the running processes in your computer and checks whether "TslGame" is launched. Researchers indicated that it is enough to have the game running for three seconds. Once this activity is detected, all of the files, featuring .pubg extension, are automatically decrypted.
The ransomware viruses should never be treated as a joke, but some people want to spread this PUBG virus among their friends as pranks. However, we hope you won't engage in distribution of similar viruses. It would be indecent to expose your friends to ransomware infections.
Ways to prevent ransomware PUBG viruses from entering your computer
First of all, you should not download any unknown files from the Internet. Some programs might be offered to you in pop-ups or files-sharing websites. However, some hackers initiate spam campaigns in order to distribute ransomware viruses. Therefore, you could notice that an unknown source is contacting you and offering a chance of trying a new piece of software, or claiming that you need to download the attachment in order to solve a specific issue. In any case, please do not download attachments from email messages that are sent by unknown senders
Additionally, we urge you to store important digital files in backup storages. While this might seem like a redundant action, it is highly-rewarding once files become encrypted by ransomware viruses. Dealing with the PUBG virus is easy. However, some infections are more complicated and require more attention from security researchers. Therefore, it is evident that you won't be able to decrypt your files by playing a game. In some cases, you might even consider paying ransoms for the decryption.
How to get rid of the PUBG crypto-virus
In order to get rid of this infection manually, you should the guidelines we provide for the system restore. They are not very complicated, but if you are feeling more comfortable with a more professional option, we can help you as well. Install Spyhunter and both of these tools will detect potentially malicious files for you and will quickly remove them from your operating system. Getting an anti-malware tool is also beneficial for your future as you will be able to fight off other malicious parasites that might infect you. As for the manual removal, the initial steps that you must complete are these:
The manual removal includes these steps:
Rebooting your computer in Safe Mode (Enable Safe Mode with Command Prompt)
Once Command Prompt launches, type in cd restore and press enter.
Enter rstrui.exe and press enter again.
Click "Next" in the Window which appeared.
Select one of the Restore Points which would suggest a date before Magniber ransomware infected your device.
Click "yes" to start a system restore.
Automatic Malware removal tools