Petya ransomware is newly released ransomware virus most popular in Germany, yet users from other countries might get infected as well. Ransomware message is written in English, so obviously it is targeted not only to Germany.
Petya ransomware operates differently from other ransomwares. It encrypts whole hard disk rather than separate files. So your Computer becomes completely unusable and won't boot to Windows till the disk is unencrypted or ransom is paid. Thus, no regular ransomware unencryption software will work.
Once encryption of your disk is over, your computer will reboot automatically and your desktop wallpaper will be changed to this message: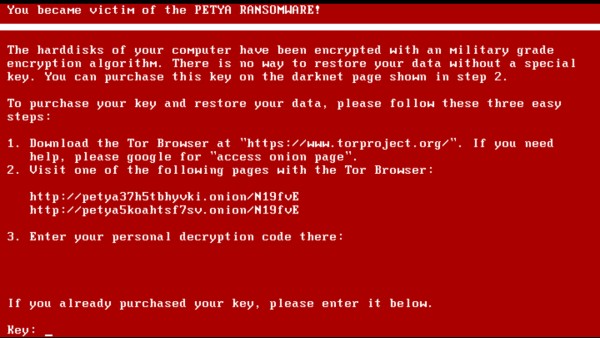 It says:
You became victim of the PETYA RANSOMWARE!

The hard disks of your computer have been encrypted with an military grade encryption algorithm. There is no way to restore your data without a special key. You can purchase this key on the darkness page shown in step 2.

To purchase your key and restore your data, please follow these three easy steps:

Download the Tor Browser at "https://www.torproject.org/" If you need help, please google for "access onion page".
Visit one of the following pages with the Tor Browser:
http://petya37h5tbhyvki.onion/N19fvE
http://petya5koahtsf7sv.onion/N19fvE
Enter your personal decryption code there:If you already purchase your key, please enter it below:
Key: _
Usually this ransomware travels vie shared files on Dropbox. You should receive an email with invitation to view a file on dropbox and if you open it, the virus will automatically infect your system.
However, Petya ransomware only encrypts files stored on your hard drive, so files stored on shared network or cloud storage should not be affected.
How to decrypt your files?
To eliminate damage done by this virus, you should remove Petya ransomware from your computer and restore your files. To unlock files encrypted by Petya ransomware, you can pay the ransom and purchase the decryption key or restore them from a backup copy of your hard drive.
You can also use this Leostone tool and try to determine the decryption key. To use this tool, you will need attach the drive affected by Petya ransomware to another computer and extract specific data from it. Fabian Wosar, a security researcher, has developed Petya Sectore Extractor which can collect data that is required to use Leostone tool. Just load your hard drive on an uninfected system and then run Petya Sector Extractor. Once it generates the data you need, copy paste it and run Leostone tool. It will generate a unique decryption key which you can use to decrypt your files. Beware that the creators of Petya ransomware can modify the code so that these tools would not work. So if you became a victim of this ransomware, be sure to run these tools as soon as possible.
Update as of July 11, 2017: decryption key for older Petya Ransomware version was released, it can be found here: https://petya-pay-no-ransom.herokuapp.com/. However, it won't work for those of you who were infected by the end of June, beginning of July, 2017, because that's when Petya was updated.
After you decrypt the hard drive, we recommend scanning PC with anti-malware tools ( Reimage, SpyHunter, hitman ) to determine the way you got infected by Petya virus. This is important to prevent reinfection and other computer parasites.
On June 2017 Petya ransomware resurfaced again. We are still investigating if it is same or different version and if the removal procedure still work.
To secure your device from Petya, we are presenting you with reliable guidelines. Since there appears to be no kill switch that could be exploited to prevent Petna (NotPetya) from terrorizing Internet users, it is necessary to complete this tutorial to be safe.
1. Configure Windows to display file extensions. It is important to be sure that "Folder Options" would not be set to "Hide Extension for known file types". Set is as seen in the table below.

2. Now, C:\Windows folder should be launched.
3. Find notepad.exe entry in the latter folder.

4. This executable should be left-clicked. After than, hold a combination of CTRL+C to copy it ant CTRL+V to paste it.

5. Immediately after that you should see a table that requires you to provide administrator permission to copy to this folder.
6. Select continue.
7. A new file should be noticed with the title of notepad – Copy.exe. Then, left-click on it and press F2 to rename the file. Instead of the notepad – Copy.exe title, write "perfc". Press enter.

8. A table should appear, requiring you to confirm the modification you made to the file name. Press yes. Operating system will display another requirement for consent: click continue on it.
Now, the new perfc file is ready to be made read-only.
1. Right-click on it and find Properties.

2. A table should launch. Find Attributes in the General section.
3. Select Read-only.

4. Click Apply. Then, the OK button as well.
After finishing this tutorial, you will be protected from the Petya infection! To always be protected from similar infections, try regularly scanning your operating system with a sophisticated anti-malware tool Reimage.
Automatic Petya ransomware removal tools
We might be affiliated with some of these programs. Full information is available in disclosure
About the author