PCTuner is listed as PUP (potentially unwanted program) due to several malicious actions that it performs. First of all it enters your computer illegally, without you even being informed about that. Secondly, it seeks to gain money from users. And it's completely useless. For those reasons you should not keep it installed on your computer. If your system is infected with this malware and you would like to get rid of it, you have come to the right place. In this article, we will provide you will full and comprehensible instructions on how to get rid of PCTuner.
First things first – you should know that there are two most common ways how you can eliminate this unwanted application. In case you have no previous experience in removing cyber infections you should get some help from trustworthy anti-malware tools, such as Malwarebytes, StopZilla or Spyhunter. Simply download and install one of these applications and scan your computer with it. It will automatically detect and remove the threat so you won't have to worry about it anymore. It will also protect your computer from similar infections in the future. However, if for some reasons you don't want to download any additional anti-malware software, you can eliminate PCTuner manually as well.
In case you have some questions about PCTuner or its elimination, don't hesitate to ask them in the comments section below. If you would like to learn about specific features of PCTuner, please continue reading this article.
About PCTuner
This application enters users' computers without any notification. Once inside, it will run a scan of all files stored on your PC. Take into consideration that this application has no valid scan engine or virus database, so it simply can't detect anything. So as you see, this scan is totally fake. After it's complete, PCTuner will display a warning message that your computer might be infected with a trojan virus or any other infection (look at the picture below).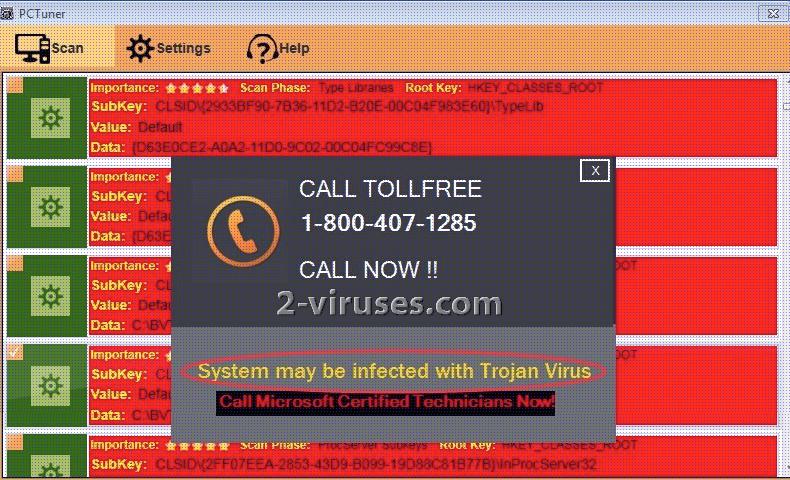 In order to remove the virus, you will be asked to purchase a premium version of PCTuner. This way developers of this application seek to make money from customers. Do not purchase the premium version of this application, if you don't want to throw your money away. If you have already done that, immediately contact your credit card provider with a request to refund your money. Don't forget to mention that you have been scammed or you have paid for a malicious application.
PCTuner can also infiltrate other malware to your system, even if you remove it from your computer, you need to scan it with a reliable anti-malware program to ensure that your system is safe.
Distribution Methods of PCTuner
PCTuner is spread bundled with other free applications that can be downloaded from the Internet. For example, when you download and install some freebie from a suspicious looking website, there is a chance that PCTuner will be installed alongside, without your agreement. To avoid this, you should be really attentive during the installation of freebies. Never skip any steps and always opt out for a custom or advanced install mode if possible. Reading all terms and conditions would be considered wise as well. If you notice that some additional software that you are not aware of is being installed alongside – do not allow this to happen because it can possibly be PCTuner or any other malware. In case it is too late and your computer is already infected, don't wait  and eliminate it from your system.
Automatic Malware removal tools