Nvsearch.club is a new Safari browser hijacker that is terrorizing Mac users by changing their default online surfing engine settings and making itself the preferred search provider. That together with the persistent and constant ads are the reasons why people want to get rid of Nvsearch.club virus completely, but often have issues doing so. Actually removing the Nvsearch.club browser hijacker is not that hard if you know how to do it, and if you keep reading this article, you will learn some useful tips and tricks.
Nvsearch Club Browser Hijacker quicklinks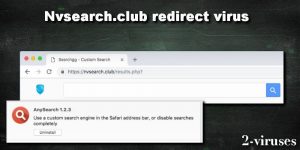 Mac computers are believed to be much Safer than Windows, moreover, browser hijackers are not the most dangerous viruses but sometimes they can cause a significant damage to computers and gather personal user information to later share it with third-parties. These are the reasons why you should treat Nvsearch.club infection just like any other malware and try removing it immediately from your Mac OS without giving any opportunities to cause more trouble.
What can Nvsearch.club hijacker do
Nvsearch.club is a browser compromising virus just like Search.pardessov.com, search.kuklorest.com, Search.shrinkmoron.com. Apart from the same working principles, Nvsearch.club hijacker differs by not having a specific design and seems like a replica of either Google and Bing search engines, with some minor differences. Once the browser hijacker gets into the Mac it will run shady authorizing Javascript codes and will add itself as the main search provider, homepage and a new tab in your Safari. This gives crooks freedom to modify the content the infected user sees, placing affiliate promotions first and on various sites slowly generating profit without doing much work.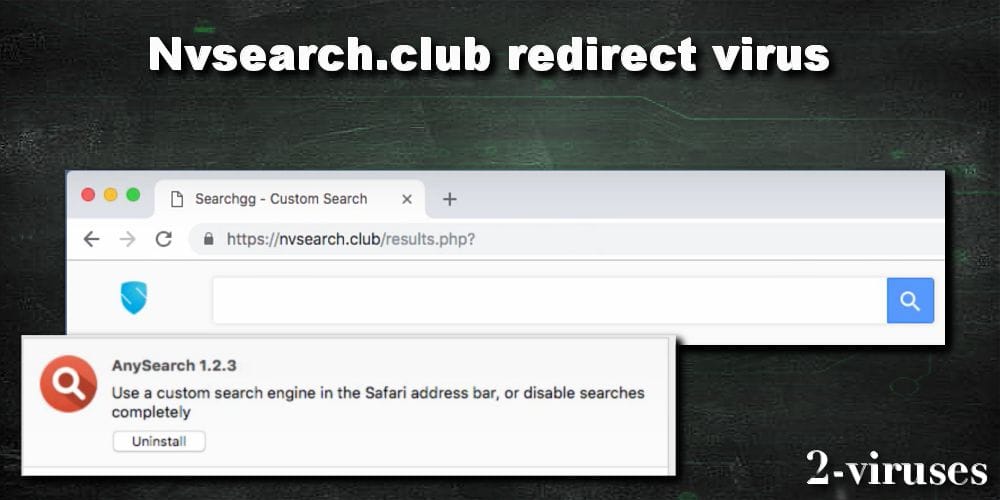 The main URL will be altered into 'nvsearch.club/results.php?wd=' but the tab itself will be named Searchgg, just like another Search.gg browser hijacker. Each time you will go online this link will be the main one you'll see before entering some other webpage and will remind you each time that your Safari now is controlled by hackers. They have the ability to track your surfing history, see the sites you visit, data you enter (including passwords, logins, credit card numbers) and etc., which gets sold for Marketing companies for statistical analysis and better contextual advertising.
No matter what your browsing session will consist of and what sites you'll visit, in-text ads and promo banners will be seen everywhere, filled with Targeted deals. Sometimes there will be so many offers that they will distort the layout of the website. Mind you, these ads are not only building revenue for Nvsearch.club browser hijacker developers from Pay-per-click/view but they might contain malware since sometimes they get directly placed from third parties. Be aware because you might end up downloading ransomware or trojan just by clicking on an eye-catching slogan.
How does Nvsearch.club browser virus spread
Nvsearch.club browser hijacker is caused by another really annoying virus called AnySearch. This mischievous Safari extension sneaks into the browser and changes the homepage and search engine to Searchgg/Nvsearch.club without user's permission. The plugin itself distributes through the fake Adobe Flash updates, which are scattered all around the internet tricking tons of gullible users with professionally copied Adobe design to install the newer version of the program, which actually is a camouflaged malware.
As well as this, Bundling might be another distribution technique that allows Nvsearch.club hijacker to target tons of victims. The browser hijacker then enters as an additional program in the main software Setup Wizard. You should never install anything in Recommended/Standart mode because there you won't have any option to deselect these secretly added applications like AnySearch. Furthermore, avoid P2P networks, free software installers, and programs distributing websites, since their negative reputation for compiling malware with various installers.
How to remove Nvsearch.club virus
The most efficient way to deal with Nvsearch.club virus infection and all its causes is getting a Combo Cleaner anti-malware program which detects and removes this redirecting treat with all of its related files. All you have to do is to run a full scan and the security tool will pick up all the potentially unwanted applications that are causing troubles for you. Surprisingly you might discover that your Mac is compromised by more than one virus.
After Nvsearch.club hijacker is removed, don't forget to change your default browser homepage from 'Nvsearch.club/results.php?wd' back to normal (Yahoo, Google, Bing or any other engine). You can do that by clicking Safari > Preferences > General and writing down the desired site's address in the Homepage section.
Automatic Malware removal tools
How to uninstall Nvsearch.club hijacker from Safari
Since Nvsearch.club virus is caused by the AnySearch hijacker, in order to get rid of it, you'll need to uninstall the Malicious extension. This does not necessarily require a special automatic removal program and can be achieved by following our detailed guide below. The reason why you still should run a scan with a security program is that there might be other threats which got into your Mac during the Nvsearch.club infection, which you just don't know about.
How to remove Nvsearch.club browser hijacker from Safari:Top
Remove malicious extensions
Click on Safari menu on the top left corner of the screen. Select Preferences.

Select Extensions and uninstall Nvsearch.club browser hijacker and other suspicious extensions.

If your homepage was changed, click on Safari menu on the top left corner of the screen. Select Preferences and choose General tab. Enter preferable URL to the homepage field.

(Optional) Reset your browser's settings(older versions)
If you are still experiencing any issues related to
Nvsearch.club redirect, reset the settings of your browser to its default settings.
Click on Safari menu on the top left corner of the screen. Select Reset Safari…

Select which options you want to reset (usually all of them come preselected) and click on the Reset button.

If you cannot reset your browser settings and the problem persists, scan your system with an anti-malware program.