Mysearchprotect.com virus forces victims to use a rogue search engine from unknown developers. They do not introduce themselves, nor do they provide EULA or Privacy Policy documents. As this information is not provided, it is impossible to know how your privacy will be handled by this browser hijacker. Like many other browser hijackers (Good-search.ml, Moviesearchcenter.com and Search.tz-cmf.com), the connection to the Mysearchprotect.com website is not secure. This warning means that your credentials and other personal information might be stolen (Google Research Finds Stolen Credentials For Sale).
Mysearchprotect.com virus will not protect your privacy and will change browsers' preferences
Once you become infected with the Mysearchprotect.com hijacker, you will notice that your home page, default search provider and new tab page will be changed. As a result, you will be introduced to sponsored links in the results to search queries even though they are going to be presented in a page from Google. By entering search queries into an unreliable search engine, you could allow the hijacker to track your further activities.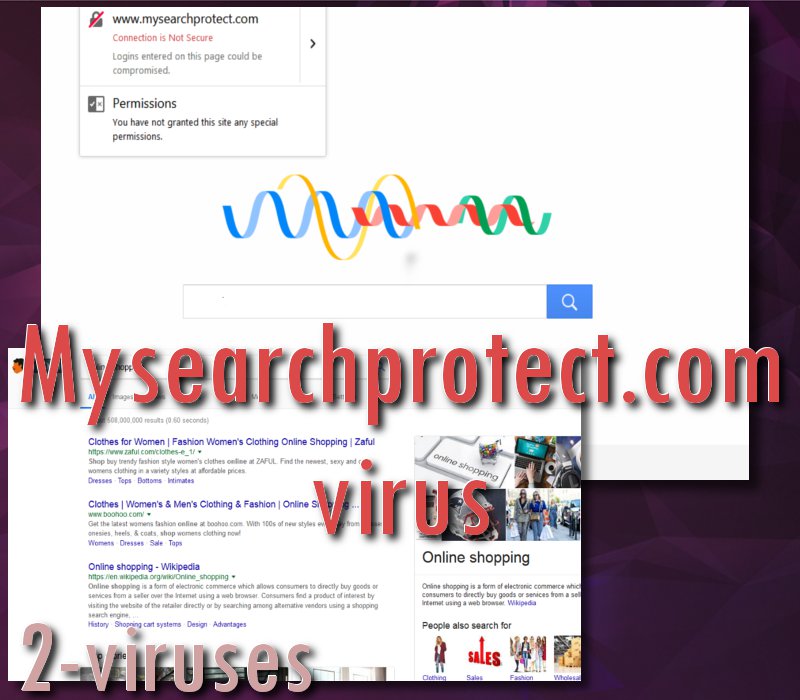 We can see that the creators of the Mysearchprotect.com virus tried to make it similar to a legitimate page of Google. However, this strategy has been over-used by many developers. Some of these Google-lookalikes are Chromesearch.info and Chromesearch.club. Pay attention to the address bar and whether the website belongs to Google. If not, then you are very likely to have a browser hijacker installed into your browser. You could look at the installed browser add-ons in order to find any unknown extensions.
During an infection with a browser hijacker, you will be introduced to a lot of online advertisements. They might be hiding in the results to search queries, or they might be presented in separate pop-ups. These messages are usually deceptive. After being introduced to a pop-up, please do not click on it (How to Spot and Avoid Fake Virus & Malware Warnings). You should not download any of the recommended programs like media players or other types of freeware. If you do this, you might unknowingly install ransomware viruses, Trojans or other types of malicious parasites.
We have also mentioned tracking that might be done due to the Mysearchprotect.com virus. We are referring to the fact that your browsers' activities, credentials, automatically saved passwords and account information could be reached by unknown third-parties. It is unknown whether the information they managed to obtain won't be used to commence identity theft or other types of cyber crimes (What Are Identity Theft and Identity Fraud?). To be safe, you are encouraged to use a reliable search engine instead.
How did this Mysearchprotect.com malware parasite enter my device?
It might be that a rogue extension is featured in the list of active plugins. To make sure, open this section and look for tools that you have installed recently or not remember installing at all. Remove the suspicious add-on. If this fixes the issue with the Mysearchprotect.com virus, then you have successfully removed the hijacker. However, this might not always work.
You might have got a browser hijacker together with another freeware program. Have you recently install any unknown freeware apps? If yes, then you might have skipped through the installation process way too carelessly. It is best to choose advanced/custom modes for all Setup Wizards. In addition to this, it is recommended that users read EULA and Privacy Policies that the developers have prepared. However, if a program does not have these documents, it is a red flag.
If you cannot find a malicious browser extension, and the instructions below do not fix the problem, you might have to use an alternative method of removal. We are offering you an outstanding chance of running a scan with a powerful anti-malware tool. Spyhunter is an excellent program that will help you find malicious parasites and remove them very quickly. Knowing how many malware viruses are around, having an anti-malware tool gives you a safety net.
TopHow To remove Mysearchprotect.com Virus from Google Chrome:
Click on the 3 horizontal lines icon on a browser toolbar and Select More Tools→Extensions

Select all malicious extensions and delete them.

Click on the 3 horizontal lines icon on a browser toolbar and Select Settings

Select Manage Search engines

Remove unnecessary search engines from the list

Go back to settings. On Startup choose Open blank page (you can remove undesired pages from the set pages link too).
If your homepage was changed, click on Chrome menu on the top right corner, select Settings. Select Open a specific page or set of pages and click on Set pages.

Delete malicious search websites at a new Startup pages window by clicking "X" next to them.

(Optional) Reset your browser's settings
If you are still experiencing any issues related to Mysearchprotect.com Virus, reset the settings of your browser to its default settings.
Click on a Chrome's menu button (three horizontal lines) and select Settings.
Scroll to the end of the page and click on theReset browser settings button.

Click on the Reset button on the confirmation box.

If you cannot reset your browser settings and the problem persists, scan your system with an anti-malware program.
Automatic Malware removal tools