You are probably already familiar with ChromeSearch viruses as there are bunch of them – chromesearch.club, chromesearch.win and so on. This time we are dealing with chromesearch.info virus, which is quite new infection – it is just getting started.
Even though it was released last year, there are not much information about this particular infection yet. All we know, that it belongs to ChromeSearch virus family and should be categorised as browser hijacker. In case you are not aware of what is a browser hijacker – it is a web browser add-on that performs unwanted actions on your web browser without even bothering to alert you about that. I.e. your homepage, default search engine and new tab page can be changed automatically.
In this particular case, Chromesearch.info virus will completely take over your web browser, changing homepage and default search engine to www.chromesearch.info.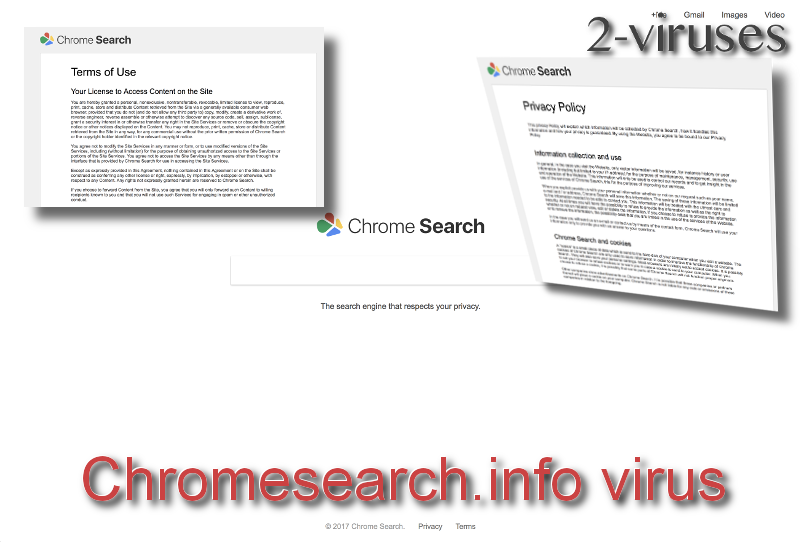 Chromesearch.info website
The website itself looks really clean – only search box, Privacy Policy and Terms of Use can be found there. Eventually, if this add-on is operating on your web browser, you will be seeing www.chromesearch.info every time you open you Internet browser, therefore you are most probably going to search the web using this service.
It won't take long to learn that Chromesearch actually isn't featuring its' own search engine – it simply redirects users to Google results page and displays results there. Now you might think that this search engine is OK and you can trust it, but we do not suggest to do that.
First of all, Chromesearch.info will be tracking all search queries your fill in there. So if it happens so that you fill in some of your private information, it can be collected and leaked later on. Secondly, results on Google results page can be modified by Chromesearch, so you can bump into links that leads to unreliable websites that are affiliated with Chromesearch.info virus.
It is two most important reasons why you should not use this browser extension, not to mention the way it is distributed. To sum it up – if you are concerned about your security and don't want any of your private information to be leaked, you should make sure to remove Chromesearch.info from your computer right now. In case you don't know how to do that, please continue reading the article and we will lead you through this process.
Uninstall Chromesearch.info from a web browser
You have already learned that this infection is operating as a browser add-on. As far as we know, it is compatible with all most popular web browsers, i.e. Mozilla Firefox, Google Chrome, Internet Explorer and Microsoft Edge. You might think that it is enough to disable the extension that is responsible for this website, but that is just a partially true. The thing is browser hijackers like this are capable of inserting some malicious files into the computer, so the infection can be restored from there the next time you open your web browser. For that reason you need to look for files associated to Chromesearch.info on your computer and remove them.
The best way to do that is to scan your system with reliable anti-malware application, such as Spyhunter. Either one of those programs should be capable of detecting and removing the virus in no time. Next, scroll down below and take a look at our step-by-step manual Chromesearch.info – complete all steps and you should reset all settings on your web browser back to normal.
TopHow To remove Chromesearch.info virus from Google Chrome:
Click on the 3 horizontal lines icon on a browser toolbar and Select More Tools→Extensions

Select all malicious extensions and delete them.

Click on the 3 horizontal lines icon on a browser toolbar and Select Settings

Select Manage Search engines

Remove unnecessary search engines from the list

Go back to settings. On Startup choose Open blank page (you can remove undesired pages from the set pages link too).
If your homepage was changed, click on Chrome menu on the top right corner, select Settings. Select Open a specific page or set of pages and click on Set pages.

Delete malicious search websites at a new Startup pages window by clicking "X" next to them.

(Optional) Reset your browser's settings
If you are still experiencing any issues related to Chromesearch.info virus, reset the settings of your browser to its default settings.
Click on a Chrome's menu button (three horizontal lines) and select Settings.
Scroll to the end of the page and click on theReset browser settings button.

Click on the Reset button on the confirmation box.

If you cannot reset your browser settings and the problem persists, scan your system with an anti-malware program.
Automatic Malware removal tools