MoviesJoy, a pirating website, allows visitors to stream and download movies for free. It also shows pop-up ads, often those that lead to unwanted and potentially dangerous webpages. MoviesJoy's could expose you to scans and even malware. If you visit MoviesJoy and similar websites, it's important to shield yourself against malware and to be ready for malicious ads.
Moviesjoy Ads And Redirects quicklinks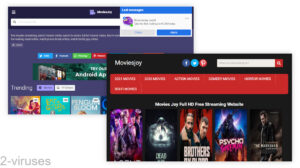 About MoviesJoy:
Threat type
Adware,

potentially unwanted program.

Problems and issues
It shows ads and redirects that are difficult to avoid and lead to potentially dangerous sites,

it is a pirating site.

Alternatives to MoviesJoy
Legal movie streaming sites.
How to stay safe on MoviesJoy
Avoid it and similar sites,

block ads and malicious websites,

use antivirus programs (Spyhunter for PC, Combo Cleaner for Mac, others) to catch malware.
What is MoviesJoy?
Pirating websites
MoviesJoy is an illegal movie streaming site, or rather, a collection of sites. There is Moviesjoy.net that redirects to Moviesjoy.to. Moviesjoy.to has the same design as Moviesjoy.work. Meanwhile, Moviesjoy.club and Moviesjoy.pw have a slightly different design. And Moviesjoy.cam is different once more.
All these sites promise to help you watch movies for free and even download them for offline viewing. Yet, they don't reveal all the risks that are associated with doing this.
The MoviesJoy sites are pirating sites like others, such as Fzmovies and Anitube. Just how illegal pirating is depends on the country you live in. Generally, it won't cause the police to known on your door, but in some cases, downloading movies illegally can result in a scary email from your ISP.
The MoviesJoy sites promise to take down copyrighted work – if the copyright holder fills out a form and contacts them. At the same time, they say that they don't host any copyrighted work and only stream it from unaffiliated third parties. Dwelling in the gray legal area allows MoviesJoy's operators to avoid the legal responsibility of stealing content while still making money from ads.
Ads and redirects
If you make the mistake of visiting MoviesJoy without an ad blocker, it shows you pop-up ads when you click anywhere on the page. This is on top of the banner ads displayed on its pages normally.
Unsurprisingly, many of the advertisements that MoviesJoy displays can be considered spammy, potentially unwanted, predatory, and otherwise problematic. They come from such controversial categories:
Betting and gambling sites.
Adult chatting services.
Fake surveys and giveaways.
Clickbait sites.
Notification hijackers.
Some of the ads that MoviesJoy shows are safe, others may lead to phishing sites or browser hijackers. And they show up without asking the user – there's no simple way to avoid them, other than block the ads.
Otherwise, it's risky to visit MoviesJoy. To stay safe, use an ad blocker and a good anti-malware program. Block malicious websites and ads. Scan the movies you download from MoviesJoy before you open them. And be patient and slow – if something looks strange and suspicious, for instance, if a site is asking you to provide your personal information, don't hesitate to run away.
Instead of doing something that makes you feel uncomfortable, just close the webpage.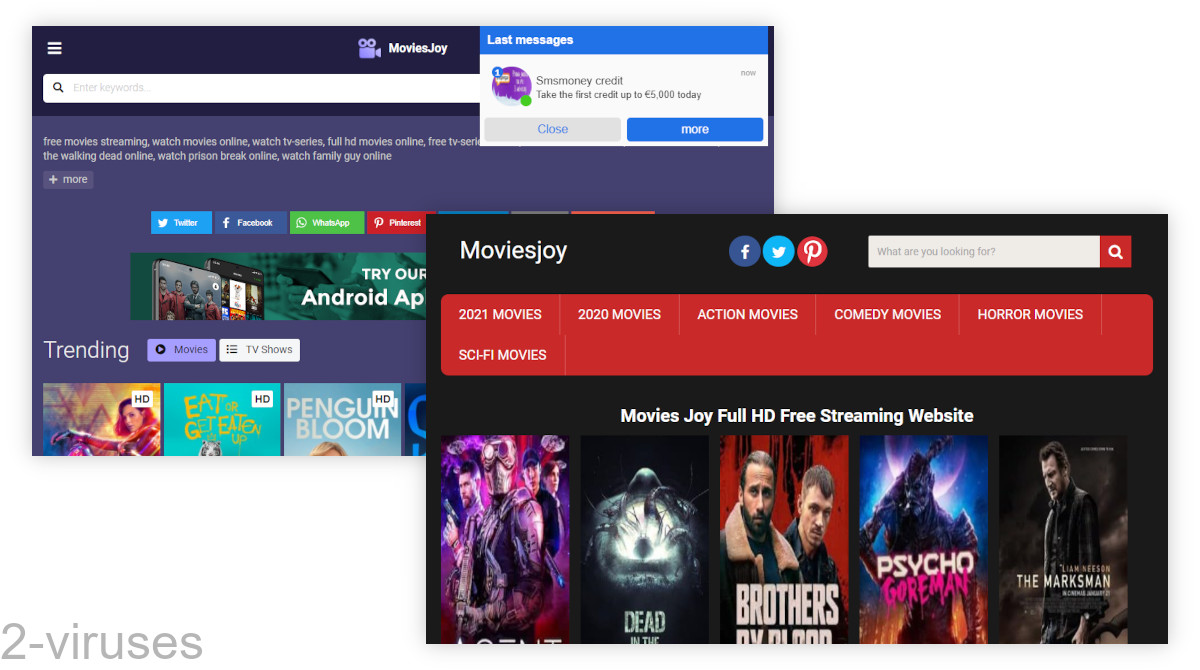 How to protect yourself on MoviesJoy
MoviesJoy is only one of many pirating sites. Most of such sites share the same problems – malicious ads, redirects, potentially unsafe downloads. So, the best way to stay safe is to seek out legal streaming sites. Legal sites are safer and easier to use.
If you do venture into pirating sites, go prepared:
Use an ad blocker.
Use an anti-malware program and/or a malicious site blocker.
Prepare to be careful and patient. Don't get spooked by loud, pushy ads or fake warnings. Don't install unfamiliar browser extensions.
Don't open downloaded files without scanning them with an anti-malware program.
In my experience, pirating sites like MoviesJoy seem to be the main way that people encounter malicious ads and get various adware viruses on their computers and phones. And it can be difficult to get rid of some of these infections. Therefore, it's best to stop them before they can get a foothold. You can use Spyhunter for Windows, Combo Cleaner for macOS, and other antivirus programs and apps to protect your computer, tablet, phone, and other devices.
Automatic Malware removal tools