MetroWhiz can possibly infect your computer and pose threat to overall security of your computer. If you have recently discovered that your computer is infected with this virus but don't know how to deal with this problem – you have come to the right place. In this article we will provide you with detailed instructions how to eliminate this browser hijacker either manually or automatically, so you will have a chance to choose which method fits your needs the best.
If you want to perform this removal fast and smooth, we suggest to do it automatically. Simply download reliable anti-malware application, such as Spyhunter, install it on your computer and then run a full scan of all files stored on your hard drive. Either one of them should be able to detect and remove the infection automatically. If your computer is infected with other similar viruses, it will detect and remove them too.
However, if for some reasons you don't feel like downloading any additional anti-malware software, you can remove it manually. This process might be complicated so we have developed a step-by-step MetroWhiz manual removal guide – scroll down below this article and check it out. Do your best to perform all those steps correctly and you should be able to eliminate MetroWhiz manually by your own.
In case you have some questions regarding the removal process or infection itself, feel free to ask them in the comments section below and we will do our best to answer them all. To learn more about specific features of MetroWhiz please continue reading this article.
About MetroWhiz virus
Infection like this will make some changes on your web browsers – both home page and default search engine will be set to www.metrowhiz.com. So from now on, every time you open a web browser, this website will appear.
MetroWhiz is described as a free tool that will provide you with the ability to plan your routes with a public transportation, buy bus and metro tickets and so on. It is also supposed to prepare the best route plan for your trip in a city. However, while the functionality of this application is highly questionable, it has some major side effects you should be aware of.
Firstly, this new tab hijacker is clone of similar applications by the same makers like MyTransitMapper . It is obvious, that Mindspark tries to do as many useless hijackers as possible to avoid bad publicity each of them get.
When downloaded from the makers page, MetroWiz will install in single browser only. This is different from other browser hijackers that install either in all browsers or do not provide a stand-alone download at all and depend on other distribution methods. During instalation, you will be suggested to add ASK extension, which would hijack default search engine to ASK.com – which is legitimate, but pays for advertisers for each instalation.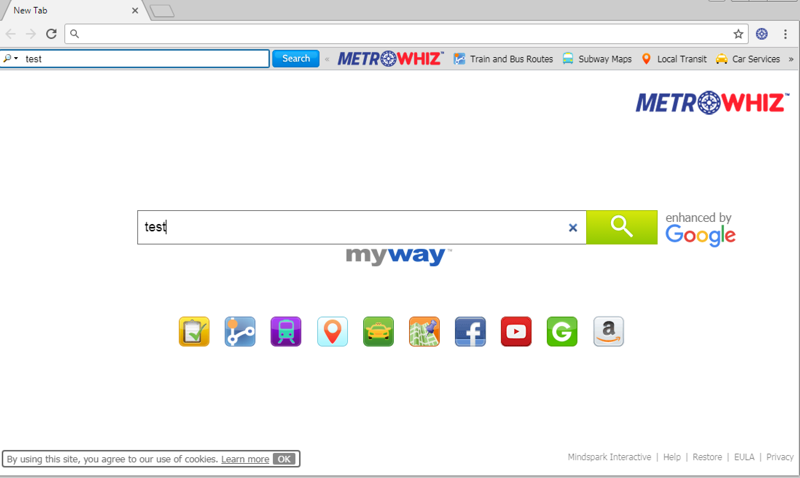 MetroWhiz uses MyWay Search engine. This search engine powers all current hijackers made by Mindspark. The engine itself uses google search results for now, but blends advertisements with organic searchers. So it is more difficult to discern if you are clicking on something you search on or on paid result which might be less releveant.
Distribution Methods of MetroWhiz browser hijacker
MetroWhiz can be installed directly from their homepage, but usually it's not the case. This add-on is distributed bundled with other free software that can be downloaded from the Internet. For instance, when you download and install some free PDF generator or media converter, there is a chance that MetroWhiz will be downloaded and installed alongside without you even being aware of that happening.
TopHow To remove MetroWhiz from Google Chrome:
Click on the 3 horizontal lines icon on a browser toolbar and Select More Tools→Extensions

Select all malicious extensions and delete them.

Click on the 3 horizontal lines icon on a browser toolbar and Select Settings

Select Manage Search engines

Remove unnecessary search engines from the list

Go back to settings. On Startup choose Open blank page (you can remove undesired pages from the set pages link too).
If your homepage was changed, click on Chrome menu on the top right corner, select Settings. Select Open a specific page or set of pages and click on Set pages.

Delete malicious search websites at a new Startup pages window by clicking "X" next to them.

(Optional) Reset your browser's settings
If you are still experiencing any issues related to MetroWhiz, reset the settings of your browser to its default settings.
Click on a Chrome's menu button (three horizontal lines) and select Settings.
Scroll to the end of the page and click on theReset browser settings button.

Click on the Reset button on the confirmation box.

If you cannot reset your browser settings and the problem persists, scan your system with an anti-malware program.
Automatic Malware removal tools
Manual removal