Mac Fixer Pro is a potentially unwanted program (PUP) attacking Mac computers through tricky installation methods. Its intrusion definitely occurs without taking the user's opinion into consideration. The program is very similar to Mac Cleanup Pro, SpeedupMy Mac and other pseudo system optimization tools that do not fix real problems. If you doubt whether to keep or not to keep Mac Fixer Pro, continue reading this guide that will provide you with more detailed information about this utility and the reasons not to tolerate it in your Mac.
Mac Fixer Pro quicklinks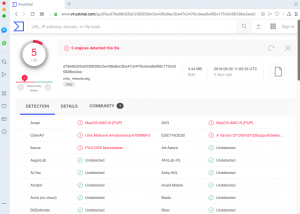 Mac Fixer Pro actually works as rogue security software. First of all, it is spread by means of deceptive alerts that trick users into installing some software updates, whereas they do not realize that another totally different application is actually injected. Secondly, Mac Fixer Pro presents many fake alerts about the presence of many invented threats and asks the people to pay the money for its licensed version supposedly to fix these problems. Finally, Mac Fixer Pro negatively impacts the system performance by permanently causing high CPU usage and instead essentially slowing down the system speed.
How did Mac Fixer Pro end up on your device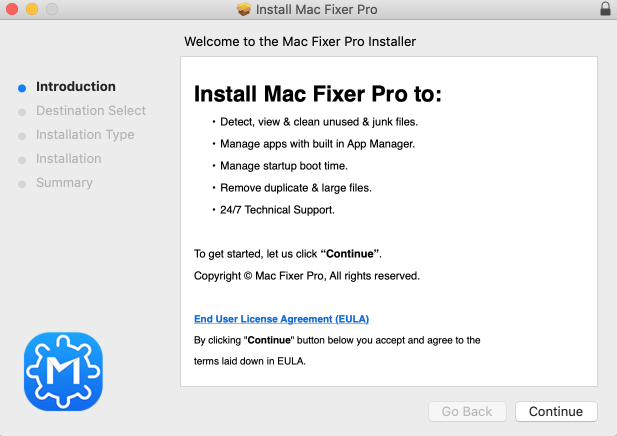 The tricks used Mac Fixer Pro to infiltrate computers do not differ from those used by other adware-type apps and rogue security programs. The developers of the program claim that by downloading and installing the application the users will be able to essentially improve the performance of their Macs. By the way, Mac Fixer Pro even has got its own landing page through which you may easily download its installer. Nevertheless, we really doubt that this will be your personal decision. The following misleading techniques are used by the developers of the PUP to make the users install it:
fake software update alerts demanding installation of Adobe Flash Player update;
fictitious AppleCare Protection Plan notifications reporting non-existing threats and forcing to install the "recommended" software to remove them;
unexpected pop-up windows redirecting the people to the landing page of Mac Fixer Pro;
stealthy installation of the PUP through malicious scripts executed while visiting hacked websites.
The above-mentioned channels for Mac Fixer Pro infiltration are typically the evidence of the availability of some adware-type program already activated in the system and causing suspicious browser activity. As a result, the users may be suddenly redirected to numerous unfamiliar websites. Interacting with them may eventually result in intrusion of Mac Fixer Pro and other unwanted applications.
Is Mac Fixer Pro a valuable program
The analysis of Mac Fixer Pro by many security-related blogs does not point to any decent function peculiar to this application. Once stealthily installed, Mac Fixer Pro immediately sets up the important parameters in order to be automatically started together with every system startup. The hoax launches itself whenever you start your Mac and immediately runs its fictitious scanning. Within a couple of seconds, it reports may fake threats and errors and then requires from you to pay the money to get the issues immediately fixed.
Investing money into Mac Fixer Pro is the total waste of your hard-earned funds. There is nothing wrong with purchasing decent applications, but Mac Fixer Pro was simply not designed to improve the performance of Mac computers. Its only mission is to generate the revenue for the companies that promote and distribute this pseudo system optimizer While Mac Fixer Pro is active you will be permanently distracted by its faulty alerts reporting numerous invented bugs and demanding from you to purchase its license.
How to remove Mac Fixer Pro properly
The good part of Mac Fixer Pro is that it indeed provides you with the direct uninstaller. Therefore, you may access the list of your Mac applications, locate Mac Fixer Pro and move the utility into the Trash just as you get rid of other unwanted software. You might first need to force quit the program by referring to the help of "Command-Option-Esc" hotkey and opening the Force Quit Applications tool.
Remember that Mac Fixer Pro was installed unintentionally. This means that there is a risk for your Mac to be additionally infected with many other unwanted or dangerous programs. In the light of this fact, we recommend you to scan your system with SpyHunter or Combo to detect other possible threats and PUPs and to neutralize them automatically, thus making your device absolutely clean.
Automatic Malware removal tools