JSMiner is a family of trojan viruses that can come by different names, such as JS:Miner-A, JS:Miner-C, JS:Miner-E and so on. The letter JS stands for JavaScript, because this malware is using this programming language to infect computers. There are more than just one version of this infection and it can be distributed in various ways, however most of the anti-malware tools are capable of detecting and successfully removing it.
Jsminer Virus quicklinks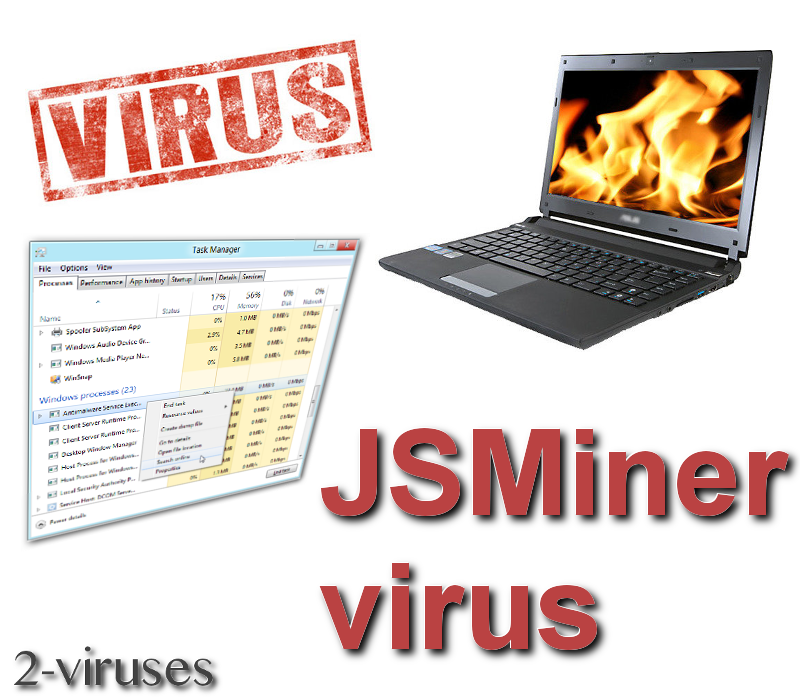 Much like CoinHive Miner Trojan, Bird Miner, OSDSoft, or NRSMiner, JSMiner family viruses are looking to infect computers and use them as slaves to mine Bitcoin and Monero. So what does that mean? It means that resources of your computer (cpu, gpu or both of them) will be used extremely hard to generate cryptocurrencies which will after be transferred to the accounts of cybercriminals that managed to infect your computer. Your computer will be working much slower, it will be consuming much more electricity and it might even overheat thanks to JSMiner abusing the hardware.
In fact, it can't pose a threat directly to the security of your private information or files stored on your computer (though it can come with spyware), however, it will definitely take advantage of your system and that is the main reason why JSMiners are definitely an unwanted attribute on any computer. Sadly, more and more users are being infected with these miner trojans since the popularity and prices of crypto currencies are growing steadily.
If you recognize a JSMiner infection, it's important to remove it as quickly as possible:
Spreading of JSMiner

Infected email and social media spam.
Hidden in unrelated programs and files and downloaded voluntarily.
Downloaded from shady websites.
Installed thanks to an outdated browser and/or outdated anti-malware protection.

Features

JSMiner attacks both Windows and Mac computers.
Takes over the CPU and GPU.
Was unknowingly downloaded, hidden in another program.

Harm by the miner

The hijacked computer is slow to the point of being unusable.
Random shutdowns and freezes result in lost data and interrupted work.
The hardware of the hijacked computer is overheating.
Spyware or other password-stealers installed together with JSMiner.

Remove the miner

Remove the trojan manually.
Remove the trojan automatically (Combo-Cleaner (Mac), Spyhunter (PC)).
Uninstall other suspicious software.
Change your passwords, if needed.
Miners are a source of passive income for cybercriminals. The signs of a hijacking aren't always obvious and sometimes, hundreds of thousands of personal computers are slaving for a single group of criminals. JSMiner generates a profit for its distributors who come up with creative ways to infect as many people as possible.
How did JSMiner manage to get inside of your computer?
Cyber criminals behind JSMiner trojans are tricking people into downloading files to their computer. Even though malware usually is distributed as a bundle to some other program, this time it's not the case – if JSMiner is on your computer, it means you have downloaded those files yourself, one way or another. It can be a malicious website that suggested to download some program or other files, or it can be sent to you as an attachment to an email.
Although Windows OS users usually are in more danger as higher volume of viruses are targeting them, it seems like JSMiner doesn't mind the operating system at all – Mac users can get infected too. Here's an image of infected Mac user looking for help:

How to protect computers against this infection?
The ultimate protection in this case is to avoid downloading malicious files. Here're some basic rules of what you should avoid doing in order to stay clean of trojans like JSMiner:
Don't even open emails from spam folder (unless you certainly know who sent it to you);
Scan files downloaded from the internet or sent to you by email before opening them;
Avoid downloading files from or even visiting websites that look fishy;
Always keep your computer protected with anti-malware application that features real-time protection.
If you follow those rules on a daily basis, odds that JSMiner will be able to get inside of your computer are really low. Now, if it is not really relevant to you because you are already suffering from this trojan, please proceed reading about possible solutions to this problem.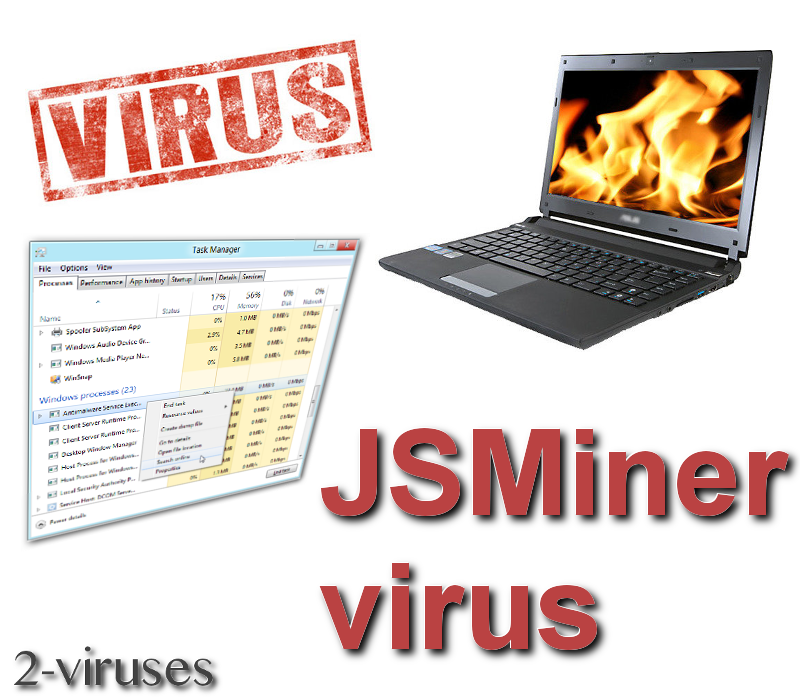 How to remove JS:Miner virus?
In the beginning of this article we have mentioned that JS:Miner can come by various names – JS:Miner-A, JS:Miner-B, JS:Miner-C, JS:Miner-D, JS:Miner-E, JS:Miner-F, JS:Miner-G, JS:Miner-H, JS:Miner-I and so on, although JS:MINER-C version seems to be the most popular at the time.
It is not proven yet, but this infection might be also collecting some sort of information about you or even track your keystrokes. If this is true, it's even more dangerous and you should remove it right now. Otherwise, it could be used to hack your online accounts.
Probably the most difficult part of removing such miner is detecting it, as it won't show you any message or inform you that your computer has been infected. However, you can suspect that your system infected if you are experiencing one or several of these symptoms: your computer is freezing much more than it used to, coolers are working much louder all the time, general performance of the computer is significantly lower. In this case, just scan your computer with anti-malware application. You can use Spyhunter for Windows, or Combo-Cleaner for Mac if you are using Mac. Please take a minute to inspect our cyber security software reviews section to decide which tool would be the best fit for you.
You can also try to remove this Miner manually – open installed programs management section on Control Panel and try to detect program named as JS:Miner or similar. It should be enough to remove it from there and also use file search to find all files associated to this infection and delete them as well.
Automatic Malware removal tools
How to remove JSMiner virus using Windows Control Panel
Many hijackers and adware like
Js:miner
install some of their components as regular Windows programs as well as additional software. This part of malware can be uninstalled from the Control Panel. To access it, do the following.
Start→Control Panel (older Windows) or press Windows Key→Search and enter Control Panel and then press Enter (Windows 8, Windows 10).
Choose Uninstall Program (if you don't see it, click in the upper right next to "View by" and select Category).
Go through the list of programs and select entries related to JSMiner virus . You can click on "Name" or "Installed On" to reorder your programs and make Js:miner easier to find.
Click the Uninstall button. If you're asked if you really want to remove the program, click Yes.
In many cases anti-malware programs are better at detecting related parasites, thus I recommend installing Spyhunter to identify other programs that might be a part of this infection.