iTunesWriter is suspicious and, despite its innocent-sounding name, appears to be adware. Indeed, it appears to have nothing to do with the real iTunes. To remove iTunesWriter, it is needed to find and delete files that malicious apps use to remain installed. It's also important to check if iTunesWriter created any unwanted configuration profiles, remove bad browser extensions, and delete malicious applications.
Ituneswriter Adware quicklinks
About iTunesWriter:
Type of threat
Adware.
How iTunesWriter could harm the Mac
Log browsing data and more personal information,

inject malicious and low-quality ads in the browser,

cause the Mac to become slower.

Downloading and installation
Infected installers for pirated and non-pirated apps,

malicious ads about fake software updates.

How iTunesWriter can be removed
Find and remove all malware (with Combo Cleaner, Malwarebytes, and others),

delete malicious files.
How iTunesWriter works
If you're seeing a warning about iTunesWriter on your Mac, then you may be concerned about this application.
"iTunesWriter" will damage your computer. You should move it to the Trash.
But trying to remove it doesn't appear to work. If that's the problem, no worries – you just need to delve into your Mac's Library folders and find and delete suspicious files. It may also be that you need to repair some settings afterward.
iTunesWriter is a Mac application that starts on its own with each login. iTunesWriter can do this because it adds itself to startup items. If you try quitting iTunesWriter from the Activity Monitor, it might start up again immediately, on its own.
Overall, iTunesWriter seems to fit the symptoms of an adware infection. Adware on macOS comes in a huge variety of names. It is difficult to keep up with all of them. This one uses "iTunes" in its name, which implies a nonexistent connection with a reputable and trusted app. This sort of deception is not unheard of for malware. We've seen malware with names like MacPerformance and UpdateMac. We've also seen more bland names like UtilityData and SearchMarquis.
Adware applications can be relatively unintrusive while still being harmful. iTunesWriter may cause problems like:
slowed Mac performance, hanging and crashing apps,
redirects to dangerous and low-quality sites,
pop-up ads in the browser,
scams, junkware ads, fake warnings about viruses, phishing sites (fake login sites meant to steal your usernames and passwords),
logged browsing data,
logged personal information, like usernames, passwords, and payment information.
Not all adware is as dangerous. Many malicious apps don't bother with stealing passwords. It's just important to note that adware doesn't usually spread alone. If iTunesWriter is on your Mac, then it's likely that more adware is on the machine.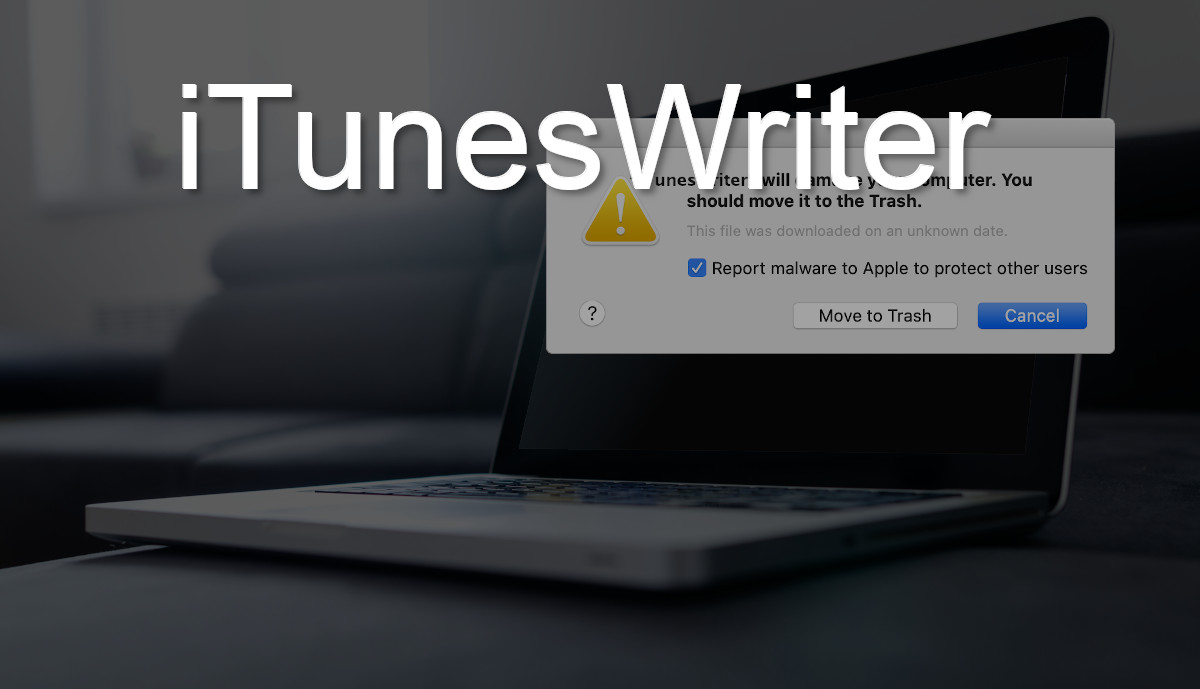 How adware gets installed
People don't generally install adware intentionally. So, how did iTunesWriter make it onto their Macs? Here are a few possibilities:
pirated, torrented, cracked files downloaded off of unreliable websites – they sometimes hide adware inside,
free non-pirated apps bundle junkware, too,
fake software updates (usually fake Flash Player updates) that appear as advertisements online, often on illegal video streaming sites,
other deceptive ads and redirects, either on infected websites, on low-quality sites that allow malicious advertisement, or ads shown by adware that's already installed.
So, people download an infected installer, run it, and iTunesWriter gets installed along with some other malware. It might only appear after a period of time, or it might start working right away.
How to remove iTunesWriter
Find and remove malware
One way to remove iTunesWriter is to get the help of an anti-malware application, like Combo Cleaner, Malwarebytes, or another one. They can find malicious files, apps, and browser extensions for you, usually.
Delete malicious files
Removing iTunesWriter manually is a bit more work. You should start with safe mode: reboot your Mac and hold the Shift button until you see "Safe Boot" on your screen. Safe mode stops unnecessary startup items, including iTunesWriter.
Open Finder, Go, Go to Folder. Use this dialog to navigate to these folders:
~/Library/LaunchAgents
/Library/LaunchDaemons
~/Library/Application Support
/Library/Application Suppor
Look for files that have "iTunesWriter" in their names, such as ~/Library/LaunchAgents/com.iTunesWriter.plist, /Library/Application Support/com.iTunesWriterDaemon/iTunesWriter. Look for other suspicious files, too, such as ones that showed up at the same time as iTunesWriter did, as well as ones that don't belong to any of your apps. Delete them.
Don't delete files that belong to your legitimate apps or you might lose some settings.
Go to System Preferences, Profiles. Are there any profiles that are suspicious? Those that mess with your browser settings or simply have "iTunesWriter" in their names? Select them and click the minus '-' button at the bottom to remove them.
Automatic Malware removal tools