iSportTV Search Plus is a search-redirecting Google Chrome add-on from the creators of Gomovix. It's adware and a browser hijacker, a type of very mild malware that isn't advisable to use.
Isporttv Search Plus quicklinks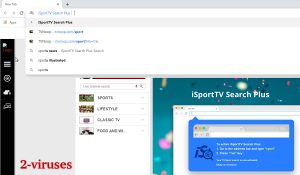 First of all, I think it's fair to call iSportTV Search Plus adware because immediately after installing it, it tries to sell me a subscription for some video streaming site that happens to have Sports TV channels on its service. The reviews are horrible — complaining about the bad quality of the service, rude customer support, and the website trying to charge people without warning them.
And iSportTV Search Plus never stops trying to sell me this subscription. That might be its only sports-related feature, in fact.
Besides that, iSportTV Search Plus behaves like a standard browser hijacker by taking over your default search settings and forcing you to use Yahoo for your normal web searches. There's nothing wrong with using Yahoo or any other search engine, if you choose to, but hijackers don't ask your opinion — they just want an easy way to show you more ads.
iSportTV Search Plus is no virus, but it is annoying and can harm your online security, so it's best if this add-on is removed:
Symptoms

Search queries redirected to sport.searchalgo.com
"Search iSportTV Search Plus" is seen in the address bar
Search results returned in search.yahoo.com

Classification

PUP (potentially unwanted program)
Adware
Browser hijacker

Sources

Bundling
Malvertising
Web Store

Remove iSportTV Search Plus

Automatically remove junkware (Combo Cleaner (mac), SpyHunter (PC))
Manually remove iSportTV Search Plus form your Chrome browser
Avoid search hijackers
Adware add-ons
There are a lot of browser extensions out there that are solely made to redirect your search traffic and to get access to your browser. iSportTV Search Plus, for example, requires these two permissions that fulfill those needs:
Change your search settings to: sport.searchalgo.com
Read and change all your data on the websites you visit
Even though iSportTV Search Plus' description says that this add-on offers "a variety of unique features and search tools", it does nothing like that. Such a lame browser extension can't get popular on its own merits, which is why people need to be tricked to install it.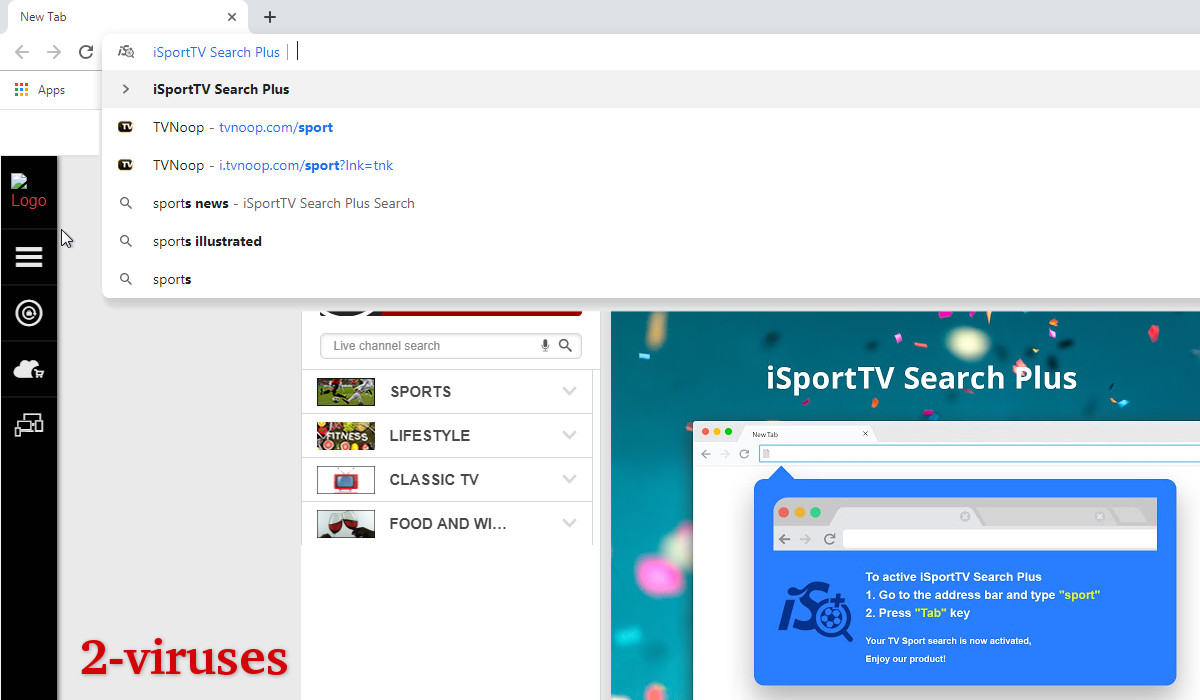 How hijackers spread
It is likely that if you have iSportTV Search Plus on your browser, you never installed it on purpose. Many users are puzzled when their browser starts using Yahoo for search, and because this iSportTV extension doesn't modify your home page, it's easy to miss. This is in its favor — the longer it stays installed, the more ads it can show and the more money it can make.
Add-ons like iSportTV Search Plus often use bundling to spread to more computers. These extensions are tacked on to other, more attractive programs that people then download from popular freeware websites. These modified, adware-filled installers install iSportTV Search Plus and similar programs in the background. Sometimes the installation is delayed, which makes it even more difficult to track down how this happened.
Another way that search hijackers are installed is thanks to misleading ads online. Redirects on video-to-audio converter sites, filesharing sites, and similar websites often open a hijacker installation page when you expected a file download instead. Really bad-quality and dangerous ad-networks, sites like Gsafe.getaweome3.com, are promote iSportTV Search Plus and its siblings by the same developer (Movie Browsing, mixMusic, mixSportTV) — which is not a good look. If you want your application to be seen as attractive and safe, you probably don't want it to spread the same way malware does.
Remove iSportTV Search Plus
It's advisable to scan your device using a reliable anti-malware program (Combo Cleaner (Mac), SpyHunter (PC)). If more junkware is found, you'll be alerted and decide if you really need it all.
As for uninstalling iSportTV Search Plus specifically, it can be done simply by right-clicking the icon if the extension and choosing to remove it. If no malware on your computer is providing the add-on with a way to return, that's all that's needed.
Automatic Malware removal tools
TopRemoving ISportTV Search Plus from Chrome
Click on the menu button on the top right corner of a Google Chrome window. Select "Settings".

Click "Extensions" on the left menu bar.
Go through the extensions list and remove programs you do not need, especially similar to iSportTV Search Plus. Click on the trash bin icon next to ISportTV Search Plus or other add-ons you want to remove.

Press on the "Remove" button on the Confirmation window.

If unsure, you can disable them temporarily.

Restart Chrome.
(Optional) Reset your browser's settings
If you are still experiencing any issues related to iSportTV Search Plus, reset the settings of your browser to its default settings.
Click on Chrome's menu button (three horizontal lines) and select Settings.

Scroll to the end of the page and click on the Reset settings button.

Click on the Reset button on the confirmation box.

If you cannot reset your browser settings and the problem persists, scan your system with an anti-malware program.