Intext.nav-links.com Popup - How To Remove?
Intext.nav-links.com (or Nav-links.com) website has been active ever since 2013 and it was one of the advertising platforms that served dangerous and deceptive promotions from third-party vendors and advertisers. After long years of advising people about this website, we have figured out a couple of main issues: first of all, while it can generate new tabs, pop-ups and banners, it was noticed to mostly append in-text ads into random websites.
It does this by picking out specific keywords, underlining them and separating them from the rest of the text. If you move your mouse over to these words, you will be introduced with an ad, capable of transferring users into unknown websites. While some websites automatically contain such in-text ads, others do not and it is incorporated by another program.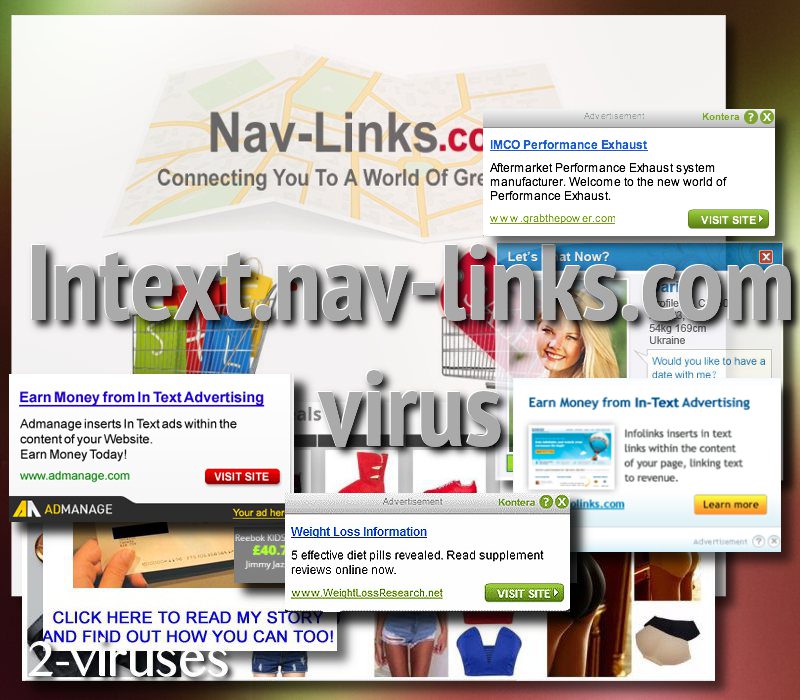 To this day, it is unclear which company is the owner of this deceptive ad-provider. During our investigation, we stumbled upon a name of Domains By Proxy, LLC from Arizona which could be behind Intext.nav-links.com domain. We have found some reviews about this company which were all negative and claimed that this enterprise is severely involved in illegal and harassing activities. See a couple of negative reviews that we have found:
This company is the domain registrant for every website associated with illegal and harassing telemarketing calls I have received. The company does absolutely nothing to help consumers being constantly harassed by Domains By Proxy customers. They allow thousands of sites breaking the law to hide their identity. Absolutely disgusting company.

This company operates an illegal business posting fraudulent reviews of legitimate resume companies at ******. When contacted, they refused to provide any information or remove the fraudulent business. It appears to be a front operation for organized crime. Avoid them at all costs.

Unauthorized access to credit card.
After becoming familiar with this feedback, we would not be surprised if the company had also been involved in the activity of endorsing clicks and visitation to random websites. We generated this information from the a website which allows to generate information about who registered a specific website.
Users have indicated that a bizarre browser extension, triggering pop-ups from Intext.nav-links.com, could have been called differently. One victim explained that he/she found weDownload Manager add-on as the one responsible for the appearance of this promotional content. Has your browsing been interrupted by this website on multiple occasions that appear to be repeating themselves every time you attempt to explore the World Wide Web?
Intext.nav-links.com popup is a malicious program that displays various in-text and pop-up ads in the websites that you are visiting. It's a browser extension that can be added to Internet Explorer, Mozilla Firefox and Google Chrome. Typically, the application is added while you are installing free software from the Internet, for example PDF creators, download managers and so on.
If you want to avoid adding Intext.nav-links.com on your browser, you have to be more careful when installing anything on your system. Follow installation steps of any applications you are getting and check if they contain any additional tools that can be installed automatically. Usually you can refuse installing these downloads at one of the steps of installation.
If Intext.nav-links.com popup is already on your computer, you will soon realize that you want to get rid of it. The application badly interrupts your work while browsing the Internet by displaying excessive amount of pop ups and in-text link ads. It seeks to promote various products and services and to make users visit their websites. No wonder, computer users find it very annoying.
Remove Intext.nav-links.com popup from your computer once you detect it there. Scan your system with a reputable antispyware program, for example,  Reimage, SpyHunter, hitman or similar legitimate antispyware program. before running a full system scan you are advised to upgrade your security tool to its newest version. As you know, new infections are being created daily and you will only make sure you get rid of all threats if you have the latest version of security software.
Automatic Intext.nav-links.com popup removal tools
We might be affiliated with some of these programs. Full information is available in disclosure
Manual removal
Important Note: Although it is possible to manually remove nav-links popup, such activity can permanently damage your system if any mistakes are made in the process, as advanced spyware parasites are able to automatically repair themselves if not completely removed. Thus, manual spyware removal is recommended for experienced users only, such as IT specialists or highly qualified system administrators. For other users, we recommend using Reimage or other tools found on 2-viruses.com.
Processes:
External decryptor:
About the author