ICE Cyber Crimes Center Virus - How To Remove?
ICE Cyber Crimes Center virus is a ransomware program that locks your computer asking you to pay a fine of $400. Basically, the program accuses you for violating the law of the United States of America which can involve distributions of pornographic files, copyright issues or the use of unlicensed software. ICE Cyber Crimes Center virus states that the only way to unlock your computer is by paying the fine. It also warns that if you try to unlock your computer using any other means, all you files, photos and document will be deleted. Here's a message that appears on the screen once computer is infected:
The ICE Cyber Crimes Center
The common law is the will of Mankind issueing from the life of the people
Your computer has been blocked
The Work of your computer has been suspended on the grounds of the violation of the law of the United States of America
Possible violations are described below:
Article – 184. Pornography involving children (under 18 years)
Imprisonment of the term of up to 10-15 years
(The use or distribution of pornographic files)
…
The truth is that ICE Cyber Crimes Center virus was designed by cyber criminals who used law institution's name and logo to make their scam look more realistic. In fact they only want to get money from random computer users. Never fall for this badware and do not spend your money paying any fine like this one. No law institutions would use such ways to contact you warning about violations that you have done. Besides, it is impossible that the fine would be asked to be paid using pre-paid cards. ICE Cyber Crimes Center virus asks to do it using MoneyPak payment system.
The program also asks to make a payment within 48 hours and it warns that if you refuse to do that, all violations could be considered as criminal. It is very smart from the hackers to give you this little time and scare you even more about what can happen to you. These threatenings only speed up your decision to pay a fine. We highly advise not to fall for this scam and remove ICE Cyber Crimes Center virus from your computer immediately after receiving this message.
Run a full system scan with a reputable antispyware program, for example, Spyhunter. You may be able to use antispyware tool from another user's account if the virus does not block at least one of them or you may try to use System Restore for ICE Cyber Crimes Center virus removal. In none of these work for you, follow instructions below for the version that does not block SafeMode with Networking:
1. Restart your computer, press F8 while it is restarting;
2. Choose safe mode with networking;
3. Launch MSConfig;
4. Disable startup items rundll32 turning on any application from Application Data;
5. Restart your computer again.
6. Scan with https://www.2-viruses.com/downloads/spyhunter-i.exe to find the ICE Cyber Crimes Center virus files and remove them. Here is a video guide, showing how to do all the steps:
If this does't work check out these removal instructions of FBI Moneypak virus.
Big thank you to a security researcher Kaffeine for alerting about these scams.
Automatic ICE Cyber Crimes Center Virus removal tools
We might be affiliated with some of these programs. Full information is available in disclosure
Manual removal
Important Note: Although it is possible to manually remove ICE Cyber Crimes Center Virus, such activity can permanently damage your system if any mistakes are made in the process, as advanced spyware parasites are able to automatically repair themselves if not completely removed. Thus, manual spyware removal is recommended for experienced users only, such as IT specialists or highly qualified system administrators. For other users, we recommend using Reimage or other tools found on 2-viruses.com.
Processes:
Files:
ICE Cyber Crimes Center Virus screenshots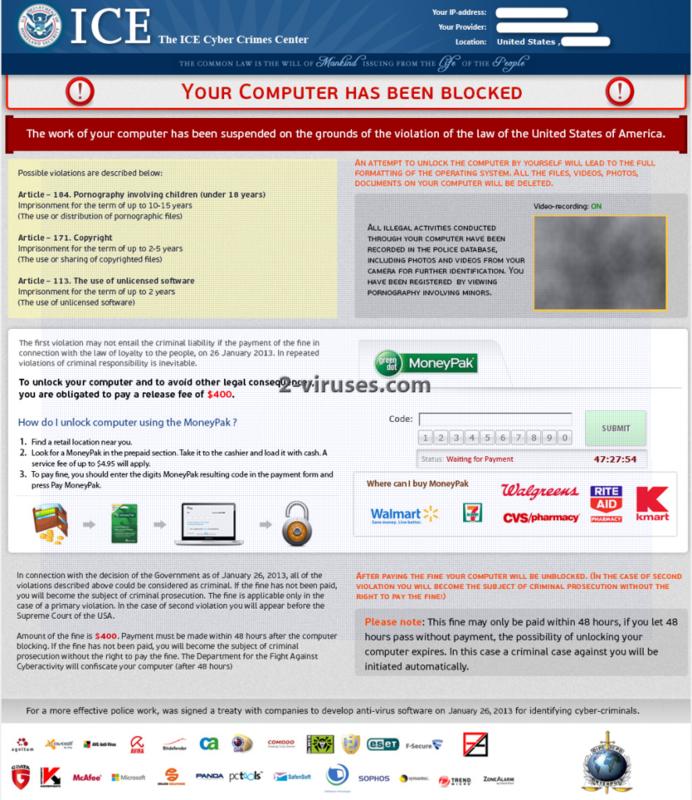 About the author