HTML:Script-inf is a malicious script designation used by antivirus programs. The "HTML:Script-inf" name is mostly used by the Avast and AVG programs. A warning about HTML:Script-inf or just Script-inf means that a website was blocked that had a suspicious script on it. Malicious scripts can be used to distribute malware and can occasionally infect even legitimate websites, so it can be a serious threat.
Htmlscript Inf quicklinks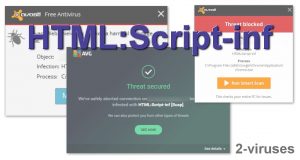 HTML:Script-inf is a category of online security threats:
What is HTML:Script-inf
Malicious script on a website

Can download and install malware if not stopped

Dangers of Script-inf malware
Trojan, ransomware, miner, spyware, and similar infections
How to reach of malicious scripts
Infected ads and websites

Malicious links

Unsafe websites

Remove HTML:Script-inf threats
Allow your antivirus program to block malicious scripts

Use anti-malware scanners to check for malware (SpyHunter for PC, Combo Cleaner for Mac)
Dangers of HTML:Script-infs
Websites are documents that can be displayed by a web browser. To introduce interactivity, for example, to create a browser game, a programming language can be used to write a script. Like desktop programs can be dangerous, so can web scripts. You can choose to block them in browser settings, but then some websites will lose functionality.
Malicious scripts that are labeled as HTML:Script-inf can be used to automatically infect your computer with malware. They're especially dangerous to users whose software has known security bugs. For example, if your browser or media player is a few updates behind, it might have a few known security flaws. Malicious actors find ways to exploit them to infect computers with malware. They create scripts for that, and that's what the HTML:Script-inf label refers to. It is somewhat similar to the URL:Mal label also used by the same antivirus programs for malicious sites.
Malicious scripts can be placed on specifically-created dangerous websites, but legitimate sites can also be compromised. Either way, visitors of the site are then scanned and, if known vulnerabilities are detected, malicious code is downloaded. Antivirus programs that scan the websites you visit and look for malicious scripts can stop them from being executed and prevent harm from coming to your computer.
If HTML:Script-infs aren't stopped from being executed, malware could be downloaded on your computer. That malware could be:
ransomware (Matrix, Seon, Eris, and others),
crypto miners,
spyware.
If the site that your antivirus warns about being Script-inf is unknown, you might have reached it by following dangerous ads or clicking on malicious links. Like websites, ads can also be infected, forced to open malicious sites.
How to deal with a the malicious script warning
If you got a HTML:Script-inf pop-up when you tried to visit a website, then that means that your antivirus program suspects that it stopped a malicious script. It might have just quarantined some files. You should probably take that warning seriously. Of course, false positives do happen, but you shouldn't assume that.
However, sometimes antivirus programs du issue the HTML:Script-inf warning too eagerly. For example, your personal project might have triggered your antivirus and it might have moved some of your files to quarantine. You can just restore the files and make an exception. If your webpage is being blocked, you can contact the support staff of the antivirus programs that block it; they should scan your site for malicious activity and whitelist it if it's detected incorrectly.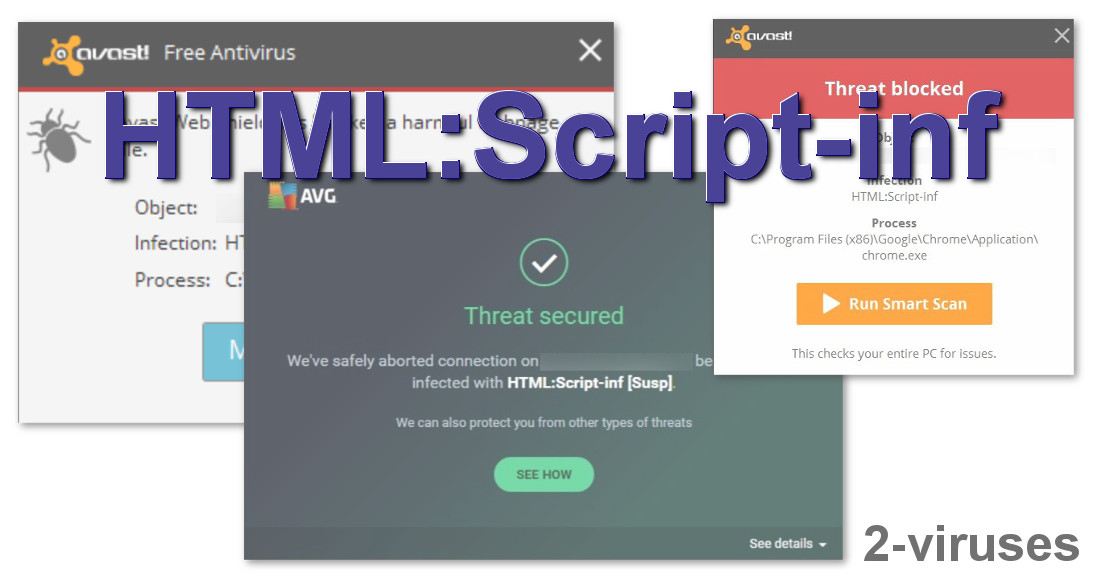 If a popular website is locked by mistake, you can probably resolve the issue by installing the latest update. Antivirus programs can issue updates daily or several times a day and if there's a problem for many users, it'll probably be solved in the next update. Or not – Avast and AVG often detect some popular websites, such as YouTube.com, when it's set to be very cautious.
But if you get constant pop-ups every few minutes when trying to connect to normal, mundane websites, it's possible that the detection is real. Your computer could be infected, or even your router could be sending data to criminals. Try resetting the router or connecting to the internet using a different network and see if the pop-ups go away.
How to remove HTML:Script-inf threats
If you saw a Script-inf warning and suspect your computer of being infected with a trojan, miner, or something else, just scan it with an anti-malware program. If it doesn't find anything, it should be okay. If you want to be sure, you can scan your computer with other scanners (like SpyHunter for PC, Combo Cleaner for Mac, or another competent tool. Although Spyhunter and other scanners can be used together with antivirus programs, some programs cannot, and you might need to disable your current antivirus as two of them running at once might start fighting.
You can review your security settings to make sure that your real-time protection is doing what you want it to do. If the HTML:Script-inf pop-ups are annoying you, just put your antivirus program into silent mode – it will keep protecting your machine, but without displaying intrusive pop-ups.
Automatic Malware removal tools