Find My Route malicious extension is responsible for Search.hfindmyroute.co website that can be set as your new tab page if this malicious tool overtakes your web browser. Eventually, this tool is categorized as a browser hijacker – for obvious reasons. When installed on a computer, it will immediately change your personal settings and perform other unwanted actions in the background.

Hfindmyroute Virus quicklinks

Some users find this Search.hfindmyroute.co website to be nice looking and convenient. That's a pity because using this search provider on a daily basis can lead to various cybersecurity problems, thus you should not be doing this.
The company behind this free tool (Polarity Technologies LTD) is officially registered in Cyprus for no reason. They develop tools that are on the verge of unlawfulness and they try to avoid the responsibility this way – that tells a lot.
So if you have recognized this potentially unwanted program (PUP) on your system but you have no idea how to remove it and fix the problem, we are glad you found a way to this blog. In this entry, we will provide you with an in-depth guide on how to remove Search.hfindmyroute.co efficiently.
Detailed Analysis of Search.hfindmyroute.co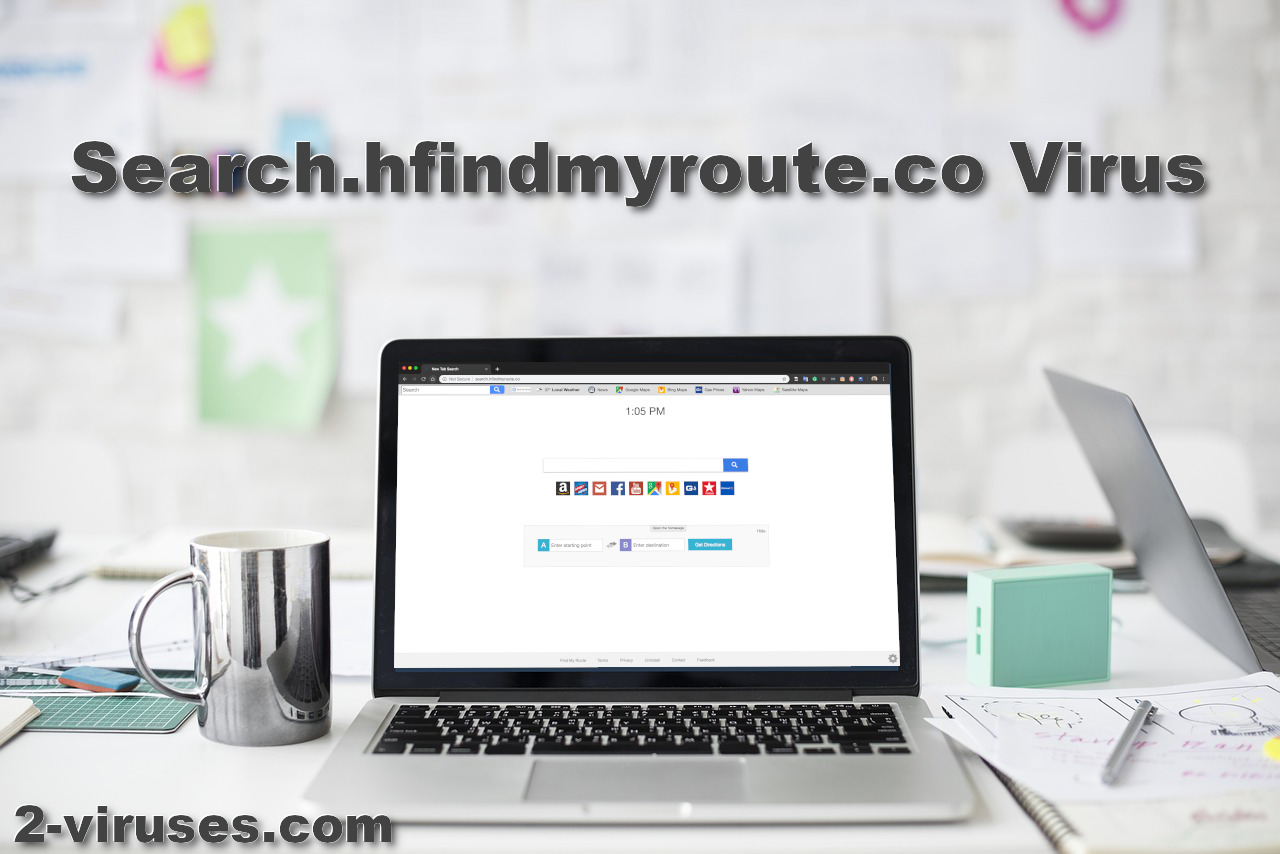 Even though Search.hfindmyroute.co is mostly distributed in the United States and the United Kingdom ( over 85% of web traffic to their website come from those two countries), users from other regions can be affected as well. If that happens, you will immediately notice that some preferences on your Google Chrome web browser are changed. By the way, Google Chrome is the only web browser Search.hfindmyroute.co can operate on, because Find My Route extension is only compatible with this browser. That being said, if you have your computer infected right now, you should switch to another web browser until Google Chrome is completely fixed and cleaned – this might potentially save your private information, not to mention the time you would lose browsing the Internet via Search.hfindmyroute.co.
In theory, this extension should be really useful and act as a substitution to Google Maps or another web service you use to plan your routes. Unfortunately, Search.hfindmyroute.co can't deliver what's promised. It features this "Get Directions" box underneath the search field, where you can input point A and point B and get the fastest route result. They use Mapbox service, which is legitimate, but it would be very brave to say that it's more advanced than Google maps, so the actual value it brings is really questionable.
Besides that, this functionality is just a cover to hide the real purpose of the tool – it is set as your new tab page and default search engine because they want you to use the web search they provide. It should also be more advanced and enhanced, but again – that's not true. They employ Yahoo web search to deliver results for searches submitted to www.search.hfindmyroute.co, but that doesn't mean you will receive legitimate results. They have the ability to modify what you see on the results page, so expect various sponsored links and banner advertisements there. This is how Find My Route makes money – every click on any of those advertisements or sponsored links gets them paid.
There is nothing wrong with web advertising unless it's excessive. However, ads displayed by Search.hfindmyroute.co might lead you to websites that are dangerous and not even relevant to your search queries. Also, they might collect your personal information and search queries, so you are in danger to lose your sensitive information. It can be leaked to third parties later on.
Parasites Similar to Search.hfindmyroute.co
So Find My Route extension is definitely not a unique case – there are tons of browser hijackers just like this one. Extensions that promise some kind of help with route planning, but turns out to be malicious browser hijackers:
By the way, most of those websites and extensions were created by Polarity as well. All of them promise you to provide some kind of cool features for free, yet that's rarely happens to be true. If you have such an innocent infection operating on your computer, it might also infiltrate other malware into your computer, so you can end up with multiple viruses as a result.
How Did Search.hfindmyroute.co Infected Your Computer
Search.hfindmyroute.co most probably was added to the extensions list on your Google Chrome browser when you downloaded and installed some kind of free software downloaded from the Internet. This is called bundling and it's one of the most popular malware distribution methods.
What should you do to avoid installing bundled malware? First of all, download freeware only from legitimate sources. Then, keep an eye on the installation process. If it's possible, opt for the advanced installation method. This will allow you to see all settings and make changes if needed.
Or, you can simply install trustworthy anti-malware software to keep your computer virus-free and secure. If you take a look at our reviews category, you will find an analysis of various top-notch anti-malware tools that could help you protect your computer on a daily basis.
Search.hfindmyroute.co Removal Process
If it is too late for prevention and your computer is already infected with Search.hfindmyroute.co, there is an easy way to solve this – scan your machine with Spyhunter. Either one of those programs should do a good job of detecting and eliminating infections like this one. All malicious files will be detected and eliminated automatically, so you won't have to move a finger to do this.
Also, there is a way to do it without installing additional anti-malware tools – below this article, you can find full step-by-step instructions on how to manually eliminate Search.hfindmyroute.co from both from Chrome on Windows and Chrome on Mac.

Automatic Malware removal tools
TopHow To remove Search.hfindmyroute.co Virus from Google Chrome:
Click on the 3 horizontal lines icon on a browser toolbar and Select More Tools→Extensions

Select all malicious extensions and delete them.

Click on the 3 horizontal lines icon on a browser toolbar and Select Settings

Select Manage Search engines

Remove unnecessary search engines from the list

Go back to settings. On Startup choose Open blank page (you can remove undesired pages from the set pages link too).
If your homepage was changed, click on Chrome menu on the top right corner, select Settings. Select Open a specific page or set of pages and click on Set pages.

Delete malicious search websites at a new Startup pages window by clicking "X" next to them.

(Optional) Reset your browser's settings
If you are still experiencing any issues related to Search.hfindmyroute.co Virus, reset the settings of your browser to its default settings.
Click on a Chrome's menu button (three horizontal lines) and select Settings.
Scroll to the end of the page and click on theReset browser settings button.

Click on the Reset button on the confirmation box.

If you cannot reset your browser settings and the problem persists, scan your system with an anti-malware program.
TopHow to remove Search.hfindmyroute.co Virus from Google Chrome on Mac:
Open Chrome browser.
Enter in the url field "chrome://extensions" address and hit Enter.
Find hfindmyroute Virus on the extensions list and click on the recycle bin icon next to it.
Click on 'Chrome' button at the top left corner. Select 'Preferences' on a drop-down menu box.
Find 'Search' options on Settings tab. If your search engine is changed, click 'Manage Search Engines' and set your preferred search engine.
On the same page find 'Show home button' checkbox and change your homepage.
(Optional) Reset your browser's settings
If you are still experiencing any issues related to
Search.hfindmyroute.co Virus
, reset the settings of your browser to its default settings.
On the 'Preferences' menu window, scroll down to the bottom and find 'Reset settings' button. Click it.
Confirm your selection and click 'Reset' on the following window.
If you cannot reset your browser settings and the problem persists, scan your system with an anti-malware program.