SystemKeeperPro optimization software is a product, dedicated to keeping all of your computer system affairs in order. This specific application by developers from Monterix Software is designed to reduce the possibility of crashes, freezes or other similar inconveniences. Standard settings are indicated as incapable of maintaining the maximum level of efficiency. This is where, supposedly, SystemKeeperPro barges in and fixes the situation with its more than 149 various settings that will create an environment for a faster, more stable device. Despite endless praises that this software receives from its creators or, more like, marketing professionals, IT specialists are doubting whether this facility is proceeding genuinely. It is a common feature that system optimizers provide free trials to tryout the program before purchasing it. Creators clearly indicate that the free versions of optimizers won't fully function. In fact, their procedures are going to be mostly limited to scans. These examinations of the state of your device are not carried out truthfully as people might be introduced to fabricated security issues. All of these efforts are implemented for the sake of convincing Internet users that securing systems with SystemKeeperPro is a marvelous solution. The reality often differs, even the advertised features of this optimizer won't significantly improve your system.
General aspects about SystemKeeperPro: is it up to no good?
By starting a free trial of SystemKeeperPro, you won't probably be able to fully clean and optimize your device. The highly-promoted features of this program are only completely present for the premium version. During your free trial, recommended procedures of junk, temp, cache file, error report cleaning, CPU Tweak or other setting management won't be up to full speed. As people who have given the free trial of SystemKeeperPro a go, indicate that application detected a number of errors, but fixed only a small number of them. For the full removal, they were advised to purchase a full version of the optimizer. Even honest latter programs are not indicated as extremely useful. They perform tasks that are frequently done by more powerful anti-malware tools that truly revive computers back to life. Problems that are supposedly fixed by the pricy SystemKeeperPro version are not that difficult to execute manually, especially if you have experience in similar fields.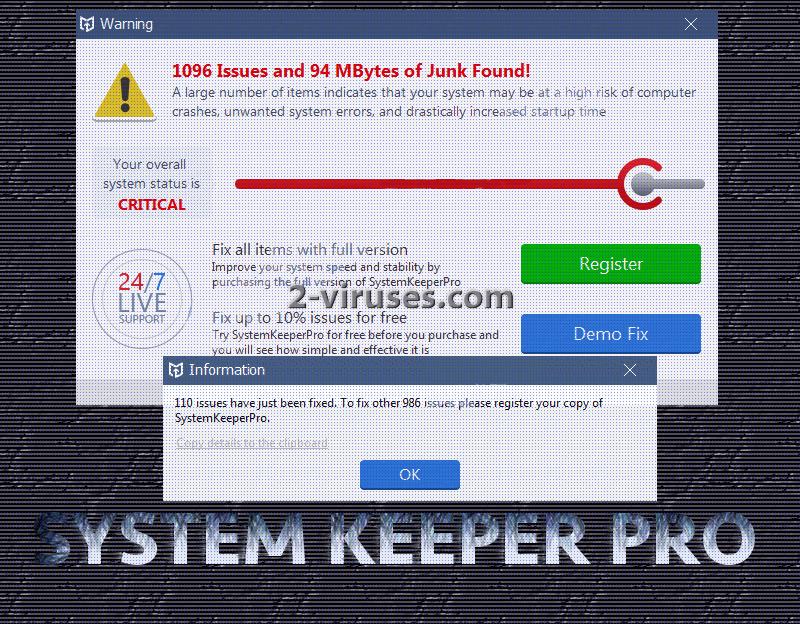 Do not assume that just because we published this article, we are naming SystemKeeperPro software as a virus infection. No, we are simply taking the necessary precautions to reassure that no Internet users would be mislead by notions. SystemKeeperPro is not a virus, not a malicious program, but its infiltration and quality are the two doubt-worthy subjects. If you are indeed interested in keeping your device to the speed with the latest releases and security trends, download a security program that is supported with arguments from reliable researchers.
Infiltration of SystemKeeperPro and possible ways to avoid it
Security researchers indicate this application to be potentially unwanted program (PUP). Since few positive features can derive from SystemKeeperPro, there is no reason to keep it in your system or go as far to download its free trial yourself. It will only show false information about your device which will be claiming that a purchase of the free version is a must. In reality, your device won't become the capital of efficiency with SystemKeeperPro. This is deceptive trick to convince people that spending resources on a system optimizer is not a waste. For this reason, please do not voluntarily begin a journey with SystemKeeperPro. However, you might be introduced with the free version during an installation process of another program. Pick advanced/custom modes so you would be able to refuse propositions for additional software apps. Among them, SystemKeeperPro might lurk.
Spyhunter won't find elimination of SystemKeeperPro difficult. In fact, these anti-malware fighters are designed to defeat even more serious infections as if it was a peace of cake. A manual removal is an alternative option and you can carry it out according to your instructions (step-by-step guide below).
How to remove SystemKeeperPro using Windows Control Panel
Many hijackers and adware like
SystemKeeperPro
install some of their components as regular Windows programs as well as additional software. This part of malware can be uninstalled from the Control Panel. To access it, do the following.
Start→Control Panel (older Windows) or press Windows Key→Search and enter Control Panel and then press Enter (Windows 8, Windows 10).
Choose Uninstall Program (if you don't see it, click in the upper right next to "View by" and select Category).
Go through the list of programs and select entries related to SystemKeeperPro . You can click on "Name" or "Installed On" to reorder your programs and make SystemKeeperPro easier to find.
Click the Uninstall button. If you're asked if you really want to remove the program, click Yes.
In many cases anti-malware programs are better at detecting related parasites, thus I recommend installing Spyhunter to identify other programs that might be a part of this infection.
Automatic Malware removal tools