File-upload.com is a file hosting site that allows files to be shared and downloaded for free. It even allows file uploaders to make money from the ads displayed on the download page. The problem is, many of those ads lead to potentially dangerous sites created by scammers.
You can avoid some of File-upload.com's ads by using good anti-malware tools, browser settings, and ad blockers.
File Upload Com Ads And Pop Ups quicklinks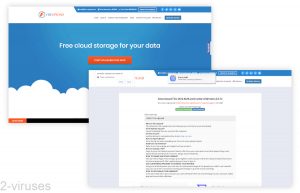 File-upload.com in short:
Classification
Adware.
Dangers of using File-upload.com
Some ads on File-upload.com lead to scams and potentially unwanted software.
How to stay safe on File-upload.com
Use ad blockers and anti-malware programs,

configure your web browser to block malicious content.

How to remove malware
Disable notifications from File-upload.com and other sites,

scan your computer for malware with antivirus tools, like Combo Cleaner for Mac, Spyhunter for PC.
File-upload.com
File-upload.com shows so many ads
File-upload.com is a file-sharing site. It hosts files and allows anyone who has the link to download them. To make money, File-upload.com uses ads. And the ads are often unsafe, leading to scam sites.
File-upload.com actually offers those who upload files the opportunity to make a bit of money. This explains why the ads are so much more numerous on File-upload.com than on other filesharing sites. Every click on the page results in a new browser tab being opened and a new advertisement being displayed.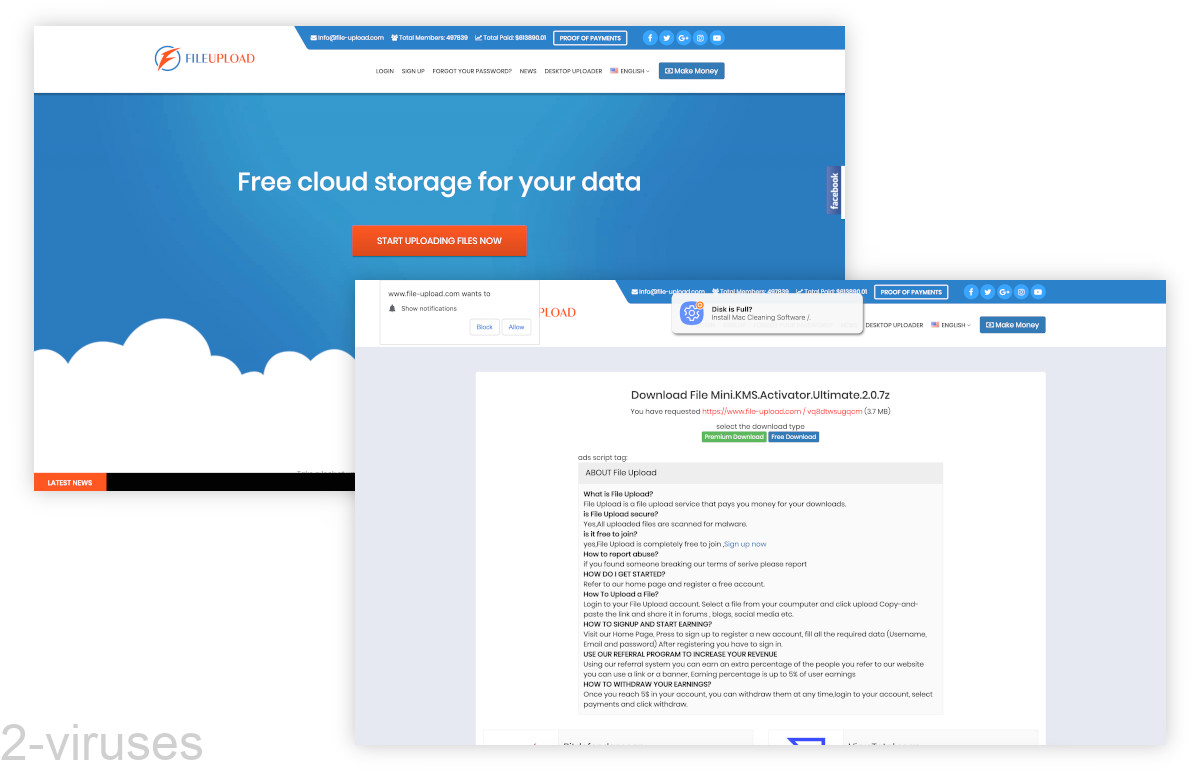 Some of the ads are dangerous
Some of the ads shared on File-upload.com just lead to some online store, maybe an unwanted program (MacKeeper).
But others lead to real, actual scams, such as the fake cash giveaway Like of the Year. These can literally steal your money if you fall for them. They promise that you won a cash prize and then ask you for your payment information to, supposedly, be able to deliver the prize.
Yet others open notification hijackers pretending to be file download links. These sites trick you into subscribing to their notifications so that they can send ads straight to your browser.
Then there are the browser hijackers. Extensions like LivePDFSearch that change browser settings and then spy on users while forcing them to visit potentially unwanted sites.
Overall, the ads on File-upload.com ought to be avoided. The pages aren't dangerous on their own, as long as your operating system and browser are up-to-date. Just don't click anything on these pages; close the tab and that's it.
Are the files safe?
File-upload.com claims that it does scan the files uploaded on it with BitDefender or VirusTotal. But there doesn't seem to be a way to verify this. So, there's hardly any guarantee that the files on File-upload.com are safe. Keep this in mind before clicking on File-upload.com's links.
File-upload.com also claims that copyrighted material is prohibited, but it hosts plenty of files whose names imply copyrighted content: from cracked Photoshop and MS Office to pirated video games. Very often, it seems like File-upload.com is used to share pirated files.
It's used as a way for people to make a bit of money: share a download link for a file, host it on File-upload.com so that whenever anyone downloads it, you get a bit of money from the ads.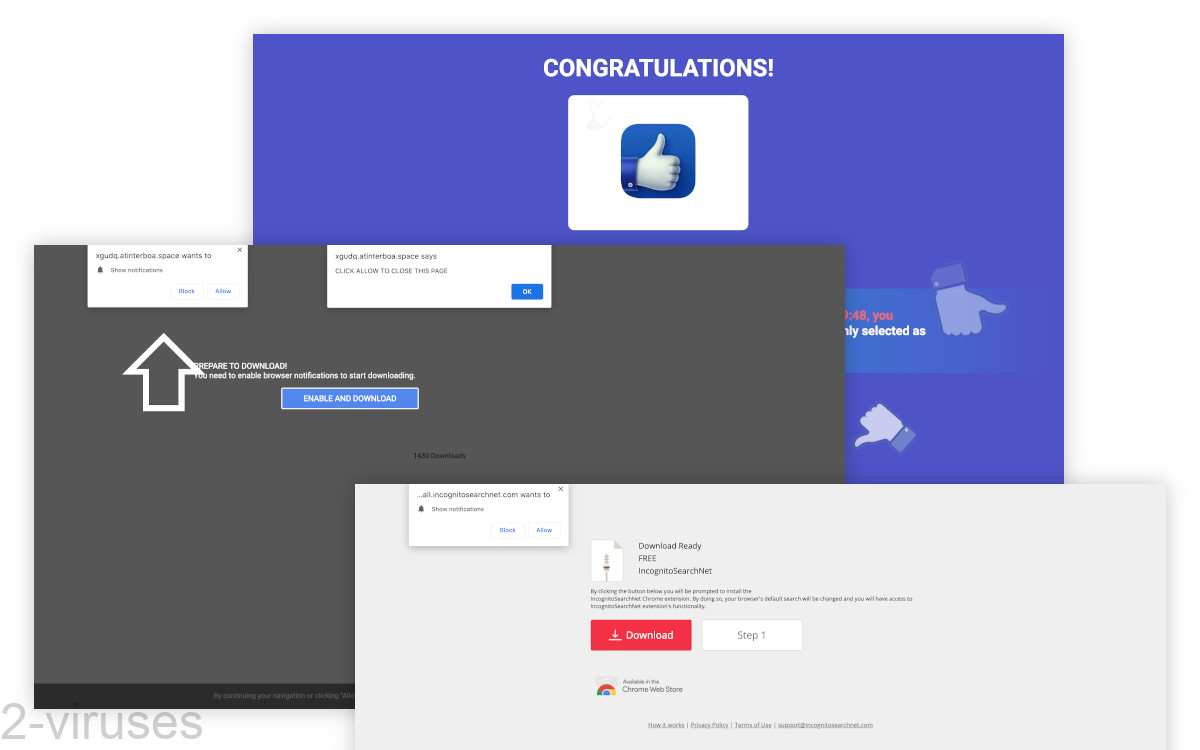 How to stay safe on File-upload.com
How to avoid scam ads
Sites like File-upload.com show really obnoxious ads. You could use an ad blocker to remove them. However, File-upload.com and similar sites sometimes detect ad block users and prevent them from using the site or they create ads that get around most ad blockers. So, this doesn't always work.
It's helpful to use an anti-malware program that detects and blocks malicious websites. In addition, your web browser should be configured to block pop-ups and malicious sites, as well as to scan downloads for malware.
How to remove malware
If your browser settings got hijacked by a notification spammer, then unwanted sites may be sending you ads. One way to block these ads is by clicking the notification settings button on the notifications. Another is by opening these settings yourself:
Chrome – open Settings, scroll down to Site settings (under Privacy and security), click on Notifications.
Edge (Chromium) – open Settings, click Site Permissions, Notifications.
Firefox – open Settings, Privacy & Security, scroll down to Permissions, and click on Settings next to Notifications.
Safari – in the Safari menu, choose Preferences, Websites, Notifications.
Find File-upload.com and/or other unwanted sites and set their permission to "Block". Also, you may want to hide notification prompts completely.
To check your device for malware, scan it with an antivirus program, like Combo Cleaner for macOS, Spyhunter for Windows, and others. If there's something suspicious or potentially unwanted found, remove it. If you download free files from the internet, it's strongly recommended to use a good antivirus program to protect yourself.
Automatic Malware removal tools