There's a fake inPixio website (called LnPixio.com) spreading a fake inPixio program – inPixio Photo Editor Free. This installer gets flagged by antivirus scanners as a trojan and fails to install any real inPixio editors.
If you suspect that you might have downloaded a file from LnPixio.com, scan your computer with an antivirus program. There might be unwanted software on your device.
Fake Inpixio Editor quicklinks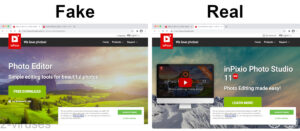 About the fake inPixio virus:
Threat type
Trojan,

phishing.

What is the fake inPixio program?
An executable downloaded from lnPixio.com,

detected by multiple antivirus scanners as malicious,

does not install inPixio but runs other software.

Dangers posed by fake software
Trojans can download other malware,

spyware programs can steal login credentials and other information.

How to remove the fake inPixio trojan
Use antivirus apps (Spyhunter, others) to find and delete malware,

reset your passwords and protect your online accounts.
Be careful of the fake inPixio site – lnPixio
LnPixio downloads malware
AppEsteem, a company that monitors sites and programs for deceptive behavior, has described how a phishing site targeting inPixio is spreading malware.
Malicious actors have set up a website that looks very much like inPixio.com. However, this site is fake – it's a copy set up to distribute a trojan. The name of the fake website is lnPixio.com, with the small 'L' standing in place of 'i'.
According to AppEsteem, the fake inPixio trojan connects to a malicious website (Dqdqededqedqe.tk, VirusTotal scan) to download additional malware.
The suspicious file is called inPixioPhotoEditorFree.exe. But, in my case, it did not run an installer for inPixio. Instead, it briefly ran a process called "Ledger Live – Desktop". Ledger Live Team is a crypto wallet site and I have no idea if it's connected with inPixio or why it would have been run by the fake inPixio file. I'm no software analyst, so I can't say why this should have happened.
Here are the scan results for the inPixioPhotoEditorFree.exe file downloaded from lnPixio.com: Virustotal.com. The file is labeled a Trojan by most of the antivirus programs that flag it.

How to recognize the fake inPixio site
Fake sites are often used to spread malware. For instance, a fake Telegram client was distributed of a fake Telegram site. The SilentFade trojan was distributed on fake software download websites. This is a popular way to distribute trojans.
lnPixio.com is largely a copy of inPixio.com with lots of content from inPixio.com, including links to the real site. A copy of a legitimate website may be called a spoofed website or a phishing site.
But there is one page on lnPixio.com that is not on inPixio.com – a page for a Free inPixio Photo Editor. This editor is the suspected malware.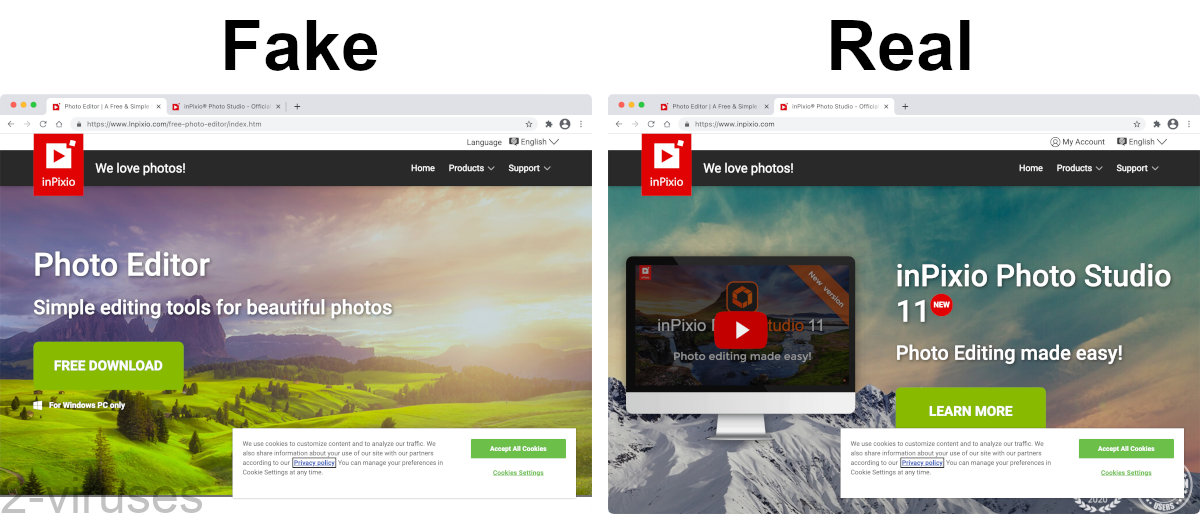 A more obvious sign that something is wrong is when you download and run an installer and it just… doesn't work. No error, nothing. That is often how malicious files work.
As another example, we wrote yesterday about the Free Trial Expiration Scam – there, a malicious document downloads malware in the background. To a victim, it just looks like an empty document that can't be viewed properly.
This is why it's so important to have a good antivirus scanner with real-time security.
How to remove the fake iPixio malware?
If you accidentally downloaded and ran a fake installer, or if you downloaded software from a fake website, then you should check your computer for malware.
Scan your device with an antivirus tool, such as Spyhunter, and review the scan results. If any malicious or suspicious items are detected, they need to be deleted.
A very important task after removing any trojan is to reset your passwords. Trojans often steal usernames, passwords, and other data in order to sell it or use it to hack accounts. To prevent that from happening, change your passwords.
Automatic Malware removal tools