Easyziptab.com virus is a Chrome toolbar by the same developers that introduced Slikdealer.com infection. Both of these hijackers were created by a company called Aztec Media Inc. To our knowledge, they are not reliable providers of search services and their search engines show sponsored results and threaten users' privacy. Most of their tools are classified among malware parasites (https://www.sagedatasecurity.com/blog/seven-types-of-malware-you-should-be-aware-of). For instance, you might have read some of the articles, discussing parasites like Searchprotector.net or any other browser hijackers, created by Aztec Media.
Right before Easyziptab.com virus presents results to search queries in a page from Yahoo, you can see Blpsearch.com link in the address bar. This means that results to search queries are rearranged to feature websites, sponsored by Aztec Media.
Easyziptab.com hijacker will show a lot of sponsored content and will bother you with random pop-ups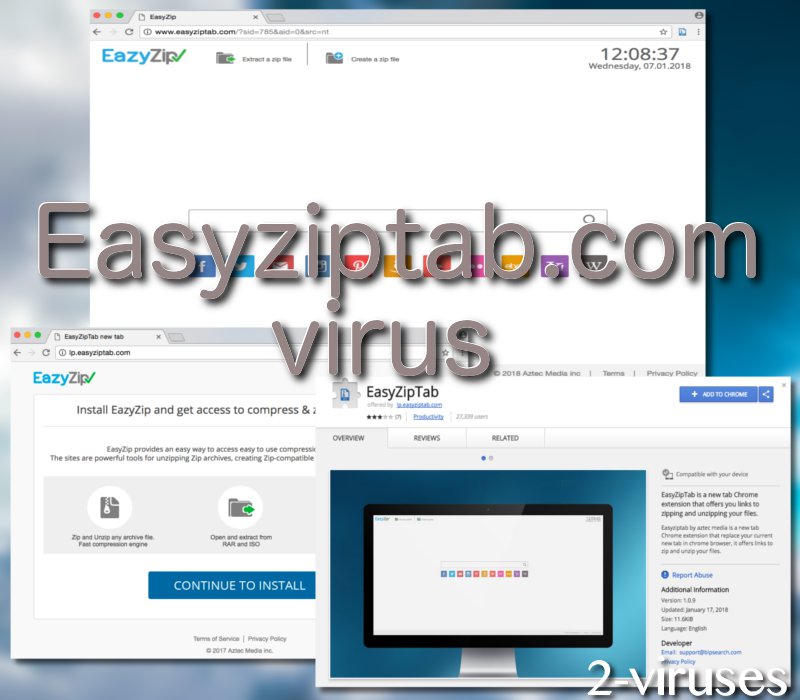 Our analysis revealed that Easyziptab.com virus is going to feature content from a number of advertising companies. The top ad networks include Propeller Ads Media, Adk2, AdCash, PopAds, MixTraff and other ad-servers. Even though most of these companies are legitimate, this does not mean that they won't occasionally include malware-laden or deceptive advertisements. Hackers are clever enough to trick advertising companies into accepting devious content (A New Wave Of Bad Ads Is Hijacking Even Top-Tier Websites).
Easyziptab.com virus will also cause redirection, and we noticed that one of the possible destination links is Youradexchange.com. As you can see, the browser hijacker will persistently shove third-party advertisements onto your computer screen, making it difficult to browse and to avoid malicious parasites.
Officially, Lp.easyziptab.com website urges people to download a tool, giving them quick access to compression software sites. It is mentioned that users will be able to unzip Zip archives, create Zip-compatible files and execute other archiving actions. However, this should not be enough for you to assign Easyziptab.com virus as your browsers' preferences. The malicious toolbar will be able to change and modify the websites you visit, which means, that it will have no issue in adding third-party advertisements into random domains.
It looks like Easyziptab.com malware parasite has been bothering many people from Ecuador, Morocco, United States, Tunisia and Serbia. However, people from other regions might notice that this unreliable search engine has gained the positions of home pages, default search providers and new tab pages. Aztec Media company has been generating browser hijackers for a very long time. One of its oldest product is the Linkey virus.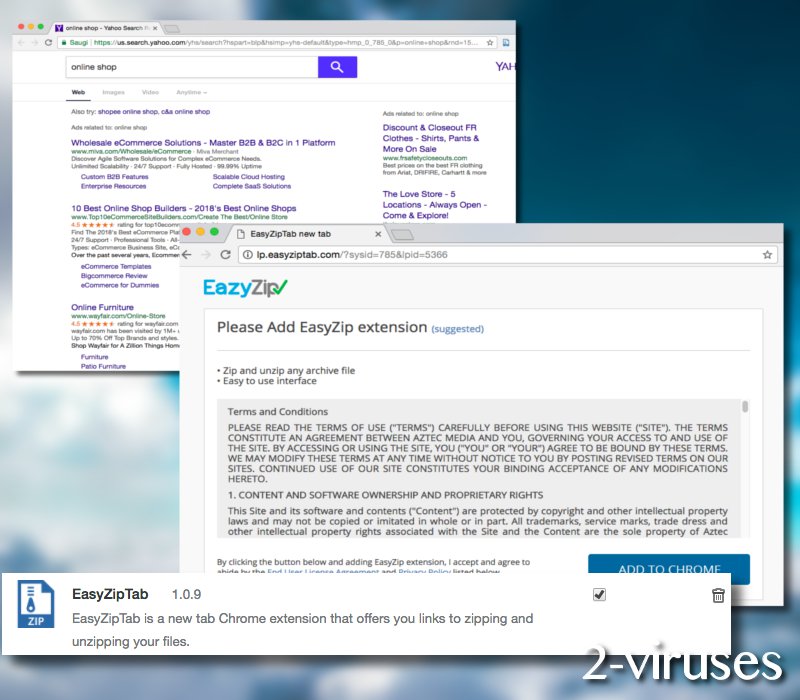 Also, we found out that the Easyziptab.com virus also has features of spyware. According to the Privacy Policy, the tool will have no issue in collecting users' personally-identifiable information:
"Through you use of the Site we may collect the following Personal Information: you name; email address; information you provided in public forums and/or social networks; information you provided us including your device identifier or IP address when you use the Site".
This collected data can be shared with various types of third-parties. According to Aztec Media, they allow their partners to use the shared info in order for them to perform certain services. However, your data might reach some indiscrete parties which will use your personal information for unacceptable purposes:
"We may share your Personal Information with our authorized service providers that perform certain services on our behalf. These services may include providing customer service and marketing assistance, performing business and sales analysis, supporting our Site functionality, and supporting contests, sweepstakes, surveys and other features offered through our Site. These service providers may have access to Personal Information, which is needed to perform their functions, but are not permitted to share or use such information for any other purposes".
How can browser hijackers like Easyziptab.com virus be installed into your browser?
It is possible that some users installed the browser extension, delivering Easyziptab.com virus. If this is true in your case, we hope that you won't hesitate to get rid of this malicious toolbar. However, there are cases when browser hijackers can enter operating systems thru installation of other types of freeware. Therefore, remember to download only respectable programs.
As for the removal of this malicious parasite, we are encouraging you to get an anti-malware tool. Security software will guarantee that no malware bothers your operating system. Since hackers are improving their strategies, getting compromised has never been so easy. Sometimes it is enough to open a website, and malicious scripts will be automatically launched. Considering this, we hope that you will decide to install Spyhunter.
TopHow To remove Easyziptab.com virus from Google Chrome:
Click on the 3 horizontal lines icon on a browser toolbar and Select More Tools→Extensions

Select all malicious extensions and delete them.

Click on the 3 horizontal lines icon on a browser toolbar and Select Settings

Select Manage Search engines

Remove unnecessary search engines from the list

Go back to settings. On Startup choose Open blank page (you can remove undesired pages from the set pages link too).
If your homepage was changed, click on Chrome menu on the top right corner, select Settings. Select Open a specific page or set of pages and click on Set pages.

Delete malicious search websites at a new Startup pages window by clicking "X" next to them.

(Optional) Reset your browser's settings
If you are still experiencing any issues related to Easyziptab.com virus, reset the settings of your browser to its default settings.
Click on a Chrome's menu button (three horizontal lines) and select Settings.
Scroll to the end of the page and click on theReset browser settings button.

Click on the Reset button on the confirmation box.

If you cannot reset your browser settings and the problem persists, scan your system with an anti-malware program.
Automatic Malware removal tools