Duckduckgo.com is a search engine that has been noticed to be added to Internet Explorer, Mozilla Firefox and Google Chrome browsers without users consent. It is not a virus however it can be categorized as a potentially unwanted program in some cases. That happens if some PUP or application bundle installs Duckduckgo without full explanation.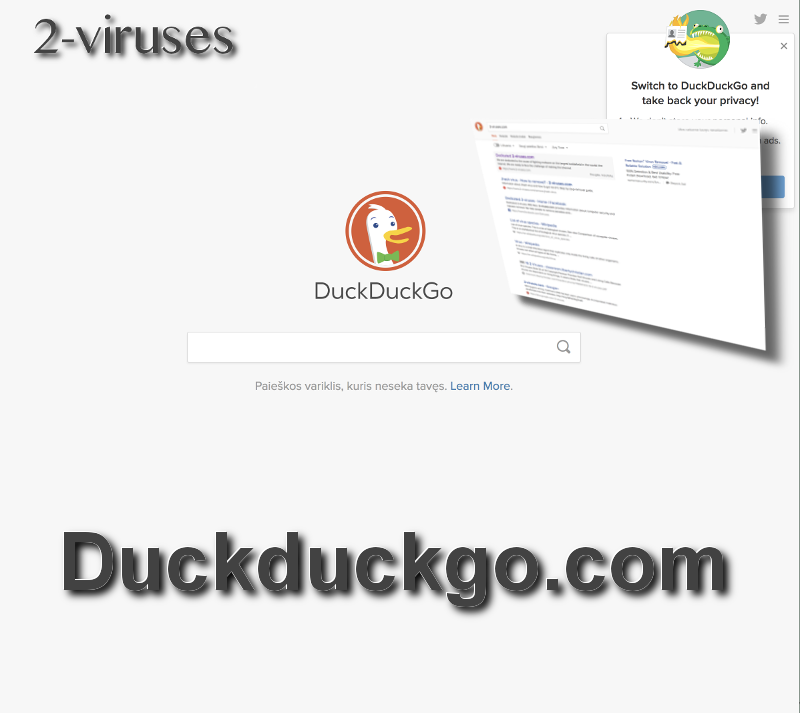 If you haven't downloaded this application by yourself it was most likely installed together with some free software that you were installing. Although users are able to detect this attempt to install additional application, very often they just hit on Next button without following what installation steps say. This is a common mistake that should not be made. You can avoid many unwanted programs if you are more careful about your installations.
Note. DuckDuckGO is fully legitimate privacy browser engine. You should not be concerned with its safety on itself and many people use it for privacy concerns (it does not track the users as major search engines do). However, we have discovered that some not-so legitimate websites, like MyHomePage.pro browser hijacker or Mybrowserhome.com virus, use DuckDuckgo engine for searches and links to this website. It should not be a major security concern while there are no links to unreliable websites on Duckduckgo.com website.
Basically, this start page might be considered as unwanted only for one reason – it gets installed without discrete notification to users and they feel tricked. There are various messages on online forums, like this on Mozilla support forum, complaining about duckduckgo: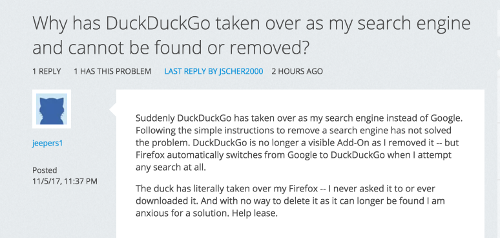 Even though we are not sure, presence of Duckduckgo add-on on your computer might be cause by some malware that is operating on your computer. That might be the reason you can't remove this add-on from your web browser manually. In this case we would recommend to scan a computer with anti-malware application that is good at detecting and removing malware – like Spyhunter.
Lastly, can duckduckgo.com be considered as a computer virus? Definitely not. It is efficient and safe web search provider and it can't be categorised as a virus by any means. However, if it is operating on your computer and you wish to switch back to Google or any other website to be your homepage, feel free to remove duckduckgo from your system.
Uninstall Duckduckgo.com
Remove Duckduckgo.com from your browser if you haven't installed it by yourself. Go to Control Panel -> Add and Remove programs list and uninstalling it from there. It is important that you remove all other programs installed with the hijacker, as some of them might redownload or reset back browser settings. Scan your computer with anti-malware application to detect the virus. You should also check browser extensions for Internet Explorer, Mozilla Firefox and Google Chrome. If you do not see IDuckduckgo.com listed, you should use other anti-malware tools. Uninstalling the program from your computer doesn't change your search providers. You will have to do it manually by yourself. Depending on the browser you are using, follow the instructions below:
On Internet explorer:
Click arrow on the right of search box.
Do the following: on IE8-9 choose Manage Search Providers, on IE7 click Change Search Defaults.
Remove Duckduckgo.com from the list.
On Firefox :
Enter "about:config" in url bar. This will open settings page.
Type "Keyword.url" in the search box. Right click it & reset it.
Type "browser.search.defaultengine" in the search box. Right click it & reset it.
Type "browser.search.selectedengine" in the search box. Right click it & reset it.
Search for "browser.newtab.url". Right-click and reset. This will make sure that the search page won't launch on each new tab.
On Google Chrome:
Click 3 horizontal lines icon on browser toolbar.
Select Settings.
Select Basics ->Manage Search engines.
Remove unnecessary search engines from list.
Go back to Settings. On Startup choose Open blank page ( you can remove undesired pages from the set pages link too).
Automatic Malware removal tools