DLLEscort is a malicious program that should be removed as quickly as possible. It promises to help keep PCs fast and clean. But it presents users with dishonest and alarmist scan results in order to scare them into paying for its full version. DLLEscort is basically scareware. Because of its malicious behavior, DLLEscort's installer is detected by many antivirus scanners as Unsafe, Riskware, Deceptor, and Malware: Virustotal.com.
Dllescort Malware quicklinks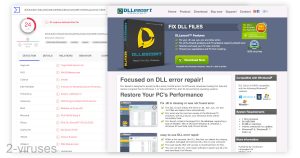 About DLLEscort:
Classification
PUP (potentially unwanted program),

scareware.

Problems with DLLEscort
It presents mild issues and non-issues as serious problems to get people to buy its paid version,

it messes with the Registry and DLL files.

Safer alternatives
Install software updates and allow updates to be installed automatically,

use built-in Windows tools to look for missing files and repair the corrupted ones,

reinstall programs that have been corrupted.

How to remove DLLEscort
Uninstall it manually, find and delete related files,

remove other malware (Spyhunter, Malwarebytes, others).
Why DLLEscort is dangerous
Misleading promises by DLLEscort
On its official website, DLLEscort claims that it can fix various errors and "keep your PC clean and fast". DLLEscort places the most importance on fixing DLL issues, similarly to DllKit PRO. DLLEscort offers to fix DLL and other errors, replace corrupted files, and download missing DLLs. It even goes so far as to say that it will completely fix your Windows errors. It says that it downloads replacement files from its own database.
DLLEscort takes some small issue, like a missing DLL file, and pretend that it's a big, dangerous problem that requires a paid program to solve. It's not the first time that a third-party program claims to fix Windows issues better than Microsoft can. Unsurprisingly, it fails at that. But it certainly tries to create an illusion that it's doing something useful.
DLLEscort also claims to update drivers, fix registry errors, delete junk files, remove software, and shred files. Overall, it seems like a very busy program. But all the functions that it offers – registry cleaning, driver updating, DLL file fixing – are signs of a potentially unwanted program. Some might call it snake oil.
DLLEscort's features can be split in two types:
Redundant features. These are things that Windows users can do for free by using the tools that Microsoft provides them, such as Storage Sense to delete unnecessary files and free up space.
Features to be avoided. Registry "cleaning", DLL replacements, driver updates are all best left for Windows or for very specialized and trusted programs.
All the functions that DLLEscort promises are to be avoided either because third-party programs are not good enough to deal with the variety of hardware and software combinations and end up causing more problems than they solve, or because three are no problems to solve at all.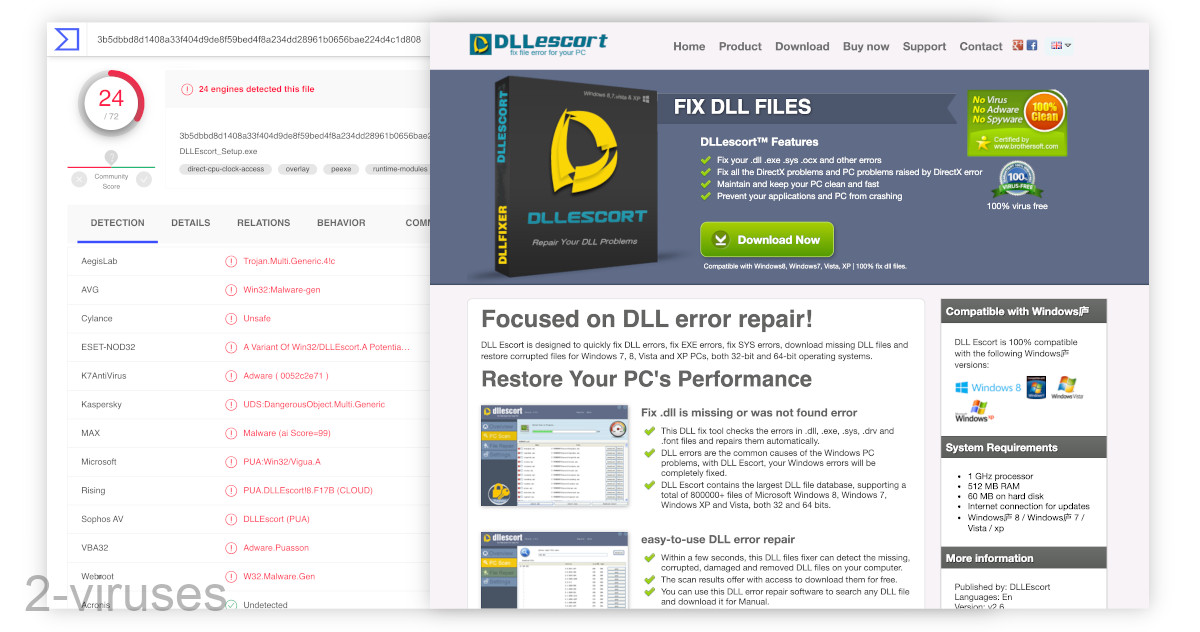 Alternatives to DLLEscort
DLLs are files that contain some code. They're often used by the operating system (Windows) and by third-party programs, so a "missing" or "not found" DLL could mean that some functions of your computer won't work right.
But that certainly does not mean that a program like DLLEscort should be allowed near your computer.
Just like driver updates, DLLs are updated for free by Windows. And if one is missing or corrupted, it can be repaired by Windows, too.
If you encounter missing DLLs, look up the name of the DLL to find out where it's from, but do not download it from any online resources. Instead, use System File Checker to repair your system files or just reinstall the program that's acting up.
If the DLL error is just a one-time occurrence, it might be enough to just restart your computer.
How to remove DLLEscort
First of all, when I was downloading DLLEscort, each and every browser warned me that the file was dangerous. Some of them simply did not allow the installer to be downloaded. If you didn't get such a warning, it's urgent that you install browser and Windows updates. Normally, your programs should be installing updates automatically.
The easiest way to uninstall DLLEscort might be to just let an antivirus program (Spyhunter, Malwarebytes, others) delete it. If you uninstall DLLEscort manually (which you also can do, the instructions are at the bottom), make sure to also check the Temp and Program Files (x86) folders and delete the files left behind by DLLEscort. These folders are in the C drive, though the Temp folder is hidden. You can access it by typing %temp% in the address bar of File Explorer.
Finally, if you bought DLLEscort but were unhappy with it, see if you can take advantage of the offered 30-day money-back guarantee.
Automatic Malware removal tools
How to remove DLLEscort Malware using Windows Control Panel
Many hijackers and adware like
DLLEscort Malware
install some of their components as regular Windows programs as well as additional software. This part of malware can be uninstalled from the Control Panel. To access it, do the following.
Start→Control Panel (older Windows) or press Windows Key→Search and enter Control Panel and then press Enter (Windows 8, Windows 10).
Choose Uninstall Program (if you don't see it, click in the upper right next to "View by" and select Category).
Go through the list of programs and select entries related to DLLEscort Malware . You can click on "Name" or "Installed On" to reorder your programs and make DLLEscort Malware easier to find.
Click the Uninstall button. If you're asked if you really want to remove the program, click Yes.
In many cases anti-malware programs are better at detecting related parasites, thus I recommend installing Spyhunter to identify other programs that might be a part of this infection.