Device Doctor, a driver updating program, is considered to be potentially unwanted by a few cybersecurity vendors. Even though it looks like it might be useful, its features are very unnecessary. Though Device Doctor is not dangerous or harmful, you should think twice before installing it.
Device Doctor Potentially Unwanted Program quicklinks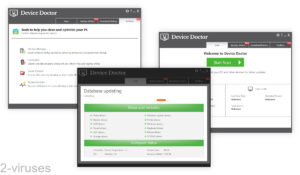 Device Doctor in short:
Classification
Potentially unwanted program.
Problems with Device Doctor
It's a potentially unwanted program, it's very unnecessary,

it's flagged by some anti-malware apps.

Alternatives
Use Windows Update and driver updaters provided by device manufacturers.
How to remove Device Doctor
Uninstall it from your Apps or Control Panel settings,

use anti-malware apps (Spyhunter, Malwarebytes, etc.) to remove it,

check for leftover files and apps.
Problems with Device Doctor
Device Doctor is a program that scans your computer, finds the drivers that it thinks are outdated, and replaces them. It can be downloaded from Devicedoctor.com. People tend to find it when they search the web for "free driver updater" or when they look for Device Doctor specifically.
Flagged by antivirus scanners
But if they try to download Device Doctor, they might encounter some issues. The installer for this program gets detected by antivirus scanners as Unsafe, Adware, Unwanted: Virustotal.com.
And the program itself is occasionally flagged by a few programs as Unwanted: Virustotal.com.
It's not malware, but these detections are supposed to warn you to be careful – that the program might use deceptive ads or that it might try to get you to do something that you might not want to do, such as install adware.
It's not just Device Doctor. SpeedUp Mac can also be found on Devicedoctor.com. The site itself gets flagged as "Malicious" by a few vendors.

It's redundant and outdated
Device Doctor scans your device for outdated drivers. Seems like it should be very useful – after all, new drivers help your devices stay compatible with your operating system.
But, by default, Windows Update installs new device drivers. These drivers are well-tested and approved, which means that they're very unlikely to cause any problems. And those devices that benefit from the newest drivers, such as graphics cards, often offer their own free driver managers that you can use.
So, what use is Device Doctor on top of Windows Update? And what hope does it have of delivering drivers that are more compatible than those offered by Windows Update?
In addition, on Devicedoctor.com, it says that Device Doctor is "designed to be very simple and easy to use". How so, when it actually requires you to do something, as opposed to Windows Update, which works in the background?
Indeed, Device Doctor is difficult to ignore. It starts on its own whenever you log on. But the app is not added to your Startup items, which makes it difficult to stop this behavior.
Device Doctor scans your device unnecessarily often and shows pop-ups in the corner of your screen, reminding you about various problems that it thinks it needs to fix. Drivers are not so urgent that you'd need daily scans. It's a waste of time to scan so often.
The driver updater also crashed my computer, which might be because it itself hasn't been updated in a long time. The latest release note is from 2017. It's great that Windows can run such old programs, but you probably shouldn't trust an outdated program like that with your device drivers.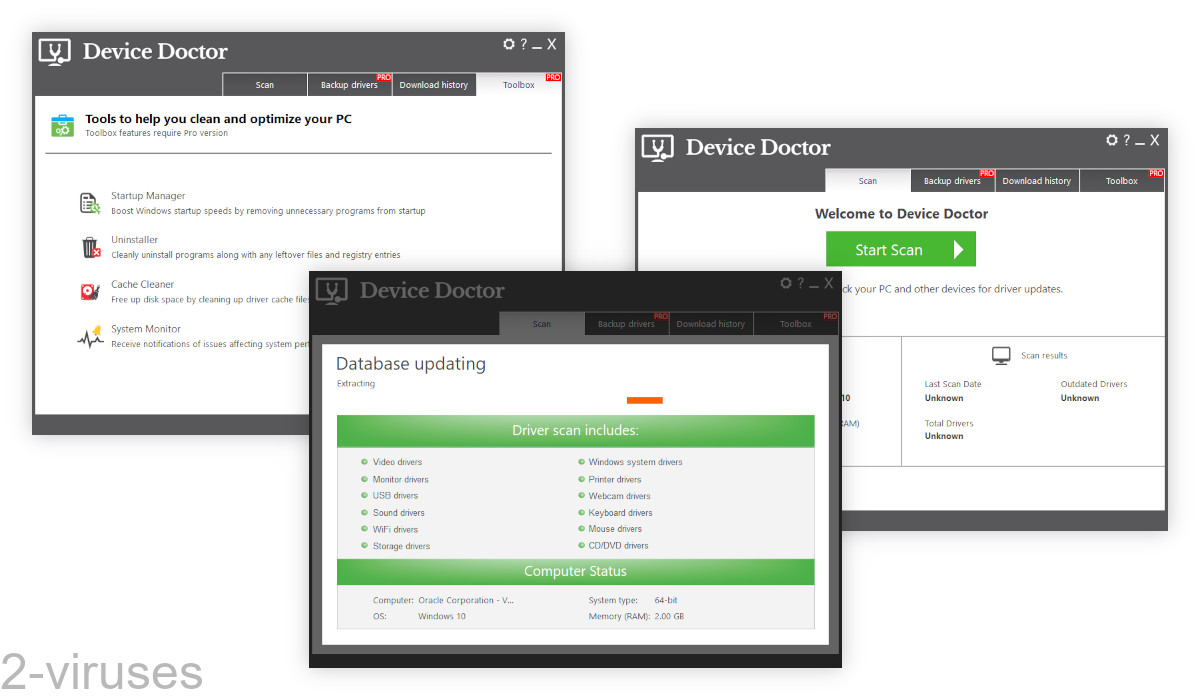 How to remove Device Doctor
Even though Device Doctor is not malicious or harmful, it can cause problems – from just being annoying to installing the wrong driver and causing your devices to stop working with your computer, forcing you to spend time fixing it.
You can uninstall Device Doctor yourself. It's advisable to use an anti-malware program to remove it and to scan your device for other potentially unwanted programs. You can use Spyhunter, Malwarebytes, or another anti-malware tool.
For information on how to keep your drivers up-to-date, visit Support.microsoft.com. If you have problems with a specific device, then ask for help on the device manufacturer's website or a tech support forum. When you're downloading drivers yourself, try to stick to the website of your device manufacturer.
Automatic Malware removal tools
How to remove Device Doctor Potentially Unwanted Program using Windows Control Panel
Many hijackers and adware like
Device Doctor Potentially Unwanted Program
install some of their components as regular Windows programs as well as additional software. This part of malware can be uninstalled from the Control Panel. To access it, do the following.
Start→Control Panel (older Windows) or press Windows Key→Search and enter Control Panel and then press Enter (Windows 8, Windows 10).
Choose Uninstall Program (if you don't see it, click in the upper right next to "View by" and select Category).
Go through the list of programs and select entries related to Device Doctor Potentially Unwanted Program . You can click on "Name" or "Installed On" to reorder your programs and make Device Doctor Potentially Unwanted Program easier to find.
Click the Uninstall button. If you're asked if you really want to remove the program, click Yes.
In many cases anti-malware programs are better at detecting related parasites, thus I recommend installing Spyhunter to identify other programs that might be a part of this infection.